Sponsored
7 Evidence-Based Ways to Reduce Teen Loneliness
Why are kids and young adults so lonely? Studies show lowering loneliness in adolescence can lower the risk of mental health issues. Seven ways to start the process.
Despite being the most connected generation when it comes to technology, teens are at the highest risk of loneliness. According to recent research, twice as many adolescents experience loneliness today as they did 10 years ago. The study, published in July 2021, found that, in 36 out of 37 countries, feelings of loneliness among teenagers have risen sharply since 2021, with higher increases among girls. 
Loneliness and social isolation are also common among young adults. In a 2018 report on loneliness, Gen Z youth had loneliness scores of about 48, compared with scores around 39 for those 72 and older. (People in the middle of the age spectrum had lower loneliness scores.)
Why are teens and young adults so lonely? The new study points to technology as a potential cause of increased loneliness in young people. "The psychological well-being of adolescents around the world began to decline after 2012, in conjunction with the rise of smartphone access and increased internet use," the researchers wrote. Today's young people are deprived of the intimacy and emotional fulfillment of face-to-face human interaction. In addition, constant social media use triggers FOMO (Fear of Missing Out), leaving teens and young adults feeling even more isolated.
Over the last year and a half, the pandemic has exponentially increased the time this age group spends online, while limiting their in-person social interaction. The resulting loneliness is exacerbating or catalyzing depression, anxiety, and suicidal thoughts—which in turn leads to more loneliness. That's because the symptoms of depression and anxiety, such as low self-esteem and low energy, often prevent young people from reaching out to others and engaging in social activities.
However, there are evidence-based ways to reduce loneliness in adolescence and young adulthood, and thus lower the risk of mental health issues. Here are seven scientifically validated approaches. 
Limit social media use. 

The 

Journal of Social and Clinical Psychology

 

reports that cutting down on Facebook, Instagram, and Snapchat use leads to significant reductions in loneliness and depression, in as few as three weeks.

Spend time volunteering. 

Research shows that doing things for others 

offers mental and physical health benefits

and helps people feel less isolated and alone.

Cultivate authentic connections. 

Frequent, meaningful in-person interactions are proven to reduce loneliness. Real-life friendships may need a bit more tending to than virtual ones, but the emotional payoff is worth it.

 
Adopt a pet.

Multiple studies, including

one done during the pandemic

, show that interaction with household pets reduces isolation and increase feelings of connection.

Exercise.

A

review study

found that physical activity in social settings—like sports or a hiking club—helps people feel more connected and enhances well-being.

Get enough sleep.

A 2018 study in the journal

Nature

found that sleep loss is

significantly associated

with social withdrawal and loneliness. People with lower sleep quality were less likely to engage with others and more likely to feel lonely.

Visit a therapist. 

Working with a mental health professional can help teens and young adults pinpoint causes of loneliness, such as social anxiety or lack of self-esteem, and learn strategies for overcoming isolation.
To address the growing levels of loneliness and depression among Seattle's youth, Newport Healthcare, the leading provider of teen and young adult mental healthcare, has opened a new outpatient location in Kirkland. In Newport's teen outpatient program, Newport Academy, and its young adult program, Newport Institute, young people can overcome isolation within a supportive, caring community of peers and mentors.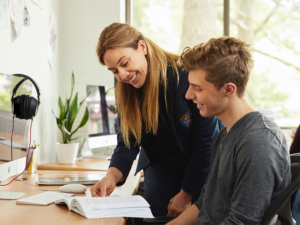 Each client receives a tailored treatment plan incorporating individual and group therapy and clinical and experiential modalities. Families also receive support. Newport's strengths-based academic and life skills programming allows young people to progress in their educational and career goals while receiving the highest-quality treatment for depression, anxiety, trauma, substance use disorder, and other mental health and co-occurring disorders.
To learn more about Newport's Partial Hospitalization Program, Intensive Outpatient Program, and Outpatient Services, with varying levels of structure, visit newporthealthcare.com/programs.