When you think "cat sanctuary" you may be thinking of domesticated kittens, juvenile or adult cats that have been abandoned by their owners or injured and taken in for rehabilitation. On Harstine Island, about 2-hours from Seattle, there's a cat sanctuary that does the same and is home to over 40 wild cats from five continents.
I'm talking BIG cats. Not your ordinary, friendly, or mischievous Garfield look-alikes, but wild felines that you'd normally see at the zoo, or if you're living in the suburbs of Seattle, in your own backyard.
The Wild Felid Advocacy Center is a safe haven for wild cats and includes tigers, cougars, lynx, and even the elusive snow leopard. I visited these beautiful creatures with my kids (ages 9 and 11) and they were truly amazed. It is a rewarding experience that we would recommend to all families interested in wildlife.
Getting there
Pack your snacks, books and audio devices for a trip down south and over to Harstine Island. No ferry is required. Depending on the directions, the route may take you across the Tacoma Narrows Bridge. A beautiful piece of roadway architecture, the Tacoma Narrows Bridge showcases a pair of twin suspension bridges that span the Tacoma Narrows Strait and the Puget Sound. On your return, there is a toll to pay, so be sure to have a Good to Go pass, cash, credit card or prepare to pay by mail.
The cat sanctuary is a little hidden, but keep an eye out for a cardboard cat paw located on the pole of the mailbox to the facility. This will take you to the gates of the sanctuary. Watch for parking signs too.  They will direct you to the 3 spots closest to the entrance.
There are many places for a pit stop on the way to the sanctuary, but the cat sanctuary also has a clean porta-potty affectionately named "Litter Box". Be sure to utilize the facilities before the tour begins. There is no facility inside.
Tip: My husband came up with a road trip song list that we shuffled through on our device and it included many of our favorite songs. That made the 2-hour long road trip enjoyable. Perhaps on your trip, you'll include music about animals or cats – Pink Panther, anyone?
The story behind the sanctuary
Founded in 2004 by husband and wife duo, Shelleen and Mark Mathews, the cat sanctuary was a passion project for Shelleen. She saw a need to help these big cats who were abandoned, injured or in danger.
"I really can't recall the first cat we received.  Usually, we would help the person take care of their wild cat including husbandry and or vet bills or take the cat in for treatment if they could not pay for it.  Not that we had extra money just laying around to give out, but we wanted to help do the right thing.  Over the years we always had a hybrid cat of some sort.  We also boarded domestic cats in our house for income off and on over the years.  Usually, the Bobcat or Serval owners and such would relinquish their cat to us because they just could not deal with all the wildness or were not well enough equipped to deal with the situation," Mark remarks in an email exchange.
Eventually, the couple obtained 25 acres of land, of which, five are being used for their current sanctuary. After Shelleen's recent passing, the sanctuary lives on through Mark's work and the support of the community. Mark hopes to expand the animal spaces within the sanctuary for current cats and encourages donations to his non-profit organization to make this happen. All donations are used to feed (each animal requires 90+ lbs of meat a day or daily feed, 7 days a week), expand facilities and animal compounds, and provide enrichment and care for all the animals.
The mission
"Providing a safe haven for any species of wild cat, finding itself in need" has always been at the forefront of the Advocacy Center's mission. Along with that, the Wild Felid Advocacy Center believes in education and conservation.
The tours are a part of their education program and help visitors learn more about each animal, their place in the world, their needs, and what humans can do to support these big cats at the sanctuary and in the wild.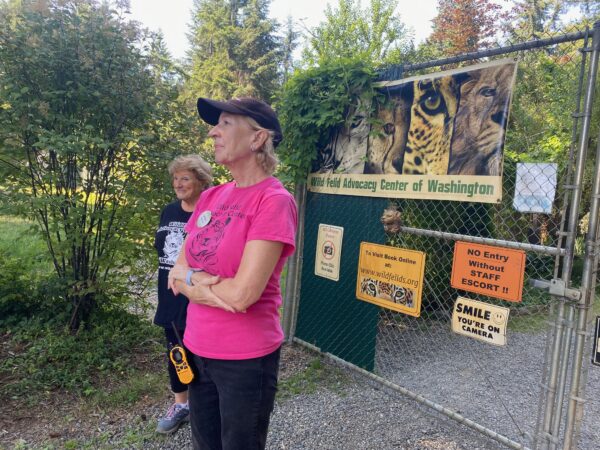 The rules: Safety
Walk to the gate and wait to be greeted by the guide. The gate is closed and covered with signage so there is little to see if you peer in through the linked fence. If by chance your guide is not at the gate, ring the bell located on the Advocacy Center's sign to let the staff know you have arrived. There are cameras all around the facility, security and your safety are top priorities.
Photos are not allowed on the tour, but a USB drive of images can be purchased at the small gift shop at the end of the tour. (All photos for this article were taken, with permission, from the Wild Felid Advocacy Center's Facebook page.)
It was disappointing that we were not able to take photos. Once we met with our guide, she let us know that cameras and phones appear as shiny objects and the flash can scare the animals, causing aggressive behavior. Also, there are cats that have a long enough reach through their enclosure and could swat the object from your hands. Ouch!
More rules to have the best experience
The other rules were to stay quiet, don't run and be still when asked so that the shy cats could have a chance to observe and come out of hiding. When asked if these wild cats liked all this attention, the guide gleefully responded in the positive. Describing human contact and observation as enrichment, these visits add interest to their day.
Take the day-time tour to visit these animals and you may see a few playing with the toys that are in their exhibit. We saw cats that enjoyed a jaunt on their running wheel. Visit in the evening and get a chance to see how each animal feeds. Volunteers never hand-feed these animals, but use an entrance to leave food at the door.
The tigers of the cat sanctuary
Our hour-long tour led us through a dirt and mulched pathway, wide enough for a stroller. In the spring and summer, the pathways are accentuated with blooming flowers. We saw upwards of 15 cats, but the most memorable ones were the tigers, Suri and Tabbi. The pair came to the sanctuary as a rescue from an individual who could no longer care for them.
While visiting with these big cats, we stood still and listened to Tabbi chuff and pace the fence while Suri hid under a wooden deck structure. "They're so beautiful," my sons both said. Tabbi sat and gently leaned into a regal position observing each of her spectators. We walked away after asking several questions about their habitat, their space and enrichment. As we cleared the fence, Tabbi walked with us until we were out of sight.

Salem the snow leopard
A waterfall surrounds this amazing feline as he sits low on his wooden deck in his spotted coat. During the summer months, he sheds and you can see patches of uneven fur on his body. His eyes are dark and he moves slowly. Salem's previous owner relinquished care for this wild cat after becoming ill and giving up his breeding business for zoos around the country. Sanctuary owner Mark Mathews says, "He wanted him (Salem) to come here to WFAC because he knew we would spoil him rotten by giving him the best care possible in a very relaxed and tranquil environment."
At 21.5 years old, and possibly, the oldest snow leopard living in captivity, Salem is a senior feline who is well taken care of by sanctuary staff and volunteers. It's arguably the only reason he is still alive. In the wild, these cats survive the harshest weather and have an average life expectancy of 8 years old.
So many more to see: Cats and turtles too
Our tour was jam-packed with incredible sightings, significant history, facts, and tales, including the most graceful caracals and cougars. We even met Mouse, a Geoffroy's cat and the smallest wild cat we've ever seen. There's even a spotted African leopard named Turbo, staying cool and snoozing in his lair on a hot day.
A turtle sanctuary within the compound is also a delight. These shiny-shelled reptiles are rescues and a danger to the ecosystem if left in the forest. Now they swim around in their sun-drenched pond enclosure crawling up to the edges to bathe in the warmth.
Some of the exhibits may seem empty but stand still and observe all the spaces within. Cats are agile and quiet- my youngest son spotted many of the felids before the guide, oftentimes identifying them in the least likely of places. It became a game for my son and the rest of the group, which made it all the more fun.
Spending an hour or so at the cat sanctuary is an exciting way to start the day. But what do you do with the rest of your time there? If you've brought your lunch, you can head to a local park and enjoy the water views, have a picnic and go on a hike.
Or you can plan to take a wild ride on a four-wheeled quadricyle! Drive 30-minutes over to Shelton, WA and get ready for a rail ride. Ride 13-miles out and back, on old railroad tracks that were once used for logging.
Whip through the forest and witness wildlife (including an owl being chased by birds), wildflowers, and more. It's an easy downhill ride getting to the end, but what goes down must come back up. With a little push from your guide in a motorized quadricycle, your group will make it back in no time.
Enjoy your day at the cat sanctuary and on Harstine Island. It's a trip you'll always remember.
Know before you go:
Make reservations in advance on the Wild Felid Advocacy Center's website
The sanctuary is located at 3111 E Harstine Island Road N
Tours at the cat sanctuary happen rain or shine so dress for the experience
The family adventure is best for all ages, while the other experiences like the feeding tour are good for ages 12+
Tickets for the family adventure are free for ages 0-2, $25 for ages 3-11, and $30 for ages 12+
All fees and donations are used to fund the 

animal's 

needs and facilitate operations
Read more
Kangaroos in Fall City? Read more
Visit farms around the Seattle area