If you're thinking about where to go for your next family-friendly travel adventure, look no further. Pack your bags, hop a plane, and take a 2-hour flight to Monterey, California. Known for its turquoise-colored coast, wildlife, nature preserves, sunny weather, beaches and golf, Monterey offers a combination of luxury experiences and a plethora of family-friendly things to do.
Monterey Aquarium: A hit for families
Monterey Aquarium tops our list of family-friendly things to do on the California coast. Located on Monterey Bay, the museum hosts over 75,000 animals and plants. This collection represents the rich variety of marine life from the Monterey Bay. Walk into the aquarium and you'll find visitors glued to aquarium tanks, their eyes tracking colorful fish, hammerhead sharks, large sea turtles, and schools of fish gliding back and forth. Spot the elusive octopus, camouflaged between the rocks, then watch the seahorses dance to their own rhythm as they swirl their tails.
Stunning exhibits highlight a variety of jellyfish as they glow and majestically float up, down and around blue-walled tanks. Don't miss the the 557-pound giant sea bass cruising along in the kelp forest or the beautiful display of florescent colored coral. Afterward, head outside to the back of the aquarium and see where it all comes from. View the farthest points of the bay through stationary telescope stands. Spot a seal, cormorant or pelican? All are native to Monterey Bay and important members of the marine ecosystem.
Next, roll up those sleeves! Hands-on experiences dot the museum with touch tanks filled with plants and one that offers a chance to touch bat rays. In addition, there are other interactive exhibits. Use touchscreens and motorized equipment to learn about the water's surf, deep sea life and other topics covering conservation and marine research. Docents are available to answer questions and guide discussions. Finally, don't miss the museum's newest exhibit, exploring the tiniest organisms of the deep.
Toddler playtime: Toddlers will enjoy the water play tables and kid's zone on the second floor. Bring an extra change of clothes for your child (and maybe for yourself too).
Cost: This is one of the more expensive museums: A family of four can visit the aquarium for about $180. If you're local or plan on visiting the museum more than once during your stay, a membership is a better option at $250.
Hiking Big Sur: Redwood forests to turquoise waters
It's ladybug migration season in the redwood forests of Big Sur. Gathered together at the bottom of tree stumps and underneath fallen leaves, these crimson-colored masses of black-dotted bugs find shelter in preparation for their winter hibernation. This is one of many natural wonders you'll find on a hike in Big Sur, California. About a 45-minute drive from Monterey, cruise along the state's scenic Pacific Coast Highway to Big Sur Deli. Stop in for sandwiches, pasta salads, cookies and drinks to take along with you on a hike led by a guide from Big Sur Guides & Hiking.
The area offers family-friendly day and night hikes that cover walks in the woods and down to the coast. We were thrilled to see the differences in landscape, wildlife and vegetation. The redwood forest has enormous trees, ranging from 200 to 350 feet, each aging gracefully, at upwards of 500 years old. Sit a while to meditate among the trees or bring your sketchbook to capture nature's art, right before your eyes.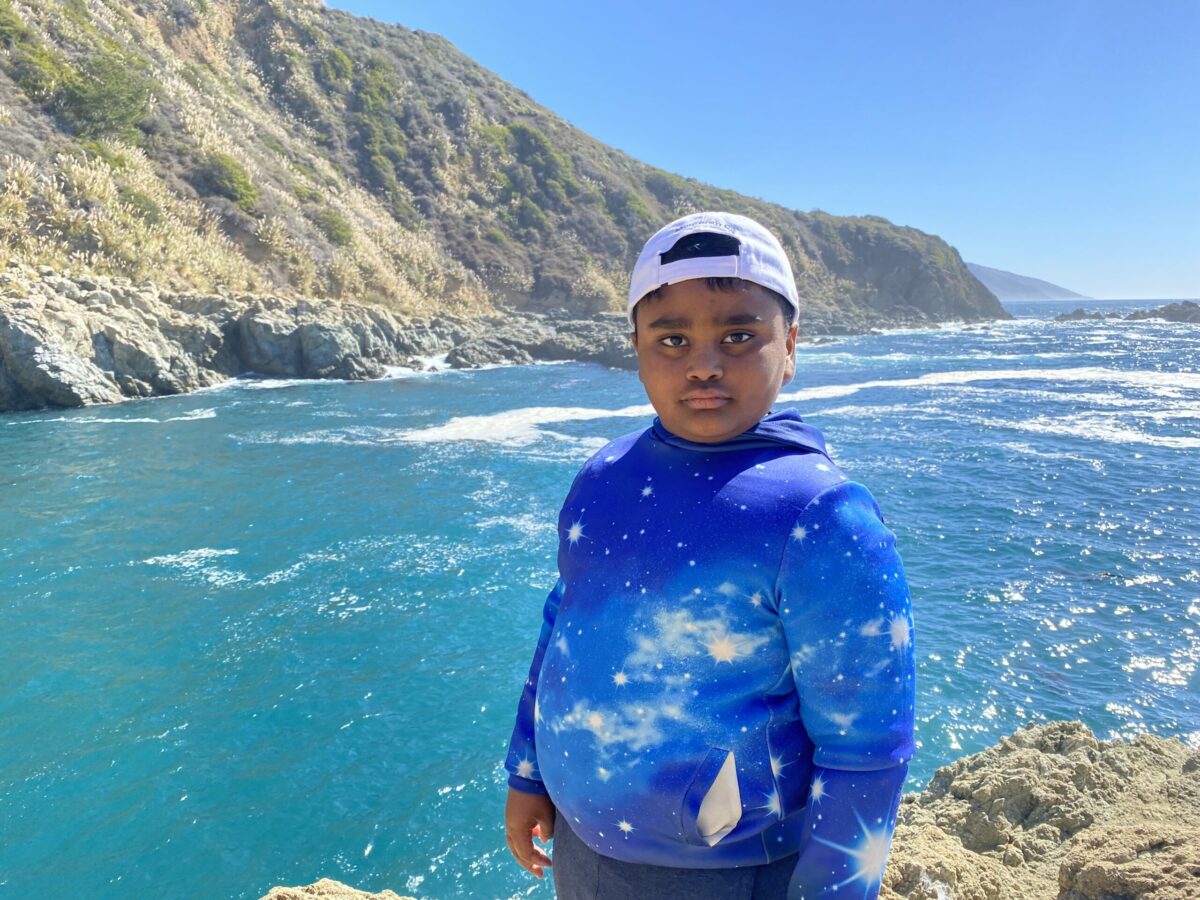 Walk down the Partington Cove Trail to an old tunnel, carved into the mountainside. At one point this transportation route helped workers carry lumber from one side of the mountain to the other. Cross through and experience jaw-dropping scenery. Turquoise blue waters surround scraggy rock ledges. Sit and have lunch or climb the rocks for an aerial view. Cost: $125-$250/person for guided hikes that range from a few hours to a full-day excursion. Or, here are other Big Sur hikes to consider on your own: Andrew Molera Loop and Pfieffer Falls.

Giddy up: Horseback riding on Pebble Beach
Explore the beautiful Del Monte forest down to the Pacific Coast via horseback, provided by Pebble Beach's Equestrian Center. Ride atop these gentle creatures on a guided trek over sand dunes and wooded trails. Stop along the route to pose for pictures and breathe in the Pacific's salty air. Guides, located in the front and back of the convoy, describe the significance of the coast to early settlers, history of the vegetation and trees that surround the area, and the emergence of golf's famous Pebble Beach Resort.
Riding is suitable for children over the age of 8. My kids had very little experience with horseback riding and felt comfortable with the trail and the calm horses that they were on. Under 8? Not to worry, children can enjoy a pony ride around the equestrian center. Rides are typically 50-90 minutes depending on the tour. Be sure to wear proper attire and close-toed shoes. You'll want to keep your phone in the car, and no backpacks are allowed on the trail. However, line leaders take pictures and send them to visitors after the trip. Cost: $65-$125 per person
Ride a surrey along the coast
Probably the most exciting and active part of our trip was manning the wheels and pedals of a four-person surrey. Rent your ride on the Monterey Recreation Trail at one of many Adventures by the Sea retail establishments. Head down the bike path and take a look at local stores, restaurants, artwork and breathtaking views of the Pacific Coast.
If you're thinking of an activity that fosters teamwork, this is it. Parents take turns handling the wheel and ringing the bell, while the rest of the family puts pedal to the metal. Zoom down the path as a pleasant, cool breeze blows the sweat off your brow. Stop as often as you want. Find an ice cream spot to take a break, walk the beach, play at a park or explore a new part of town in either direction of the trail.
My youngest son couldn't reach the pedals, so he cheered us on as we pumped up the hills. To help out a bit, I hopped out of the surrey to navigate traffic at crosswalks, jumping in after giving the vehicle a little more than a push or two. To this day, my kids talk about this experience, and it will remain one of our best memories.
Cost: $50-$200 depending on size of surrey and rental time.
Visit a hidden gem: The Monarch Sanctuary
Not far from Monterey, in Pacific Grove, is the Monarch Sanctuary. Tucked to the the very rear of The Butterfly Grove Inn, make your way past the colorful butterfly mural and into an inviting garden. Take a breath and smell the fragrance of fallen eucalyptus leaves, crushed underfoot.
Golden-winged monarchs flutter about, catching the sun's rays, and traveling up to land on towering cypress trees. Look up, and you won't believe your eyes. Camouflaged between the shadows of leaves and branches hang hundreds, if not thousands, of monarch butterflies. Spending the fall months in search for the perfect weather, these butterflies migrate to Pacific Grove to escape the winter chill. In a phenomenon called overwintering, monarchs flock to this site every year. Placards around the garden give facts about these insects and their migratory cycle. Stay a while to observe. Finally, if you choose, make a donation to help volunteers continue their work.

Cruise control: The scenic 17-mile drive
One of the most famous drives in California is the 17-mile drive through Del Monte Forest and Pebble Beach. First, pay a toll at the beginning of your excursion and be sure to pick up a brochure. The pamphlet will help you navigate the loop, providing destination names and a little history about all 17 points of interest. Enter the beginning of the loop and follow the red arrows to each destination. We were especially interested in Bird Rock and Seal Rock — both wildlife refuges for various animals that include cormorant, pelicans, seals, gulls and more. Stop and listen closely. You may hear the seals barking over the crashing waves as they sun on these white rocks. Also, keep an eye out for seal heads bobbing up and down with the surf.
Don't miss The Lone Cypress stop as well. A 250+ year old tree sits afar, braving the elements, and overlooking the Pacific Ocean. Want a snack or further your knowledge of Pebble Beach? Head to stop 14, the Pebble Beach Visitor Center. Here you'll learn the history of Pebble Beach and how it became a world-renowned name in golf's history. Find a souvenir for the trip home or grab a refreshment for the rest of the drive.
Note: The toll to take the scenic drive is $11.25 per car. However, if you dine at any one of the restaurants on Pebble Beach, show your toll receipt and it will be deducted from your bill (must spend $35 or more).

Fun in the sand: Tide pooling and beach combing
It would be a travesty if we went all the way to the Pacific coast and didn't check out the beach for a little tide pool and beach combing action. We stopped at Lover's Point Park in Pacific Grove, during low tide, and found a treasure trove of mussels and anemone lining the rocks. The kids also found purple sea urchins, moon snails, clams and the gulls that were trying to break them open.
We befriended some fellow beach combers who pointed out pretty pieces of blue, green, and white sea glass. After collecting some iridescent shells, dried coral, and seaweed we created a piece of beach art, leaving our collection for other visitors. Next, we headed up to the park to parkour our way around the rocks and watch the waves beat against the bottom of the cliffs. Finally, we grabbed a coffee and a cinnamon bun at one of the local cafes, then watched as the sun set on a pretty perfect day out.

Good eats right on the runway
Monterey has many family-friendly dining options along with an array of fine-dining experiences. My family loved Woody's Restaurant & Bar at the Monterey Airport. If you're thinking an airport setting with mediocre sandwiches and watered-down drinks, think again. Chef and owner Tim Wood is an award-winning culinary artist with an array of experience working in kitchens across the country.
Pop into the restaurant for breakfast, lunch or dinner and you'll find beautifully plated meals that combine great tasting food with locally sourced ingredients. We loved the fried calamari, clam chowder, heirloom tomatoes with burrata, mixed green salad with pink apples, steak, and roasted chicken. However, for kids who are less adventurous (like my youngest) the restaurant offers a "Future Pilots" menu with kid-friendly options that include burgers, chicken strips, grilled cheese and buttered noodles.
Even better, the restaurant sits atop the Monterey Airport runway. While you wait for your food, go out to the observation deck and wave to the pilots getting ready for takeoff. Choose outdoor seating or a booth near a window for ample opportunity to watch planes take off and land while you dine.

Fisherman's Wharf and Cannery Row
Fisherman's Wharf and Cannery Row are iconic destinations in Monterey Bay. The old buildings of Cannery Row were once used to can sardines for export. Fisherman's Wharf used to be a lively wholesale fish market, but now both are places where families gather for tours, wildlife viewing, dining and shopping.
Bonus family-friendly travel tips:
Flight to Monterey: The two-hour flight from SeaTac to Monterey is an easy trip to endure with kids. Bring a few snacks and something to read and before you know it, you've reached your destination. Currently there is only one direct flight via Alaska Airlines running in the afternoon. Plans are to expand this service and offer more flight times for travelers. The longest wait time was getting through security at SeaTac airport. Give yourself two-plus hours to get through the lines and reach your gate with time to spare. Additionally, if possible use SeaTac's free spot saver program to schedule a time to bypass long lines.
Where to stay: We stayed at the Hyatt Regency Hotel and Spa near the airport. It was a nice central location for all our activities in Monterey and beyond. The hotel is equipped with everything you need, from a pool to a golf course. In addition, it had plenty of space to roast s'mores and play outdoor games.
Read More:
Head to Semiahmoo for family fun
Find your spirituality at Holden Village: A family friendly destination for all
Need more ideas? Check out our travel section on seattleschild.com