Seattle has a plethora of options when it comes to playgrounds. Swings and slides, climbing structures and walls: so many things to do at the park that will keep your little (and big) kids engaged and active. These Seattle-area playgrounds have various themed features for children of all ages and interests.
If trains, boats, baseball and farms are what your child fancies, then you can't go wrong with one of these playgrounds. Try something new, too. Colorful, creative parks and structures will have you going back to play at these playgrounds again and again.
[ More places to play: Best inclusive playgrounds in the Seattle area | Destination playgrounds for your next NW road trip ]
Seattle:
Sea creatures playground: Carkeek Park (Seattle)
Sliding through the salmon sculpture is just the beginning of things to do at this park! The ocean-themed play area (1- to 8-year-olds) is next to a small playground (1- to 4-year-olds) with views of Puget Sound. To reach the beach, walk across the overpass and down a long staircase. Or you can hike the wooded trails, visit Piper's Orchard, or have a picnic in the meadow. If you visit in the fall, you can see salmon running!
Note: The park will be undergoing renovations in late 2022, improving accessibility from the parking lot to the playground and replacing the ground with a synthetic surface. The salmon slide may also be repainted.
Address: 950 NW Carkeek Park Rd, Seattle, WA 98177
Bathrooms: By the playground
Parking: Free parking lots
Wheels-friendly: Not really, other than a few trails like Lower Meadow and Piper's Creek
Ocean playground: Alki Playground and Whale Tail Park (West Seattle)
Kids will dive into this ocean-themed playground with a play structure shaped like a sand castle, a climbable boat, a whale's tail sculpture, and sand play area. This playground is best for younger kids (1-6), but keep an eye out because it is not fenced. If you walk across the playfield, there is a second playground that is fun for bigger kids (5-10). Round out your adventure with a stroll along Alki Beach (1.5 blocks north) or a woodsy hike through Schmitz Preserve (southeast corner).
Address: 5817 SW Lander St, Seattle, WA 98116
Bathrooms: By the Whale Tail section
Parking: Free street parking
Wheels-friendly: Yes
North End:
Baseball playground: Shoreview Park (Shoreline)
Batter up! This small playground (for ages 4-8) offers the novelty of climbing on a giant ball, glove, and bat — and it's next to a ballfield. The park is a local favorite that also features a second playground (for ages 2-8), tennis courts, paved loop, wooded trails, a creek and a dog park.
Note: The baseball playground is on the uphill (south) part of the park, near the tennis courts. The second playground is on the lower level, accessible by stairs or ramp.
Address: 17229 3rd Ave NW, Shoreline, WA 98133
Bathrooms: Next to the parking lot
Parking: Free parking lot
Wheels-friendly: Paved loop, yes. Wooded trail, no
Eastside:
Inspiration: Inspiration Playground, Bellevue Downtown Park (Bellevue)
With so many options to inspire play, it feels like an outdoor children's museum — for free! From the hillside slides to the climbing wall, the musical section to the in-ground trampoline, there is something for everyone (ideal for ages 1-10). In the summer, kids can cool off in the water feature area. This park is designed to be inclusive, with accessible play structures and Braille on the park map.
Note: This playground can get very busy. For a quieter experience, visit early in the morning or on rainy days.
Address: 100 100th Ave NE, Bellevue, WA 98004
Bathrooms: Next to the playground
Parking: Free parking lot
Wheels-friendly: Yes
Farm playground: Kelsey Creek Farm (Bellevue)
The playground includes a barn/country market play structure for bigger kids (4-10), another structure for smaller kids (1-5), a saucer swing and a rope carousel. Head over to the barns to see sheep, goats, ponies, pigs, cows, rabbits, and chickens. The animals are out for viewing from 9 a.m. to 3 p.m. daily. The gravel loop around the pastures is a nice walking path and there are more trails in the woods.
Note: The play structure has buttons that play animal sounds and other noises. If random sounds bother you or your child, skip the playground and check out the rest of the farm instead.
Address: 410 130th Pl SE, Bellevue, WA 98005
Bathrooms: Halfway between the playground and the barns
Parking: Free parking lot or street parking
Wheels-friendly: Loop around the pastures, yes; wooded trails, no
Train playground: Wilburton Hill Park (Bellevue)
All aboard! Younger kids (1-4) will enjoy playing on the train structure. Older kids (5-10) will have fun climbing the logging tower play structure. The zipline is a big hit, as well as the saucer swing and rope carousel. Adults can use the outdoor exercise equipment. The park also has sports fields and woods for short hikes. To extend the fun, visit Bellevue Botanical Garden, 0.3 miles away by taking the path north along the soccer field.
Address: 12400 Main St, Bellevue, WA 98005
Bathrooms: By the baseball field (uphill from the playground).
Parking: Free parking lot.
Wheels-friendly: Paths, yes; playground, no.
Outer space playground: North Kirkland Community Center Park (Kirkland)
This park packs several space-themed elements into a fairly small area, starting with Saturn and a rocket structure. Bigger kids (5-10) can test their climbing skills on the 7-foot moon and the rings-and-rope structure, while younger kids (1-4) use the toddler slides and spring-mounted wobbler.
Note: The park is shaped like an L and you can't see the whole park at once. This can be a drawback if kids want to play in different sections.
Address: 12424 103rd Ave NE, Kirkland, WA 98034
Bathrooms: By the playground; closed in winter
Parking: Free parking lot
Wheels-friendly: Paths, yes; playground, no
Castle Playground: North Rose Hill Woodlands Park (Kirkland)
Kids of all ages (1-10) will enjoy running around and playing hide-and-seek in this old-school wooden playground. There is a fenced play area for younger kids, and a dragon-themed climbing wall for older kids. To stretch the legs more, follow the paved path through the woods and across a short boardwalk to an open field and picnic shelter.
Note: The castle playground is along 124th Avenue Northeast, just south of Northeast 97th Street. We took several wrong trails before finding it.
Address: 9930 124th Ave NE, Kirkland, WA 98033
Bathrooms: Portable toilet near the playground, March to November (none in winter)
Parking: Free small parking lot shared with the fire department
Wheels-friendly: Paths, yes; playground, no
Dragon Playground: Deane's Children's Park (Mercer Island)
If a 50-foot-long climbable dragon sculpture sounds fun, this is the park for you! Kids (4-10) will love playing on the dragon, as well as two playgrounds and a climbing area. Toddlers (1-3) will enjoy the bucket swings. There are tennis courts and sports fields, as well as short hiking trails to round out the fun.
Address: 5701 Island Crest Way, Mercer Island, WA 98040
Bathrooms: Small building by the playground parking lot. More bathrooms at the far side of the sports fields.
Parking: Free parking lot
Wheels-friendly: Paths, yes; playground, not really; woods, possibly with an all-terrain stroller
South End:
Chutes & Ladders Playground: West Fenwick Park (Kent)
Life-size game, colorful play structures, accessible options. Whether your kids play Chutes & Ladders or not, this life-size version is sure to be a hit! Kids (1-10) can climb, slide, hop, and swing on colorful equipment. This park intermixes play structures designed for different ages, making it easier to keep an eye on more than one child. Beyond the playground, kids can enjoy a picnic on the grass, playing on the basketball court, or scooting around the flat paved loop.
Address: 3808 S Reith Rd, Kent, WA 98032
Bathrooms: Next to the playground
Parking: Free parking lot
Wheels-friendly: Yes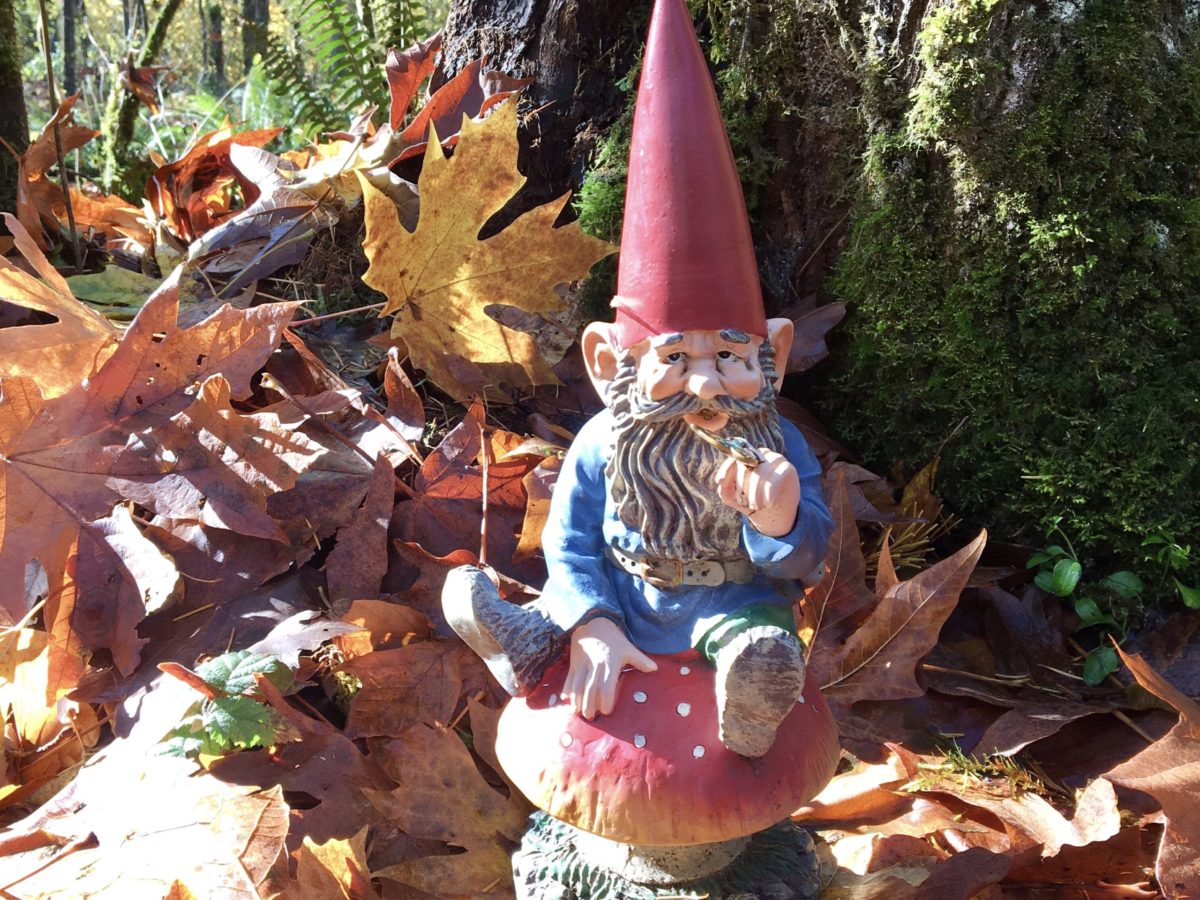 Bonus: Not a park but a really cool trail: Gnome Trail (Maple Valley)
Although it's not a playground, this short, fun hike is sure to please younger kids (2-8, or any age with a sense of whimsy). The trail is full of dozens, perhaps hundreds, of gnomes and other figurines — look for toadstools, butterflies, baby Yodas and more. It's a small area with a few intersecting trails, so it's a choose-your-own-adventure depending on how long you want to explore.
Note: We also enjoyed the Maple Valley Farmers Market, which takes place in the parking lot from 9 a.m. – 2 p.m. on Saturdays, May through September.
Navigation tip: Search for "New Gnome Trail" – the trail starts at the back of the parking lot.
Address: 25719 Maple Valley Black Diamond Rd SE, Maple Valley, WA 98038
Bathrooms: Portable toilets in the parking lot
Parking: Free parking lot
Wheels-friendly: Not recommended, but possibly all-terrain strollers
More family fun:
Check our Things to Do section and our searchable Family Event Calendar