Weekend events for kids and families. Erika's Picks for Sept. 18-19 Seattle-area weekend events:
Pop-Up Story Walk
through Sept. 23
Wilburton Park, Bellevue FREE
Lace up those walking shoes, grab the family and head to Wilburton Park in Bellevue for a fun pop-up story walk. Read "Drawn Together" by Minh Le as you meander from Wilburton Park through the Bellevue Botanical Gardens on a stroller-friendly trail. The story will be up until Sept. 23, so get outdoors and get reading!
BIPOC Paddling Skills Day
Sat 8 a.m. -1:30 p.m.
Lake Sammamish State Park. FREE
Come out for a fun and free Paddling Skills Day at Tibbett's Beach in Lake Sammamish State Park. Participants will be able to take lessons in kayaking, canoeing, stand-up paddle boarding, and rafting with experienced instructors. No experience or equipment required to participate! Children need to be big enough to fit a personal flotation device and work a paddle.
Skagit Valley Giant Pumpkin Festival
Sat 9 a.m. – 4 p.m.
Christianson's Nursery & Greenhouse, Mount Vernon 
The Skagit Valley Giant Pumpkin Festival is back at Christianson's Nursery. Come check out the pumpkin-growing hobbyists' submissions and watch the weigh-off for giant orange pumpkins and green squash. There will also be traditional carnival games, toad races, food vendors, a 'Bat's Incredible' class, and face painting.
Whidbey Island Kite Festival
Sat/Sun 9 a.m.-7:30 p.m.
Camp Casey Conference Center FREE 
Set against the majestic backdrop of the Olympic Mountains and Puget Sound, the annual Whidbey kite festival features impressive ground and air displays of color and imagination. Activities include kids' kitemaking, sportkite lessons and sportkite demonstrations. There will be two mass ascensions, at 12:30 p.m. each day, where everyone is invited to fly a kite of the specified style (delta or cellular on Saturday, flat/bowed or sparless on Sunday) on the field at the same time. There will also be a teddy-bear drop each day at 1 p.m. for children under 10, and "running of the bols" games for those under 16 at noon each day.
Honk Fest West
Saturday, noon-7 p.m
Columbia Park. FREE
HONK! Fest West is a nonprofit dedicated to the activation of public space through energetic musical performance and is part of a global renaissance of street band culture. HONK! Fest West works to break down systemic barriers to inclusion for those underrepresented within our community and underserved by arts in our region. This festival is open for anyone who would like to pick up an instrument (it can be as simple as stomping feet and clapping hands) and play. It takes place in Columbia Park in the heart of Seattle's Columbia City neighborhood.
Weekend events: Previous Erika's Picks
Sept. 11-12
Touch A Truck
10 a.m. – 1 p.m. Saturday
Sprinker Recreation Center, Tacoma FREE
If your kids love trucks and large vehicles, then this is the event for you. Come check out Pierce County's free Touch-A-Truck day this Saturday in Tacoma. Kids of all ages will love to climb, run around, sit in, and honk horns of all types of trucks like dump trucks, fire engines, bucket trucks, military vehicles, school buses and more at Sprinker Recreation Center. A special no-horns time is scheduled from noon to 1 p.m. for sensory sensitive children.
Family Foresters
Sat 10 a.m. -1 p.m.
Marine View Park, Normandy Park. FREE
Join the Friends of Normandy Park Foundation for a fun tree-planting and invasive species removal event at Marine View Park, one Saturday a month starting this weekend. Tools, supplies, trees/shrubs, education and snacks will be provided and you'll get to learn how to help the environment, best practices for planting trees and shrubs, how you can impact air quality and climate change and more. There's even a scavenger hunt with prizes. Be sure to sign up online.
Kraken Community Iceplex Grand Opening
3:30-8:30 p.m. Friday, 12:30-9 p.m. Sat/Sun
FREE for most activities
Check out Kraken Community Iceplex as its opens to the public for the first time! There will be public skate sessions, stick & puck games, and you can even try your hand at hockey. Plus local figure skaters will perform, you can shop at the Kraken Team Store and you can check out the off-ice family fun zone with games, prizes, info booths, ball hockey and cool photo opportunities! All guests to KCI are required to wear a mask at all times. Sign up for activity time slots online.
https://www.krakencommunityiceplex.com/community-events/venue-opening-celebration/
Family Day: Flexible Elements
Sat 1 p.m. – 4 p.m.
Museum of Glass, Tacoma
Spend Saturday at the Museum of Glass and Explore Counterparts: Glass + Art and study the seven elements of art – line, shape, texture, form, space, color, and value. Afterwards, join the education team and create your own Flextangles that depict your favorite elements through drawing and papercraft.
The Washington State Sea Turtle Race
Sat 2:30 – 3:30 p.m
Lewis Creek Park Visitor Center, Bellevue. FREE
Did you know that leatherback sea turtles forage for jellyfish just off the coast of Washington state? Come to Lewis Creek Park Visitor Center to learn about their biology and step into the life of a sea turtle as we play a fun migration game outside. Great for kids ages 5-10 with accompanying adult(s).
Please preregister.
Sept. 4-6
Olympia Harbor Days
Sat 10 a.m. – 5 p.m.
Port Plaza Park
Head to Olympia this Saturday for a fun, full day of activities on and about the water. There will be mini tugs on display, a LEGO harbor build with professional brick layers, a make-your-own tug race, remote-controlled tugboats, and a Maritime Heritage Self-Guided Tour. Be sure to dress for the weather and wear a mask. This year's event will not include tugboat tours, vendors or food booths.
Ellensburg Rodeo
Sat/Sun/Mon
Ellensburg
The Ellensburg Rodeo has earned its place as one of America's Top 10 professional rodeos. Started in 1923, it has grown from a local competition among ranch hands to the professional event of today with more than 600 contestants. See some of the nation's best riders, ropers, and wrestlers compete, then head over and check out the livestock barns, rides and fair food: Tickets to the Ellensburg Rodeo also grant admission to the Kittitas County Fair.
Zoo's End of Summer Blast
9 a.m.-5 p.m. Sat/Sun/Mon
Point Defiance Zoo & Aquarium
Come join animals at Point Defiance Zoo & Aquarium for an all-weekend end-of-summer celebration. Watch animals like the polar bear, penguins, sea otters and muskox play with icy treats and summery enrichments (at scheduled times, so you don't miss it!). Kids can cool off and splash like an otter, frog or fish on the lilypad splash pad in Kids' Zone, pet and feed the goats (open daily), and get an anemone hug around one finger at the Tidal Touch Zone. You can also take a botanical garden tour with the Zoo's horticulturist and learn what zoo animals eat or play with. Free with zoo admission ($14-20; ages 2 and under free).
Salmon Seeson at North Creek Trail
9 a.m.-7 p.m. Sat/Sun/Mon
North Creek Park, Bothell, FREE
The salmon are heading upstream, and you don't want to miss it. Head over to North Creek Trail Park in Bothell and walk south along the trail until you reach the Country Inn and Suites, or walk north until 240th Street. Then watch for chinook salmon in September, sockeye in October, and soho in November. Make sure to check under bridges where fish often hide, and for best viewing, visit in the early morning or late afternoon to avoid glare. Polarized glasses can help, too. Plan ahead, practice physical distancing, and wear a mask.
Raptor Biology Class
11 a.m.-noon Saturday
Shadow Lake Nature Preserve
Calling all bird lovers. Join the Shadow Lake Nature Preserve for an action-packed afternoon with raptor specialist Craig Moran. You'll learn about how raptors survive in the wild, the importance of raptors to our environment, and the status of ferruginous hawks in Washington State. All ages are welcome; children under 16 should be accompanied by an adult. $10 program fee per person.
Aug. 28-29:
Superhero Challenge
Sat 10 a.m. – 1 p.m.
Frontier Park, Graham
Unleash your inner superhero and use your strength, smarts and courage to power through this superhero-themed challenge course! Kids 5-10 can suit up, show up and save the day!
Every participant will be invited to create a mask and will receive a certificate of completion. Plus they'll have the opportunity to have their picture taken with a real superhero! $10
Snoqualmie Railroad Days
Sat 7:30 a.m.-7 p.m.
Northwest Railroad Museum
Snoqualmie Railroad Days is here and better than ever. This annual festival is 30 miles east of Seattle. Originally organized by volunteer firefighters to celebrate the arrival of the town's first fire engine in 1939, Railroad Days celebrates all things trains, timber and tradition. Come enjoy live entertainment, vendors, family activities, TimberSports, Art in the Park, a parade, free wagon rides, and train rides (fee).
Food Walk – Seattle's International District
Sat 10 a.m.-4 p.m.
Hing Hay Park
The Chinatown International District Business Improvement Area is hosting a very special food walk, complete with a prize wheel where you can spin for gift cards, certificates, and coupons to neighboring businesses, including Wing Luke Museum Chinatown tour tickets! Stop by Hing Hay Park to grab a menu and explore delicious eats and retail items.
Kenmore Air 75th Anniversary
Sat 11 a.m.-3 p.m.
Kenmore, free
Come celebrate 75 years of flying the Pacific Northwest with Kenmore Air Harbor. Festivities will include a brief program and presentation plus air harbor tours, a Kenmore Air formation flyover, entertainment by the HIS band and Lago Vista Social Club, plus food from Vespucci Wood Fired Pizza, Dicks Burgers, Sweet Wheels Ice Cream, & Tacos El Guero. There will also be giveaways, commemorative merchandise and a photo station. Free parking and shuttles services from Kenmore Park and Ride.
Delta Art Experience
Sun noon-4 p.m
Henry M Jackson Park, Everett FREE
Join the Delta Neighborhood Association for a day of immersive art experiences at Henry M. Jackson Park in Everett. Help paint temporary community murals at the park while listening to live music and poetry. There will be fun activities, food trucks and self-guided tours of murals and artist pop-ups in neighborhood gardens, too.
Weekend events: Previous Erika's Picks
Aug. 21-22
Big Day of Play
Saturday, noon-4:30 p.m.
Rainier Community Center & virtual. FREE
Big Day of Play is a celebration of Seattle's diversity, and it encourages neighbors, communities and families to have fun, build relationships and be active together. This year's Big Day of Play will be a hybrid in-person at Rainier Community Center and a virtual event so you can enjoy the event from wherever you are. Come join in the fun, meet some new people, and get your body moving!
2021 Seattle Design Festival
Sat/Sun 10 a.m.-7 p.m.
Lake Union Park. FREE
Do your kids like to design, build, and invent? Then the annual Seattle Design Festival at Lake Union Park is for you. All ages and abilities are welcome to attend this free, outdoor design event. Kids and parents can get hands-on with design installations and pop-up experiences.
Mudflat Safari
Sat 10 a.m.-noon
Padilla Bay National Estuarine Research Preserve FREE
Join fearless guides who will lead you on an exciting trek into Padilla Bay's mudflats this Saturday. Bring snug boots or old shoes that tie, and explore this amazing mud habitat. This event will begin at the Padilla Bay Interpretive Center and end at Bay View State Park. Masks, small group sizes, safe distancing and cleaning will all be required.
Family-Friendly Volunteer Work Party at North Creek Forest
Sat 10 a.m. -1 p.m.
North Creek Forest, Bothell. FREE
Come get an introduction to restoration ecology and enjoy some time in the great outdoors! Tools and gloves are provided at the events and activities range from invasive species removal to planting native species. Volunteers should dress in weather-appropriate attire, and an adult must accompany kids ages 1-15. Please RSVP.
Aug. 14-15:
Shorelake Battle of the Bands
Sat/Sun 5:30 p.m.-9 p.m.
Animal Acres Park.
It's summer, which means it is time for open-air concerts at Animal Acres Park in Lake Forest Park. Come see some amazing emerging musicians playing their own music as they compete for money and studio recording time. Gates open at 5.30pm and show starts at 6.30pm. Bring along a low-backed chair/blanket and picnic, or grab a bite to eat and a beverage from the Monka Brewing Co. Beer Garden. All ages are welcome (21+ in beer garden). The judges will decide winners, but crowd enthusiasm and excitement is a factor in jury decisions.
https://www.shorelakearts.org/battle-of-the-bands
Second Saturday with Daffy Dave
Saturday, 4-5 p.m. University Heights Sports Court.
Head to the University Heights Center for a chance to see Daffy Dave and his new magic tricks! Dave's funny magic, slapstick juggling & silly songs are great for the whole family. He'll be performing at the Sport Court by the north parking lot off Brooklyn Ave. Cost: "pay what you can."
Girls Try Hockey for Free
Sun 2:30-4 p.m.
Highland Ice Arena FREE
Try Hockey For Free at a session hosted by Western Washington Female Hockey Association, also known as the Washington Wild! They'd love to see more girls on the ice enjoying the great game of ice hockey. Girls ages 4-17 can come and try it for free on Sunday at the Highland Ice Arena in Shoreline. If your girl is not a skater already, be sure to bring a helmet. Waivers will be provided on site. Be sure to wear layers and bring mittens or gloves. Register online so they can have proper skate sizes on hand. Questions to info@wwfha.com
Storybook Theater in the Park: "The Boy Who Cried Wolf"
Sat/Sun, 11 a.m. and 1 p.m.
Juanita Beach Park, Kirkland, FREE
Shepherd-boy Sam is tired of watching sheep all day, and wants some excitement in his life. One day, he decides to shake things up by yelling, "Help – a wolf!" just for fun. The villagers come running, only to discover that Sam has pulled the wool over their eyes. Is telling the truth all it's cracked up to be? And what will happen when a wolf really does appear? Come see this one of four shows this weekend at Juanita Beach Park.
Free Comic Book Day at the Shoreline Library
10 a.m. Saturday
Kenmore FREE
All ages welcome to come to the Shoreline library to get a free comic from Marvel, DC, Image, Tokyopop, Dark Horse and more! They will be available while supplies last, so come early, and then stick around and check out some great books from the library, too.
***
Erika's Picks for Aug. 7-8 Seattle-area weekend events:
Duwamish River Festival
Aug. 7 noon–5 p.m.
Duwamish Waterway Park. FREE
Hosted by the Duwamish River Cleanup Coalition together with the South Park and Georgetown communities, this event is an occasion to bring our communities together to celebrate our diversity and the cleanup and restoration of the Duwamish River. There will be a family-friendly mix of activities, arts, culture, and entertainment beginning at noon at the South Park Plaza. Come and enjoy interactive educational booths, kayaking trips, local vendors, kids' art activities, dancers, musicians and more.
Kenmore's Walk, Bike, and Roll Scavenger Hunt
Aug 7-8 9 a.m. – 7 p.m.
Kenmore FREE
Through Aug. 15, you can take part in Kenmore's fun walk, bike and roll scavenger hunt. Simply download the clues, choose your mode of transportation, then answer the clues and share your journey at each stop through Kenmore using #walkbikerollkenmore. Be sure to wear your helmet if biking or scooting and follow the rules of the road.
Meet the Beach with the Puget Sound Estuarium
Aug 7/8 1, 10 a.m. – 1 p.m.
Priest Point, Woodard Bay, Burfoot and Tolmie State Park. FREE
Join scientists this weekend and throughout the summer at local beaches to wade through the mud and turn over rocks discovering estuary creatures like crabs, worms, sea stars and clams during summer low tides! Volunteer Beach Naturalists from the Meet the Beach program will be on hand from 10-1 this weekend to help you explore and identify the Salish Sea's unique intertidal life. Check out the Beach Schedule online to learn where you can find Beach Naturalists this summer.
Water Wizards with Shadow Lake Nature Preserve
Sat Aug 7 10 a.m.-noon
Renton FREE
Get outside for some fun in the sun and learn a little about the science behind water. At the Shadow Lake Nature Preserve, kids will get to investigate the different properties of water through hands-on experiments and discover the importance water plays in shaping the Nature Preserve ecosystem. This is a great event for all ages. Kids under 16 must be accompanied by an adult. Please register online.
Kirkland Pop-Up Sprinkler Park
Sat Aug 7 11 a.m. – 4 p.m.
Everest Park, Kirkland, FREE
The City of Kirkland is hosting pop-up park activities on Saturdays as part of its Summer Action Plan this year. This Saturday, and next, kids can enjoy a pop-up sprinkler park at Everest Park in Kirkland on Field 1. Bring a picnic, your swim gear, and sunblock, and enjoy the day with your whole family!
Erika's Picks for July 30-Aug. 1 Seattle-area weekend events:
Great Northern & Cascade Railway 1/8 Scale Train Rides
July 31-Aug1 1 10 a.m.-4 p.m.
Skykomish. FREE
Bring the whole family to the Great Northern & Cascade Railway in Skykomish for unlimited free train rides. Located just 45 minutes from Monroe off Highway 2, this excursion is fun for all ages. Rattle over 2,700 feet of track on a 1/8-scale train, explore the museum and visitor center, and don't forget to stop in at the gift store. Free; donations welcome.
Green Lake Inaugural Bike Lane Ride Celebration
July 31, 10:30 a.m.
Woodland Park Zoo parking lot,
North 50th Street and Phinney Avenue North
FREE
Join Seattle Department of Transportation to kick off a weeklong celebration of the new bike lanes around Green Lake Way and North 50th Street. The festivities start with a community bike ride, scavenger hunt and other fun activities, leaving from the Woodland Park Zoo Flamingo parking lot. This improvement project is one of the most significant investments made with funds from the Levy to Move Seattle. The ride will finish at the Green Lake Community Center where there will be kids' activities and refreshments until 1 p.m. Project staff will be on hand to answer questions about the new improvements.
Science Dome public shows
1, 3:30 and 5:45 p.m. July 31
Pierce College, Fort Steilacoom
Explore the night sky, fly through the solar system, observe the universe, and learn about new astronomical discoveries! Public Shows at the Science Dome at Pierce College are one hour long, including a 30-minute night sky tour and a 30-minute full dome video. Videos are shown on a rotating basis. Tickets must be purchased in advance. Ages 3 and up, $8 each. Masks must be worn by all visitors.
Pierce County Trails Day: Lucky Duck Scavenger Hunt
July 31
East Puyallup Trailhead. FREE
Pierce County Trails Day is an annual day for trail users to connect and celebrate community trails across Pierce County. This Saturday, families are invited to search for six rubber duckies that have been hidden along a 4-mile stretch of the Foothills Trail beginning at the East Puyallup Trailhead and ending at the McMillin Trailhead. Each duck has a QR code on the bottom providing clues to the next duck's location. Find all six and be entered into a drawing for a prize! Find the first clue on the Facebook event page or website.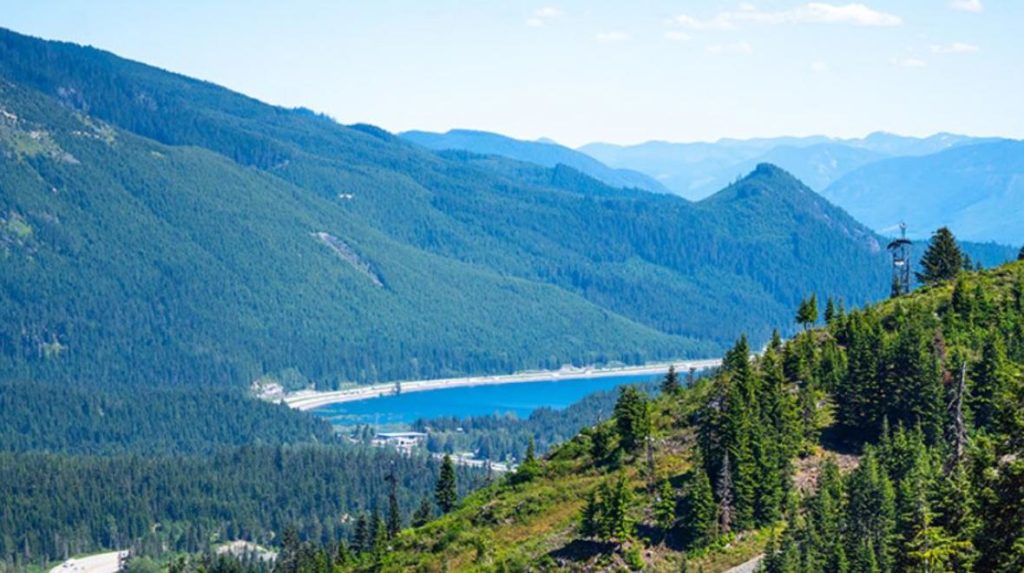 Chairlift Ride at The Summit at Snoqualmie
July 31-Aug. 1
Snoqualmie
All ages will love this easy and picturesque ride to the top of the mountain and back. Pacific Crest Quad Chair provides great views of the Snoqualmie Pass area. Scenic lift ride tickets can be used for as many round-trip rides as you want on the date chosen providing plenty of flexibility for travelers and visitors. At the top, unload the lift to enjoy the stunning views, hike around, and take photos. To get down you can either get back on the lift, or hike down the trail to the lodge. No strollers or bikes. $12-$18, 5 and younger are free.
Find more in the Seattle's Child Family Events Calendar
7-8:30 p.m. July 23
Jennings Memorial Park
FREE
Seattle Gypsy Jazz band Ranger and the Re-Arrangers will be getting the crowd dancing Friday night at Jennings Memorial Park in Marysville. The group blends the spirit of a Paris café with the raucous energy of a Gypsy campsite with their version of Gypsy jazz. You won't want to miss this! Put on your dancing shoes and bring blankets, chairs and a picnic dinner.
July 23/24
Richmond Beach Community Park FREE
Bring your little ones along on this outdoor event starting at the Richmond Beach library. Stroll along an easy, fully paved trail and read "Fox and the Bike Ride" by Corey Tabor as you go. It's a tale of three universally popular topics; friendship, adventure, and snacks.
July 24 10 a.m.-1 p.m.
Kirkland Urban
FREE
Families are invited to join Kirkland Urban for its second KU Kids event this month at the Fountain Court. Julie from Clown Buggie Entertainment will walk kids through this month's troll-themed craft. There will also be glitter tattoos, balloon twists and compl\imentary Russian folktale books to accompany Studio East's performance of "The Falcon" at 11 a.m. and 1 p.m. in the adjacent Peter Kirk Park. Families are invited to stick around afterward to enjoy Kirkland Urban's water feature. Towels will be provided as supplies last.
July 24/25
Lake Union Park, Seattle
Climb aboard the Fremont Avenue boat at Lake Union Park for this one-of-a-kind ice cream cruise. Every hour on the hour it will set out on a 45-minute trip around Seattle's Lake Union, for a narrated tour of this vibrant waterway. Come see the birthplace of the Boeing Company, a shipyard that has been working for over 100 years, the busiest drawbridge in the world, unique floating home communities, and more. This is a family and dog-friendly activity happening through Aug 28. Adult – $15, Children 3 to 12 – $10, Kids 2 and younger – $4. Ice cream and snacks available for purchase onboard.
Kids Fair to Go: At Home in the PNW
July 24 11 a.m.-4 p.m.
Bellevue Arts Museum
BAM is giving out 2,000 free craft kits for kids and families in place of the usual Kids Fair festivities this year. Pick up kids Friday through Sunday (while supplies last) from in front of the museum. Each of the kits includes materials and instructions for three craft projects inspired by the Pacific Northwest.
Erika's Picks for July 17 and 18 Seattle-area weekend events.
July 17, 9 a.m. -7 p.m.
Tollgate Farm, North Bend
FREE
Head to Tollgate Farm in North Bend for a fun, family self-directed obstacle course this Saturday. There will be options for walking or running with challenge stations spaced along the course that get you moving your body in different ways! Pre-register to receive activity instructions, then dress for the weather (and remember to bring a water bottle).
Story Walk in Sammamish
July 17 & 18; 9 a.m. – 6 p.m. 
Evans Creek Preserve
FREE
It's the final weekend for this fun story walk in Sammamish. Head to Evans Creek Preserve for a nice walk with your family and read the book, Tiny, Perfect Things, by M.H. Clark, along the way. It's a story about a boy and his grandfather on — you guessed it — a walk. Come read about what they discover on their adventure, and then see what you can discover on yours.
Shakespeare in the Park
July 16 -18; 7 p.m.
Lincoln Park
FREE
GreenStage Theater is back with their wonderful Shakespeare in the Park evenings. Head to Lincoln Park Friday, Saturday, and Sunday this weekend to see A Midsummer Night's Dream. The fairy King and Queen are quarreling, the city of Athens is in chaos, and mischievous Puck is enchanting humans. Luckily, the tangled webs will be unraveled by the end, and all will be well. Bring a picnic and blanket or low-backed chairs, and get ready for a magical night in the park.
NW Youth Art Workshop: Nature in Color 
July 17 10:30 a.m. – 12 p.m. 
Kruckeberg Botanic Gardens
$35
Kids 5-12 can join ShoreLake Arts and local artist Rohini Mathur in this engaging youth art workshop at Kruckeberg Botanic Gardens! Participants will get to play with colors and textures by learning how to layer with paper collage, how to make a bird with Zentangle-type doodles, and how to stamp using fresh leaves and flowers. The end result will be a nature scene on a 6″ x 6″ canvas. Art supplies and tools included.
Kla Ha Ya Days Carnival 
July 17&18. 1 p.m.-10 p.m. 
Harvey Airfield, Snohomish
It's time for some good, old-fashioned summer fun in the city of Snohomish. Head north for a fun Carnival all weekend at Harvey Field, a Sunday car show on 1st street in historic downtown Snohomish, and a Sunday Salmon bake at Hill Park next to Blackman's Lake. Don't forget your sun block!
Erika's Picks for July 10 and 11 Seattle-area weekend events.
Beach Naturalist Days 
July 10 & 11 / 11 a.m. – 1 p.m.
Redondo Beach
FREE
More than 200 Beach Naturalists have volunteered to help people learn about and enjoy our shorelines. This weekend and various weekends through the summer, they will be at beaches in and around Seattle and the Puget Sound telling you fun facts like what sea stars eat, why barnacles stand on their heads and how moon snails lay their eggs and so much more. And if you are out on a beach on your own and need help identifying something, you can send a photo via email and they'll respond as soon as they can.
Outdoor Family Music Class
July 10; 8:30 a.m. & 10:30 a.m.
Licton Springs Park
FREE
Studies show that exposing children to music early helps them learn the sounds and meaning of words. There's no time to start like this weekend, so head to Licton Springs Park and try out a free Music Together outdoor class. Newborns through 4-year-olds will be introduced to basic musical concepts through songs, rhythm, rhymes, movement, and instrument play. Be sure to register online or call 206-526-8443.
Crane City Origami Pop-Up
July 10; 11 a.m. – 2 p.m.
University Heights Center
FREE
Want to be part of a big art event? Join Multi-Media Artist, Brittani Anglin, on her journey to fold 7,000 origami cranes for her large-scale public installation, Pathway to Peace, as a way to bring the greater Seattle community together and destigmatize "The Seattle Freeze." The University Farmer's Market will be occurring simultaneously there, so grab a snack from the market and University Heights Center's lawn to learn how to fold origami cranes. The goal for this day is to create 250 cranes.
What's Wild? 
July 11; 2:30 p.m.
Lacey Lewis Creek Park Visitor Center
FREE
Dogs and coyotes look the same don't they? So, what makes them different? Find out what it means to be wild as we examine what separates the animals of the Lewis Creek Park from their domestic cousins on a ramble through the trails with a ranger. Great for kids ages 5-10 with accompanying adult(s). Preregistration required. All activities are modified to maintain social distancing.
Connecting Us with Water Outdoors
July 10; 10 a.m. – 12 p.m.
WET Science Center, Olympia
FREE
Head to WET Science Center in Olympia and learn what it takes to make dirty water clean again and how water has been utilized through the ages. You'll learn what dinosaurs drank and our water-themed pop-up will have you thinking like an engineer and discovering how water connects us all! You can even take science activities home with you and explore your outdoor space. Face masks and social distancing between groups are strongly encouraged.
Erika's Picks for July 3 and 4 Seattle-area weekend events.
Auburn's Squirrely Summer Scavenger Hunt 
July 3 & 4; 8 a.m. – 9 p.m.
FREE
There's an elusive squirrel in and around Auburn's parks and trails, and you can help find him! This silly scavenger hunt happens from July 1 though July 11, giving your family a fun opportunity to get outside, spend time with friends, and maybe even win a prize. Just print a Nutty Scorecard from the website or use your smartphone to record your finds, Then hit the trails to locate the 12-inch squirrels. Each squirrel has a unique number to write down, and once you've located 10, send in your list. Don't forget to take and share your pictures, too! Winners will be selected on July 14.
Gig Harbor Wings and Wheels
July 3 & 4; 10 a.m. and 2 p.m.
$125 per car
Tacoma Narrows Airport
Wings & Wheels is offering an intimate and personal experience at this unique "Drive-In" Air show. The will be using the same planes that will be flying the Freedom Air Show later in the day on the Fourth of July. Get ready to experience the most spacious tailgate party parking spot you have ever seen! No concession booths are planned, so stock your cooler, and then enjoy a leisurely picnic and drinks while you ooh and aah over the planes. One ticket admits all the occupants in your vehicle to the air show.
Agents of Discovery 
July 3 & 4
FREE
Franklin Townsite and St Edwards State Park Mission
Agents of Discovery is a free, educational mobile gaming app which uses augmented reality to motivate kids of all ages to actively explore and learn more about the outdoors. State Parks staff has designed two missions (or games) in our area — one for the Franklin Ghost Town near Mt Rainier and one for Saint Edward State Park in Kenmore. Each mission has 10 challenges activated through GPS when you enter certain areas in the park. Some challenges will be hidden at first, but they will pop up on the mission screen as you walk the park and get close enough to the location of each marker. When they appear, just tap on the marker to start and you will be asked to solve a problem or answer a question. For each completed challenge, you'll receive points, up to a total of three. Can you do it? Download the app, grab your family, and find out!
Story Walk at Wonderwood Park
July 3 & 4; 9 a.m. – 8 p.m.
FREE
Lacey, WA
In this collaboration with Lacey Parks, enjoy a nature walk and a great book at the same time! Just head to Wonderwood Park, located between College St and Ruddell Rd to read Hank's Big Day: The Story of a Bug, by Evan Kuhlman. Large pages of the book are placed along a trail near the play structure so you can read and learn as you stroll!
Tiny Tides Storytime 
July 3; 10 a.m.
$15 for each adult plus child. Additional children $3 each. Please register due to limited space.
Puget Sound Estuarium, Olympia
Kids ages 2-7 and their caregiver can visit the Estuarium every first Saturday of the month for Tiny Tides Storytime. Team members will read an estuary themed picture book from our Children's Library and participants will be able to explore our exhibits and get time to meet some of our animal ambassadors in our touch tank!
Erika's Picks for June 26 and 27 Seattle-area weekend events.
PopUp StoryWalk
June 26 & 27
FREE
Downtown Issaquah
From now through July 1st, you can meander down Front Street in Issaquah and read the wonderful story, Drawn Together, by Minh Le as part of the PopUp StoryWalk program. Start behind the historic Shell Station and follow the sidewalk down a very easy, stroller friendly path along the railroad tracks. The trail is fully, paved, so great for all ages. Get Outdoors! Get Reading!
Fun Virtual Dance Party
June 26 10 a.m.
FREE
Kids of all ages will enjoy this high-energy online Dance Party with the popular kindy rock band, the Not-Its! This event is free but you will have an opportunity to make a donation when registering to support Pike Market Child Care and Preschool's Tuition Assistance Program. Register for the live event, then you'll receive a link to view at your convenience.
Capitol Hill Pride March & Rally
June 26 & 27 10 a.m. – 8 p.m. 
FREE
Cal Anderson Park
This will be Seattle's only Pride and Diversity public event in the heart of Capitol Hill's Pike/Pine area for the summer. Come see music headliners like The Marshall Law Band, Michael Cagle, Dining Dead, and AP Macroeconomics. There will also be a "Dating Game" type debate among mayoral candidates including Lorena Gonzales, Colleen Echohawk, Jessyn Farrell, Lance Randall and others. Seattle City Council candidates include Brianna Thomas, Nikkita Oliver, Sara Nelson and Teresa Mosqueda. Plus plenty of inspirational speakers and amazing food!
Lake Washington Boulevard 'Keep Moving Street' Summer Weekends
June 26 & 27 ; 7 a.m. – 8 p.m.
Bike, scoot, walk, hop, and run your way down a one-mile stretch of Lake Washington Boulevard this weekend! The city is closing the lovely mile (Mount Baker Park to Genesee Park) along Lake Washington Boulevard and it's a great space to get some fresh air, spend time with friends and family, and enjoy the view.
Family Service Event
June 27 10 a.m.
FREE
Grass Lawn Park, Redmond
This month, show your appreciation for our incredible health care workers by making thank you cards for them. We'll be practicing our appreciation at Grass Lawn Park in Redmond this Sunday. Supplies will be provided. We will also do a short reflection time after our event.
Erika's Picks for June 19 and 20 Seattle-area weekend events.
KCLS Online Program — Juneteenth: Journeys of Remembrance Celebration  
June 19, 10 a.m.
Come experience Juneteenth through the lens of local artists and creatives like Courtney Clark, Kiana Davis, Black Stax and Joe Williams. All ages are welcome to join and learn the history, traditions and stories of the African-American journey from slavery to emancipation and beyond. Please register at kcls.org.
StoryTrail at Cochrane Memorial Park, Yelm
June 19 and 20
Put on your walking shoes and enjoy a lovely stroll through Cochrane Memorial Park while reading a great book at the same time. The featured story on this trail is "The Hike" by Alison Farrell. It has been re-created on large signs placed along a trail by the fishing pond. To avoid the current construction, park on the street and enter from the left side of the park.
Parkour at the Waterfront
June 19 and 20, 12 to 4:30 p.m.
FREE
This weekend, head to Pier 62, just north of the Seattle Aquarium on the Seattle waterfront. Parkour Visions has partnered with Friends of Waterfront Seattle to build several new scaffolding sets designed by Parkour Visions' design director. Each setup will have different themes, and Parkour Visions' coaches will be on hand to facilitate games, challenges and free play at each station. This a great event for all ages. RSVP on the Parkour Visions Facebook page.
Summertide Solstice Art Festival
June 19, 1 p.m. to 5 p.m.
FREE
Port Angeles Fine Arts Center and Webster Woods Sculpture Park
Head to Port Angeles for this free family-friendly event to celebrate the longest day of the year and to welcome new artwork to Webster's Woods Sculpture Park. There will be live music, hands-on nature activities and crafts, poetry readings, self-guided park tours, poetry walks and a pop-up store with nature-inspired books and gifts. Come wander the trails to view 13 new open-air art installations in Webster's Woods Sculpture Park and take along a scavenger hunt and park map to find more than 100 existing works of art nestled into the 5 acres of rugged second-growth forest. Check out the website for performance schedules.
Ranger Walk
June 19, 2 to 3 p.m.
FREE
Lake Hills Greenbelt Ranger Station
It's going to be sunny, so get over to the Lake Hills Greenbelt Ranger Station for a fun ranger-led walk this weekend. Every Saturday, a ranger will host a mild 1-mile nature hike through the Greenbelt's trails, where you can discover the season's myriad of flora and fauna. Be sure to wear weather-appropriate outdoor clothing and shoes, and bring along binoculars or magnifying glasses if you have them. Afterwards, you can continue on to the Larsen Lake trail loop and use your newfound knowledge to go exploring. The event will happen rain or shine. Pre-register at register.bellevuewa.gov. 
More things to do:
9 U-pick strawberry farms in the Seattle area 
11 Seattle-area playgrounds for the under-5 crowd
On the water: 11 options for Seattle boat rentals and tours
Erika's Picks for June 12 and 13 Seattle-area weekend events!
Washington State Park Free Days 
June 12 & 13
FREE
There are a handful of days each year when a Discover Pass is not required for day trips to visit our State Parks or lands managed by the Washington State Department of Natural Resources and Washington Department of Fish and Wildlife. This weekend we have two of these days! June 12 is National Get Outdoors Day and June 13 is Free Fishing Day. So grab the family and head into the great outdoors for two days of fun!
Family Treasure Cruise 
June 12 & 13 
Tickets $35-39
Swashbucklers of all ages are invited aboard Queen Anne's Revenge for an interactive pirate experience as we cruise the waters of Lake Union. You'll get to search for treasure, play games, learn to talk like a pirate, and fire the ship's water cannons as we defend the honor of the Revenge. Each kid will receive their choice of one item from the ship's treasure chest. Reference website for Covid-19 precautions.
Storytelling with Eva Abram (Virtual) 
June 12; 4 p.m. 
FREE
University Heights Center's Second Saturday family event is proud to present master storyteller Eva Abram this Saturday. Join her for a virtual journey through engaging stories about how people from long ago explained the world around them.  Come listen to stories about why Anansi the Spider has eight legs and why a giraffe has a long neck. Plus the cautionary tale about one boy who learns a lesson about asking parents for outrageous things! Great for kids 6 and up and their families. RSVP to receive a Zoom link to the event.
Seattle International Dance Festival 
June 12; 7:30 p.m.-10 p.m. 
FREE
After more than a year of virtual performances, the Seattle International Dance Festival is opening its doors around Seattle to reduced-capacity, in-person audiences. This 17-day celebration of contemporary dance with indoor and outdoor events, showcasing local, national and international artists kicks off today, so don't hesitate – get your tickets! See the website for time, locations, and featured artists.
Ranger Led Hike at Coal Creek Natural Area 
June 12; 9:30 a.m. 
FREE
Come explore Bellevue's largest park with a ranger and get lost in the wilderness while still in the city! The Coal Creek Natural area is rich in history and wildlife and a great place to explore. Be sure to wear sturdy shoes and dress for the weather for this moderately difficult hike. Preregistration Required at Register.BellevueWA.gov.

Erika's Picks for June 5 and 6 weekend events. Seattle-area weekend events and weekend fun!
Book-It Repertory Theatre Presents: Mañanaland (Virtual) 
June  5
$25 or pay-what-you-can
Through June 30 you can watch this wonderful four-part show about a boy named Max who wants to grow up faster than his family is ready for. But what happens when Max uncovers a legacy that requires him to take a risk? Log on to see if he can rise to the challenge and become the person he is meant to be.
Build Your Own Fairy House  
June 5 and 6
FREE
Kids of all ages and their families can exercise their bodies and their creativity with this fun activity. In celebration of Lakewold Gardens FairyFest in Lakewood at the end of June, you can build your very own Fairy House using materials from your yard or neighborhood. Submit a photo of your fairy house to be entered in the People's Choice contest. Be sure to give your fairy house a name and include the age of the builder in the submission.
Open Play at the PlayGarden 
June 5, 9:30 a.m. to 1:30 p.m. 
FREE
Open Play is open again at the Seattle Children's PlayGarden, on the south end of Colman Playfield. Kids of all ages and abilities can enjoy a beautiful, inclusive park with friendly staff on site to offer support as needed. No fees or registration required. The PlayGarden is an inclusive play space that offers seasonal and culturally relevant activities such as gardening, cooking classes, music classes, dance, movement activities, art, construction and more throughout the year. Open Play will be happening Wednesdays through  Saturdays through August.
Fire Day with MOHAI and the Seattle Fire Department 
June 5, 10:30 a.m. to 12:30 p.m. 
FREE
It's been 132 years since the Great Seattle Fire. Fire Station 5 and the Seattle Fire Boat, The Leschi, will be commemorating the occasion with a boat tour, craft-making, and online storytelling. Get to learn how firefighters become pilots, paramedics, rescue swimmers and more. Stream the events live on the Seattle Fire Department's Facebook page.
Sunset Hike with a Ranger 
June 5, 8:30 to 9:30 p.m. 
FREE
Come take an easy night hike with Lake Hills Greenbelt ranger to look and listen for mysterious animals that only come out when the sun goes down. You won't believe how different the sights and sounds of the forest are in the evening hours. Dress warmly and wear shoes you can walk a mile in. Activity occurs rain or shine. Pre-registration required at Register.BellevueWA.gov. All participants must wear a face mask and maintain 6 feet of social distancing.