It's time for some family friendly things to do in West Seattle because the bridge is finally open! After more than two years of repair work and closures, the bridge opened on September 17. The bridge opening makes for an easy day trip to explore West Seattle with kids. There's no more driving around, timing lower bridges or paddling back and forth like the Denny Party did in 1851. Go out and explore some of our favorite places.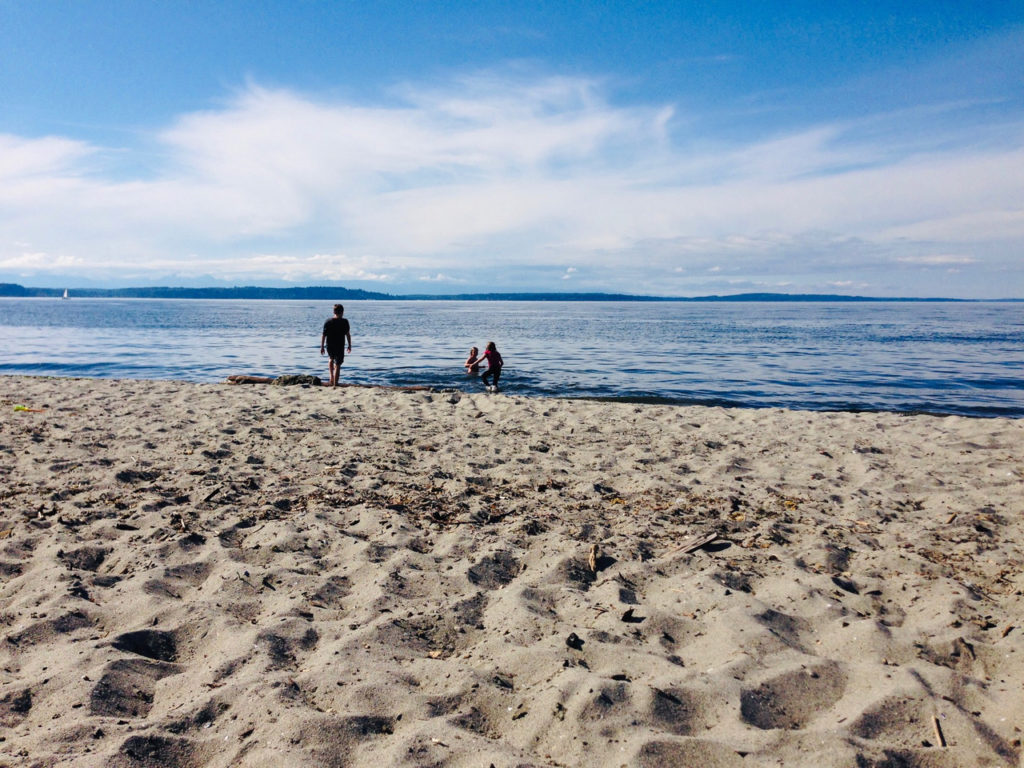 Iconic beach
Alki Beach
Address: 2665 Alki Ave SW
Known as the birthplace of Seattle, you don't want to miss a trip to Alki Beach! This sandy stretch of beach, with its stunning views, is most popular during the summer, but has something to offer year-round. Pack your shovels and buckets to build sand castles, hunt for sea glass along the shore and spot a (mini) Statue of Liberty. In warmer weather, splash and paddle in Puget Sound or take a refreshing dip by doing the Polar Plunge on New Year's Day. On rainy days, younger kids have a blast at Outer Space Seattle's indoor playground.
Bonus: Up for exploring a bit more? Get walking or rolling along Alki Trail, a 4-mile paved path that goes from the beach to the West Seattle bridge. Rent surreys and bikes seasonally at Wheel Fun Rentals—the chopper bikes are especially fun—or bring your own.
Tip: A block off the beach is Alki Playground, known locally as Whale Tail Park, named after the popular metal sculpture kids love to climb. The nautical theme also includes a dory boat, lighthouse-inspired climber, plus swings, a large field and restrooms.
Iconic park
Lincoln Park
Address: 8011 Fauntleroy Way SW
Another iconic West Seattle spot is Lincoln Park. Explore its rocky beach for sea life at low tide and build driftwood forts as you watch ferry boats come and go. A paved path running parallel to shore is perfect for scooters and bikes. The path leads to Colman Pool, an outdoor saltwater pool open during the summer. It's also the perfect spot for spotting whales. In the upper part of the park, listen for owls as you walk under a canopy of forested trails, splash in a wading pool, open seasonally, and discover a fantastic playground with tree house-themed play structures, slides, swings and a zip line.
Bonus: Just north of Colman Pool, on top of a big rock, is an ever-changing piece of community art spelling the word LOVE. Made out of rocks, sticks, flowers, shells and other pieces of nature that passersby find in the park.
Tip: Parking- the most southern lot is easiest for reaching the beach and the northern lot is closest to the play fields, playground and wading pool. There's plenty of street parking, but make sure to watch for the parking restrictions.

Local living
Alaska Junction
Address: Intersection of California Ave SW and SW Alaska Street
Looking for the center of activity in West Seattle? Head to the Alaska Junction! Within a few blocks you'll find local shops and restaurants, a Sunday farmer's market, monthly art walks, summer outdoor movies and special events throughout the year. Parents and kids will love shopping for toys at Curious Kidstuff and looking for new and used finds at both My Three Little Birds consignment shop and Pegasus Book Exchange. Older kids will enjoy exploring music at Easy Street Records or try one of the escape rooms at The Escape Artist. Everyone will enjoy a scoop of house-made ice cream at Husky Deli and delicious French treats at Bakery Nouveau.
Bonus: Keep your eyes open for large murals featuring historic images of West Seattle's past on several of the buildings. Each has a story to tell—like "The Old Mud Hole" that would go on to become Colman Pool (4520 44th Ave SW, north side of the building).
Step, hike or stroll into these adventures
Climb to the highest point in the city
Address: Myrtle Reservoir Park, 3600 SW Myrtle Street, Seattle, 98126
Myrtle Reservoir Park is home to the highest point and the highest stairs in the city. In only 40 steps, reaching 520-feet above sea level, the views of downtown and the Cascade mountains are amazing. A set of markers points out other, shorter hills, each noting their elevation. Since this is a quick climb, you'll have plenty of time to enjoy the wonderful playground. It has two areas for different ages and a super-fun climbing structure. Plus, there's a flat circular path at the top of the park, especially good for beginning bike riders.
Bonus: If you're up for more stairs, try the nearby Thistle Street Stairs (367 steps) which includes a beautiful mural by local artist Desmond Hansen.
Hike through an old-growth forest
Address: Schmitz Preserve Park, 5551 SW Admiral Way
Schmitz Preserve Park, located just above Alki, on the north end of West Seattle, includes an old-growth forest that gives you a glimpse of what things looked like before the Denny Party arrived in 1851. With just under two miles of trails, bridges and boardwalks, a creek, and a log painted to look like an alligator, it makes the perfect spot for a hike in the woods in any weather.
Bonus: Look out for several large stumps with deep notches. These indents were created by the "spring-boards" that loggers would stand on when chopping down a tree before it became a park.
Tip: The main entrance is off Admiral Way on Stevens Ave SW. Look for a kiosk with a trail map and park along the street.
Stroll through roses, rocks, conifers and all the way to gardens of China
South Seattle College Arboretum + Seattle Chinese Garden
Address: 6000 16th Avenue SW Seattle 98106, North Parking lot
South Seattle College Arboretum was created as an outdoor classroom for the college's Landscape Horticulture program and is open daily to the public for free. Meander paths through an oasis of different gardens—sensory, tropical, rock, rose, conifer and more. Bridges, and landscaped streams will keep kids exploring with lots of room to run. Then discover the adjacent Seattle Chinese Garden. A Sichuan-style garden featuring the four traditional elements of a Chinese garden which are plants, stone, architecture and water. Kids will love spotting koi swimming in the pond, wandering through a bamboo forest and finding the large metal fish sculpture, called Dragon Seeker.
Bonus: If you're feeling hungry, the Alki Cafe on campus, part of the school's Culinary Arts program, is open weekdays for sandwiches, drinks and treats.
Hop a ferry to another island or downtown
Fauntleroy Ferry
Address: 4829 SW Barton Street
Just south of Lincoln Park is the Fauntleroy ferry dock, where you can float your way to a plethora of places. Short and sweet is to simply catch the next boat that comes in, walk on and ride it out and back, or venture to Vashon Island for a full day's adventure. Hop the Southworth ferry and be whisked away to the Kitsap Peninsula and beyond.
Bonus: Next to the dock is the small but awesome Cove Park that's worth checking to while waiting for the next boat.
Tip: The schedule is always changing so best to check times before you go.
West Seattle Water Taxi
Address: 1660 Harbor Ave SW, Seattle 98126
If you're looking for an easy and relaxing option for getting to West Seattle from downtown, climb aboard West Seattle Water Taxi, a walk-on ferry operated by King County. It departs from Pier 50 along the Seattle waterfront and lands at Seacrest Park in West Seattle. Once here, enjoy delicious Hawaiian-Korean food and shaved ice at Marination ma kai while watching divers in a nearby cove. Right next door is Alki Kayak Tours which offers guided tours, classes and rentals. Families with older kiddos might like to rent cruiser bikes and pedal the two miles to Alki Beach.
Bonus: The King County Water Taxi Shuttle has two free routes (#773 and #775) that can take you to the Admiral, Alaska and Morgan Junctions as well as Alki Beach.
Tip: An adult fare is $5.75 ($5 w/Orca card) and kids 0-18 now ride for free.
Hidden gems you don't want to miss
Camp Long
Address: 5200 35th Ave SW
Tucked off a busy street is one of our best local secrets. Created in the 1930s as a resource for city kids to learn outdoor skills, Camp Long boasts a series of forested trails, a small pond to explore, a huge field to play in and two rock climbing areas. There's also an environmental center where you can pick up a trail map and go on a fun scavenger hunt. Rent rustic cabins for an overnight (seasonally) stay and a take the ropes course, used for team building activities. It's also home to an outdoor preschool and hosts several nature-based events. This is a great place to host birthday parties too.
Tip: Closed Sundays and Mondays
Jack Block Park
Address: 2130 Harbor Ave SW
Look for the metal, orange boat-like structure high in the air, marking the entrance to this Port of Seattle park. A fantastic spot for watching cargo ships, cranes and containers at Harbor Island this is the perfect outing for your construction-loving enthusiasts. A meandering paved path starts by a non-traditional play area (giant metal buoys to climb on) and leads to a small beach before ending at a raised viewing platform for close up viewing of marine activity and stunning views of downtown.
Bonus: For kids fascinated by heavy machinery bring along this self-guided terminal tour for descriptions of all the equipment you might see.
Tip: From the main parking lot to the viewing platform is about a 1/2 mile walk along a paved path. A smaller lot close to the beach and viewing platform has a handful of spots with a 30 minute limit.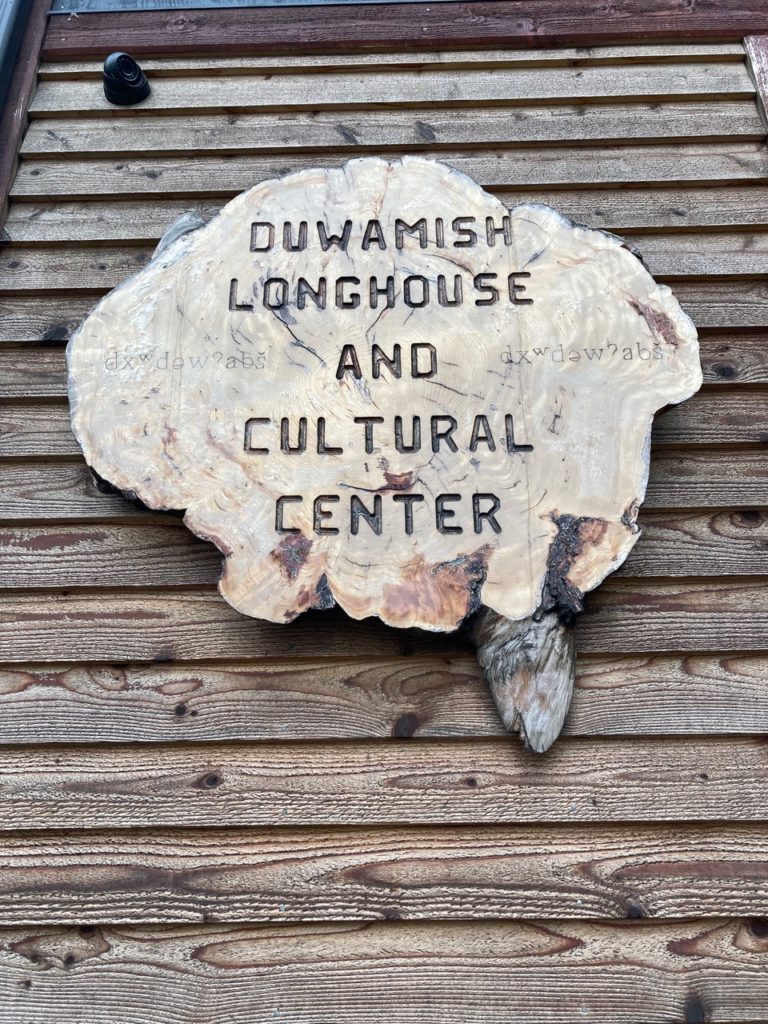 Seattle History
Duwamish Longhouse and Cultural Center
Address: 4705 W Marginal Way SW, Seattle 98106
Along the east side of West Seattle runs the Duwamish River and a chance to learn about the Duwamish Tribe. Learn about the First People's Nation. Start by visiting the Duwamish Longhouse and Cultural Center, where you can do a self-guided tour of the traditional longhouse, museum and gallery. Then cross the street to explore two riverfront parks where their villages once stood—həʔapus Village Park & Shoreline Habitat and Herring's House (Tualtwx). Discover a series of artistic kiosks that tell the story of the river salmon. Spot the skeleton of a ship high in the air to read interpretive signs below explaining the history of where you are standing.
Bonus: For another peek into local history, visit the Log House Museum on Alki.
Tip: Open Tuesday-Saturday 10am-5pm. Free admission.
Read more
Go apple picking this fall season