Editor's note: This event runs through Dec. 30 and tickets are still available.
Light show: What is it about twinkling lights that we love so much? For my family it signals the beginning of the holiday season. With COVID-19 restrictions limiting our usual list of holiday outings, I decided to take my kids Simon, 7, and Nikhil, 9, on a trip to The Lights of Christmas, a drive-thru light show in Stanwood. It's a nice, family-friendly experience, and we highly recommend adding this trip to your holiday to-do list.
Getting there and getting tickets
A little over an hour north of Seattle, The Lights of Christmas is located at the Warm Beach Camp and Conference Center. The large facility that normally hosts youth camps, horseback riding, meeting rooms and lodging is now transformed into a wonderland. With over a million lights, costumed characters and a socially distanced wave from Santa and Mrs. Claus, the drive-thru experience was filled with fun.
Tickets purchased in advance are required, costing $20 per vehicle for visits Sunday to Thursday. The cost goes up to $25 per vehicle if you go on Friday, Saturday or the week of Christmas. Load up your car with your immediate family — or include your pod. Ticket pricing accommodates one to twelve people per vehicle. When purchasing tickets, you must reserve a time as well. I chose to take my kids around dinnertime and packed sandwiches and drinks for the ride.
Getting to the facility required some time management, dealing with evening traffic and minor slowdowns. It had been quite some time since my children had been in a car for over an hour, and it was difficult for them to occupy themselves. "Are we there yet?" was the popular question of the evening. Be sure to pack a couple of activities, play an audio book or plan on listening to their favorite tunes on the way.
The crowd. The snacks!
We got to the facility and were surprised to see a line of cars, but everything moved quickly. I was thoroughly impressed by the organization of the event. Employees in safety jackets and masks directed traffic, making check-in easy. Be sure to bring a mask to wear when you roll down your window to speak with staff. Bring your ticket as well, either printed or on your phone.
After checking in, we drove through a winding path that led us to a fork in the road. One side led you into the light display, while the other path was to purchase snacks. "We want doughnuts!" both my kids chimed. Doughnuts, water and kettle corn (in holiday colors!) ran us about $20. We purchased our treats and headed onto the light show route. Note: The cinnamon sugar mini doughnuts are warm and delicious. (Don't miss them!)
There are no areas to stop, rest or get out to eat. Visitors are required to stay in their vehicles unless they need to use the restroom, which is located near the entrance.
Sandwich boards signaled us to tune our car radio to the event's Christmas station. "Wow, now it feels like the holidays!" said Nikhil. A loop of holiday music, sprinkled in with knock-knock jokes and facts about cedar trees, entertained my kids throughout our visit.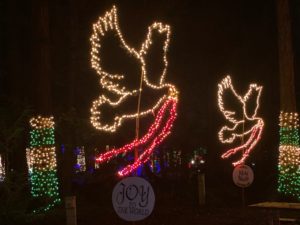 Drive-thru
The lights, each silhouetting a different winter scene, were quite amazing. Cedar tree trunks were adorned with different colors, highlighting the camp's forest for the light show.
"Look there! A waterfall made out of lights!" and "Mom, look at all the Nutcrackers!" were just a couple of the comments from the back seat.
We waved to Santa, Mrs. Claus and Rudolph. There were large movie screens that shared holiday scenes, one with a snowman and another with Santa's workshop. Since we were in a moving line, we never quite got to the end of each snippet.
The light show's entire drive-thru lasted around 25 minutes with stops along the way at favorite displays. We weren't able to get out of our car, but we rolled our windows down to take a good look at boats that were covered with white lights, a forest of tree trunks that were rainbow-colored and a field of deer resting in front of a lit mountain landscape. We even went through an interactive light display. "It looks like we're in a disco ball," Simon said.
After exiting the light show, we stopped at the Warm Beach Methodist Church parking lot to stretch our legs and take a short walk around. My kids had dinner as well and settled into their seats for the car ride home.
Was it worth the drive to see The Lights of Christmas?
"Yes! We liked it a lot," said Nikhil. Simon giggled and shared a joke he remembered from the radio station. As tired as we were after a late night, it's a memory we'll fondly remember.
Neighborhood lights
If you're not up for a long drive or want to get out of the car (with masks on!) to truly experience the twinkling of holiday lights, check out your own neighborhood. Neighborhood social media sites are great places to ask about or search for homes with spectacular light displays. Often neighbors who build these displays ask patrons for donations to a local charity, sharing in the spirit of giving.
With hot chocolate in hand and a short drive into another part of our own neighborhood, we visited a well-known Woodinville home for their bright lights and arrangements. Homeowner Randy Penner has been creating these displays for the past 20-years. Dozens of Santa, elf and snowmen figurines lined the driveway. Row by row we scanned with our eyes. "I think there's a hundred!" said Simon.
Amazed at the decorations, figurines on the roof and Santa's sleigh suspended in the air, we soaked in all the holiday colors and left with a bit of happiness and cheer. My kids wanted to extend our outing by exploring different neighborhoods nearby, and that's just what we did.
Taking another short car ride, we saw many displays with large lawn decorations, moving lights and impressive deer and Santa displays.
There may have been no music, kettle corn, warm doughnuts or kid-friendly comedy along the way, but it was an amazing experience that we'll be sure to do again and again this holiday season.
Things to Know
DATES: Dec. 2-6, 9-13, 16-23, 26-30; 5 pm to 10pm
Prices per vehicle
| | |
| --- | --- |
| Sunday-Thursday | $20 |
| Friday-Saturday | $25 |
| Christmas Week (December 20-23) | $25 |
Tickets are nonrefundable and nontransferable.
Bring a mask for all family members. Masks must be worn when speaking to staff or using the restroom.
No parking allowed at the facility.
Snacks available for purchase. You may also bring your own to enjoy.
If you have a letter for Santa, you can bring it to drop off in Santa's mailbox.
Gift shop is available for souvenirs.
No pets allowed.
This story was originally published on Dec. 3, 2020. 
More holiday cheer
Holiday lights all around! Your 2020 guide