827 N Tacoma Ave
Tacoma, WA 98403
253-272-2216
Preschool to Grade 12
Annie Wright Schools serve students from age three through high school. Our lower and middle schools offer co-ed day school programs while we offer separate upper schools to boys and girls with both day and boarding options.
We provide a challenging, balanced, inquiry-based program that helps students reach their academic potential. Through small class sizes, differentiated instruction and engagement of our faculty, every student at AWS is well-known and treated as an individual. As an International Baccalaureate (IB) World School, we aspire to develop in our students a global perspective and understanding of their place in the world.
Annie Wright's arts, athletics and activity offerings are as strong as our academics. We believe students should have plenty of opportunities to explore and define their passions – on the field, on stage or traveling abroad. Students can do it ALL at Annie Wright Schools.
---
15749 NE 4th St.
Bellevue, WA 98008
425-229-1277
Ages 8-12
At BASIS Independent Bellevue, discover a learning community where intellectual curiosity drives student success, where interdisciplinary instruction meets experiential learning, and where students are inspired to learn at the highest international levels.
BASIS Independent Bellevue offers a global approach to private school education that develops high-performing, independent learners through an advanced, content-rich curriculum spanning both STEM and the liberal arts. With a focus on interdisciplinary instruction led by Subject Expert Teachers, our program encourages critical inquiry and analytical reasoning. As a result, students become participants, not just spectators, in their education and are empowered to reach their full potential.
BASIS Independent Bellevue opens fall 2022 with grades 2–7 and plans to expand to a full middle and high school.
---
14640 NE 24th St.
Bellevue, WA 98007
425-649-0791
Grades Pre-K-4
Inspiring and nurturing excellence in grades Pre-K through 4
As an International Baccalaureate® World School serving Pre-K through 4th grade, Bellevue Children's Academy® (BCA®) is certified for the IB Primary Years Programme (PYP) which provides an educational framework that fosters the development of the whole child. We are attentive to students' social, emotional, and physical welfare, guiding them to excel both academically and developmentally. BCA® students are empowered to become global citizens and leaders who demonstrate innovation, compassion, creativity, and dignity.
BCA® is a proud member of the International Schools Partnership® (ISP), a consortium of 50 international schools of choice recognized across local communities and the global education sector for amazing learning, ambition, and growth.
Why choose BCA®?
• World Class Education through our International Baccalaureate® World School Accreditation
– Promoting a global perspective through a collaborative and rigorous learning environment using the IB framework
• Academic Excellence
-Advanced robust curriculum that inspires students to thrive
• Depth vs Acceleration
– Beyond pure memorization of facts into understanding and application
• Inquiry-Based Learning
– Fostering curiosity and developing the skills needed to acquire knowledge both inside and outside the classroom
• Small Class Sizes: 10-12 students per class (average class size)
– Nurturing and student-centered classroom environments
Learn more about BCA® by visiting our website:
www.bcacademy.com 
---
12351 8th Ave NE
Seattle, WA 98125
206-547-4614
Grades 6-8
Billings is an independent school in the Seattle area with a social justice mission and a one-of-a-kind expeditionary learning program. At Billings, each student develops a rigor of intellect and creativity, powerful ways to communicate and collaborate, confidence and self-knowing, and an openness to the possibilities of new information and systems of thought.
Billings is unique in that we offer expeditionary learning. The classroom expands far beyond our campus. There are numerous times throughout the year when students go on field trips. We are regularly out and about in our neighborhood, making use of the park and partnering with local businesses. When we teach in places as astonishing as the Olympic Coast or learn with marine scientists at our side, we frame learning in a way that is powerfully alive. When middle school students stretch themselves – in new countries or on new trails – they create their own identity, built upon personal stories of experience that last their entire lives.
Individuality, inclusivity, exploration, intellectual challenge, social justice, integrity, creativity, collaboration, and fun drive how we seek to educate your children. We want to form well-rounded, socially conscious students who want to continue learning and go on to improve the world.
---
7723 Chambers Creek Rd. W
Tacoma, WA 98467
253-620-8373
Preschool to Grade 12
Visit Charles Wright Academy, an independent day school in Tacoma where hands-on, experiential education inspires learning that sticks.
Founded in 1957, CWA is a top-rated independent day school in Tacoma where students in Preschool–Grade 12 are nurtured and challenged to develop the character, creativity, and skills to successfully navigate the future with confidence.
With an early childhood and elementary school, a middle school, and a high school on one beautiful 107-acre campus, our supportive yet challenging environment offers differentiated learning, so students of all ages receive just the right level of challenge.
Charles Wright is an inclusive community valuing integrity, respect, compassion, perseverance, and excellence.
• Play-based and nature-focused Preschool (age 3)
• 8:1 student-faculty ratio
• Art, music, science, world language, and athletics for every student PS-12
• Financial aid and extended day care available
• Robust Experiential Education program
• AP and elective courses in Grades 9-12
• Voted "Best Middle School" by South Sound Magazine 2019 and "Best Elementary School" 2021
• Voted "Best STEM School in the South Sound" by Newsweek 2020
Extensive school bus service includes routes to South King County, Gig Harbor, Puyallup, Tacoma, and Olympia. We invite you to schedule a personal tour to learn more!
---
232 228th Ave SE
Sammamish, WA 98074
425-295-3000
Grades 6-12
Eastside Catholic School is an independent educational community serving students in grades six through 12. Since 1980, Eastside Catholic School has been encouraging and nurturing students to achieve their God-given potential.
A comprehensive, college-preparatory program is enhanced by an exceptional range of enrichment activities, sports, leadership training and faith-based community service grounded in compassion for others. Dedicated educators foster intellectual curiosity through an innovative program structured for academic diversity.
We provide middle school students in grades six through eight with an environment that guides and nurtures them through a challenging and exciting time. Our holistic curriculum includes rigorous academics,  a focus on curiosity and a growth-mindset approach. Students are taught essential life lessons in respect and self-worth that will be the foundation for success in high school and beyond.
Eastside Catholic's high school program is designed to help students achieve their best—academically, spiritually and personally. High school is a formative time where the habits and values established will serve as powerful engines of personal and professional success for the rest of a student's life. At EC, students develop the foundational skills to be both great leaders and humble community servants. We believe that every student can achieve more than they imagined. Our high school program guides each student to achieve their unique potential.
We offer the Options Program in the high school, which provides individualized academic and life skills development for students with diagnosed intellectual or developmental disabilities. Our student-centered special education program is designed to give individuals the critical foundational skills and confidence they need to live actively and independently in their community.
Families choose Eastside Catholic for our commitment to educating the whole student: mind, body and spirit. We challenge our students to think deeply and broadly about their subject work, the world around them, and their place in it. We nurture the leader within every student, and we welcome and affirm those of all faiths.
---
15201 Meridian Ave N
Shoreline, WA 98133
206-957-1523
Grades Preschool-8
Here at The Evergreen School, we intentionally create an educational culture that supports judicious risk-taking and authentic self-reflection. We consider ourselves to be a community of deeply engaged and proactive learners and citizens. Our schooling begins in pre-school and goes up through eighth grade. Our students go off to high school academically, emotionally, and socially prepared for this next chapter.
Our curriculum consists of a thorough integration of academics, social and emotional learning combined with a proactive commitment to diversity, equity, and inclusion at every grade level. We understand that every child is different and that their individuality must be taken into consideration for their instruction. We encourage students to embrace their idiosyncrasies and our teachers make sure they adapt to each child's specific needs. Setting goals, reflecting on successes and setbacks, and revising and improving on previous outcomes, at Evergreen students build genuine confidence in their own increasing capabilities.
As an educational institution, we believe that we have a responsibility to instill in our students the good we hope to see in the world. We encourage our students to be curious about their surroundings. Our students are contributors, they develop a passion for learning and a drive to achieve their goals.
At Evergreen, we seek to give our students the confidence necessary to accept mistakes and the courage to learn to correct them.
---
Forest Ridge School of the Sacred Heart
4800 139th Ave SE
Bellevue, WA 98006
425-641-0700
Grades 5-12
Empowering girls since 1907
Founded in 1907 by the Religious of the Sacred Heart, Forest Ridge educates and inspires girls and young women in 5th through 12th grades. Both a day and boarding private school located in Bellevue, Forest Ridge is the only Sacred Heart school in the Pacific Northwest. We are a Catholic, independent, college preparatory school, and a recognized pioneer in all-girls' middle school and high school education. Our students thrive in our rigorous, integrated global curriculum, and feel supported to take risks and challenge themselves to achieve more than they ever thought possible.
At Forest Ridge, we know how girls learn best. Our focus on three essential pillars — wellness, social-emotional intelligence and leadership — is based in research and empowers each girl with a toolbox of strategies for knowing herself, her passions and how she builds relationships with others.
At Forest Ridge, girls support each other across grade levels, create strong friendships and build a lifelong network. From the interdisciplinary classroom curriculum to community service to the playing field, your daughter can play every role, will develop the inner strength to follow her own convictions, and will practice the skills that make her ready to lead in college and beyond.
---
1701 20th Ave S.
Seattle, WA 98144
206-763-1167
Grades 1-8
Hamlin Robinson School was founded in 1983 and became an independent school in 1986. Our building, constructed in 2015, is designed specifically to meet our program needs. The campus is centrally located in the North Beacon Hill neighborhood in Seattle just off I-5 and I-90. A new middle school is scheduled to open in the fall of 2022.
Students with dyslexia learn differently and  benefit from daily, explicit instruction in literacy. HRS classroom spaces and teaching methods embrace effective learning strategies so students can achieve success. Our comprehensive school program delivers structured, explicit instruction across all content areas while enrichment programs provide exposure to cultural, historic, civic, artistic, and science experiences.
HRS's program is organized by grade level but incorporates split-level groups, allowing for more tailored instruction. Age, social needs, and skills are all taken into consideration when determining the appropriate placement for a student. With the goal of student access, independence, and self-advocacy, HRS has an unwavering commitment to effective instruction and skill-building across all grade levels and classes. We empower students to understand themselves as learners so they can advocate for the tools they need to be successful in high school and beyond.
LOWER SCHOOL
– Employs a classroom-based model of targeted instruction
– Students achieve authentic success building their trust and confidence as learners
– Offers integrated, effective, instruction nurturing a more optimal school-life balance
– Fosters a lifelong love of learning
MIDDLE SCHOOL
– Combines a rigorous academic program with intentional supports
– Students practice executive function skills, organizational skills, and goal setting
– Exercises self-advocacy and independence as core competencies
– Cultivates empathy, critical thinking, and leadership skills
To learn more about Hamlin Robinson School, contact Nikki Kurtz at nkurtz@hamlinrobinson.org or visit our website at www.hamlinrobinson.org.
---
19527 104th Ave NE, Bothell, WA 98011
425-485-2585
Preschool, Elementary, Middle School
Students who attend our program at Heritage Christian Academy demonstrate high mastery skills in core content areas.  Students receive a quality education from qualified staff members, who are genuinely committed to teaching Biblical values in a Christ-like and God-honoring manner.  Small classroom sizes allow students to be highly supported at the preschool, elementary, and middle school levels.  HCA offers before and after school care programs for all.  Before school care begins at 7:00 am until the start of school.  After school care hours are from 2:45 pm until 6:00 pm while Heritage Christian Academy is in session.  Come see the HCA difference!
---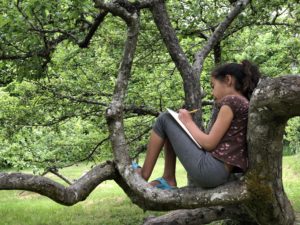 510 N. 49th Street
Seattle, WA 98103
206-522-0350
Grades K-5
The Kapka Cooperative School provides progressive, integrative based learning for children in kindergarten through fifth grade. Our school gets its name from a Klamath word meaning "young pine." We help students master fundamental academics while fostering social and emotional growth.
Our learning program is unique in that we hold both students and faculty accountable for their learning. We strive to create an environment within which learning is fun and exciting for our students. The more they enjoy learning, the more they will be curious about. We appreciate each student for their individuality and can assure you that at Kapka children are seen for who they choose to be. Our teachers adapt their teaching to each student's learning style so that every child can acquire knowledge in the manner that feels most natural. Teachers look to students to guide the direction of their curriculum. This makes the child more invested in their education. We want our children to feel responsible for their own learning.
Our experience-based curriculum is developed through annual themes that inspire the students, providing an engaging vehicle through which they master fundamental academics. Our curriculum offers a thematic evolution so that children understand more about themselves, their surroundings and their place within their surroundings as they grow. Children reach academic milestones at Kafka while expressing their individuality and growing within a community.
---
Lake Washington Girls Middle School
2100 S Walker St
Seattle, WA 98144
206-709-3800
Grades 6-8
Lake Washington Girls Middle School is an independent, single-gender, nonsectarian day school for girls in grades 6 to 8. L-Dub empowers girls to be strong in mind, body, and voice.
The curriculum at Lake Washington Girls Middle School is designed to cultivate intellectual curiosity and a drive to social action in each student, and at the heart of the curriculum is a commitment to social justice. The L-Dub program is hands-on and experiential, with collaborative learning, projects, oral presentations, and class discussions used to ensure that every student strengthens their voice as they learn.
L-Dub provides students with an environment that cultivates a sense of self, community, and intellectual curiosity, and helps girls realize their potential and power. Experienced teachers guide students to develop the creative confidence necessary to succeed in the many social, emotional, physical, and academic challenges of early adolescence. Students are prepared to excel in high school whether they go onto a coed education or not.
---
20301 NE 108th St.
Redmond, WA 98053
425-868-1000
Grades 5-12
The Overlake School is an independent, nonsectarian, coeducational, college prep day school that serves grades 5 through 12. Our school fosters a community of compassionate, intellectual, and responsible individuals.
At Overlake, learning transcends the four walls of the classroom. Our students receive stimulating and in depth instruction combined with experiential learning. Challenging, exacting, both wide-ranging and in-depth, Overlake's balanced college prep curriculum teaches students the skills and knowledge to succeed at colleges and universities and as active members of a global society. At the core of an Overlake education is the ability to step outside the familiar, immerse in the unknown, and learn by doing. Students learn about their surroundings through outdoor exploration during one of the many field trips we plan. They develop a sense of responsibility and love of community through our service learning partnerships with local non profit organizations.
We seek to mold our students to be lifelong learners and curious individuals long after they are done with school. Our teaching model's combination of learning in the classroom and in the real world, allows our students to put their newfound knowledge in practice. Experiential learning also fosters maturity and gives students a sense of authority over their academic path.
---
UW Robinson Center for Young Scholars
Guggenheim Annex Box 351630
Seattle, WA 98195
206-543-4160
Enrichment programs for K-8th grade
Summer programs for 5th-10th grade
Academic programs for 9th grade and up
Through early entrance programs we prepare younger students for college and provide them with challenging, accelerated learning opportunities in a vibrant, intellectual community at the University of Washington. We also provide outreach through summer programs for highly capable Puget Sound students from grades 5 through 10, and enrichment programs for K-8 students.
The Robinson Center offers two distinct paths for young students to prepare for early admission to the University of Washington: Transition School and UW Academy.
Transition School serves students who would be in 9th grade. Transition School is an intensive, one-year college preparatory program taught at the Robinson Center on the UW Seattle campus. Students apply when they are in the 8th grade and begin the program the following fall. Each year's small cohort of students (usually fewer than 20), follows a rigorous program developing the academic knowledge and skills needed for college. After successfully completing the Transition School program, students enter the University of Washington as fully matriculated undergraduates.
UW Academy is the second path to early college entrance. Students apply to the program during 10th grade. If accepted, they leave high school at the end of 10th grade and matriculate as UW freshman the following fall, using the Robinson Center as their home base on campus.
---
5117 13th Ave S.
Seattle, WA 98108
Grade Pre-K-8
St. George Parish School was founded in 1919 by the Franciscan brotherhood to serve the needs of the immigrant railroad workers. For 100 years, we have served the diverse families of Beacon Hill and South Seattle. Our community is known for its warm, family-like atmosphere, and rigorous academics steeped in strong Catholic values. Our graduates are well prepared for the challenges of high school and beyond.
Diversity continues to be celebrated at St. George Parish School in the many cultures and faith traditions that our students and staff hold dear.
Of our 274 Preschool-8 students, from 208 families.
38% receive financial aid.
92% identify as culturally and linguistically diverse
Mission
The community of St. George Parish School forms missionary disciples who continue the work of Jesus Christ as leaders in faith, service and academics
Vision
To live like Jesus Christ in an ever changing world.
Core Values
Faith – Jesus is the center of who we are. We inspire all to develop a personal relationship with Jesus Christ and to spread that love to our community.
Social Justice – Service is the way we express God's love. We are called to act with justice, be merciful, and walk humbly with Jesus. We love one another like Jesus loves us.
Diversity – Our diversity enriches our perspectives and strengthens our community. We are made to be different and designed to be one.
Collaboration – Our children's success lies in the partnership of faculty, families, students and community. We are stronger when we work together.
Growth mindset – Everyone is a learner. Life-long learning is developed through curiosity, reflection, perseverance and self-advocacy.
Equity – Students are given the tools they need to succeed.
A St. George Parish School student is:
An Engaged Faith-Filled Member of our community who
·         Seeks a personal relationship with Jesus Christ.
·         Participates in liturgy, prayer and celebrations of faith.
·         Demonstrates knowledge of Catholic faith.
·         Creates healthy relationships by accepting responsibility and finding peaceful solutions.
·         Acts with Christian integrity in an ever-changing world.
A Missionary Disciple who
·         Practices the Principles of Catholic Social Teachings through service.
·         Demonstrates Christ-like leadership skills.
·         Stewards all God's gifts and blessings with responsibility and gratitude.
A Life-Long Learner who
·         Takes a disciplined and dedicated approach to learning and applying academic content
·         Demonstrates ownership for learning through engagement and reflection.
·         Develops a growth mindset through goal setting, self-reflection and perseverance.
---
4320 87th Ave SE
Mercer Island, WA 98040
206-232-5432
Preschool to Grade 8 and High School Courses
St. Monica Catholic Classical Liberal Arts Education curriculum enriches each student's educational journey. At each level, we introduce appropriate material in a logical sequence. St. Monica Catholic School prepares our youngest students by first defining and describing the destination of our oldest. We will continue to adjust the pace and the scope of our curriculum to ensure a program, excellent and exhilarating, for these young people we teach and with whom we learn.
Our caring and dedicated teachers support each student individually to nurture an environment of academic excellence and Christian values. The St. Monica Catholic School journey begins in preschool and extends through high school. Our teachers motivate and encourage our children to reach their highest potential by offering a challenging curriculum and a supportive environment designed to empower them with knowledge and self-discipline.
We foster a Catholic environment, providing for the whole child's growth by focusing on spiritual, academic, physical, and moral development. Our children strive to live a life modeled on gospel values to live a life of compassion, prayer, and service to one another in our larger community.
---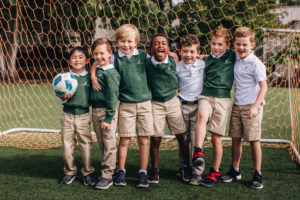 8300 NE 12th St.
Medina, WA 98039
425-454-5880
Preschool to Grade 8
St. Thomas School is an independent day school serving children in preschool up through eighth grade. At St. Thomas, your child will be challenged to reach their fullest potential surrounded by a community that embraces high expectations, shared values, and a passion for learning.
The St. Thomas School journey is an intentionally designed program that thoughtfully and continuously addresses the developmental needs of children – academically, socially, and emotionally – as they advance through the Early Learning Center, Elementary Center, and Middle School. We believe that a child's educational journey must be balanced between the academic and affective domains. Academically our students acquire knowledge and skills, but they also must synthesize and apply their abilities to their studies. In support of growth of character and spirit, students engage in experiences that call upon them to explore, reflect, choose, act, and lead.
Our school's philosophy is led by our guiding principles. Our curriculum prioritizes written and oral communication as well as proficiency in the language of mathematics. We organize core subjects within a framework of cross-disciplinary themes, which help students see connections across subjects and relate what they learn to life. We begin each day with a gathering in our Chapel where we cultivate students' sense of personal and civic responsibility and an understanding of how their choices and ways of thinking are influenced by their peers, teachers, families, and their own inner voices.
---
Stroum Jewish Community Center Early Childhood School
3801 East Mercer Way
Mercer Island, WA 98040
206-388-1992
The Stroum Jewish Community Center's Early Childhood School (ECS) is more than a preschool. Our Reggio Emilia-inspired program offers full-day and part-day options for children three months to kindergarten that prepares them for elementary school and beyond. When your child attends ECS, your whole family becomes part of our community. Joy, learning, and celebrating together are core SJCC values that underlie all ECS programming. At ECS, you'll find:
• Leading early childhood development theories combined with Jewish values to create an environment where children become compassionate, curious, and confident learners
• Innovative learning experiences that help build a strong foundation in language, math, and early literacy
• Support for the "whole child," including emotional, social, cognitive, and physical development
• Low child-to-teacher ratios and class size
• Beautiful, open classrooms filled with high-quality, open-ended, natural materials
• Outdoor spaces to explore
• Additional learning experiences in music, swimming, little gym, holiday celebrations and more
At the core of our preschool program, we believe that each child is competent and capable. Our approach to learning is inspired by the ideas and practices developed in Reggio Emilia, Italy, for the education of children. We create experiences that help shape not only children's knowledge and skills but their attitudes about learning. It is a journey the children and teachers take together, as the teachers observe the children and follow their lead.
The individual needs of each growing child are met in an atmosphere of warmth and connection. Teachers support each's child's development so a strong sense of empathy, resilience, and curiosity about the world become part of who they are. Children in our program matriculate with a strong sense of compassion for themselves and others.
Infant care driven by RIE (Resources for Infant Educarers) philosophy ensures that infants are nurtured in an atmosphere of trust, allowing them to have the confidence to explore their environment and thus develop optimally.
The J's Early Childhood School is a place for all. Everyone is Welcome. You do not have to be Jewish to join the J's ECS. Learn more about all our Aged-Based Classrooms (ages 3 months to 6), including Kindergarten (ages 5-6).
---
318 30th Ave E
Seattle, WA 98112
206-328-4475
Lora Kolmer
Director of Admissions and Community Relations
lorak@thevalleyschool.org
At the Valley School we strive to guide our students to explore their intellectual curiosities and develop their personal interests in a community setting.
We offer schooling to students from Pre-K through 5th grade on an intimate scale to maximize individualized attention. We believe that each student has their own unique intellectual and social developmental path and we offer a variety of types of instruction in order to meet those needs. Thanks to our small size, we are able to adapt to each student's learning pace.
Our staff is comprised of early childhood experts who value students' voices. We've designed the typical Valley School day around developmentally appropriate practices and guidelines. Our program promotes healthy habits through a social and emotional curriculum, plenty of exercise, fine and gross motor skill development, time spent outdoors, and a low-stress environment.
Our campus' all-star centerpiece is our beautiful outdoor play space, which offers a myriad of opportunities for your child to express their creativity. Children learn by doing so we use play and exploration as catalysts for learning. We've dubbed our playground "The Second Classroom" because so much student development and learning happens there. Purposeful Play and Playful work are at the heart of our academic mission.
Come visit the Valley School and see how a small community can have an incredibly positive effect on your child's development.
---
12280 NE Woodinville-Redmond Road
Redmond, WA 98052
425-649-0791 ext.4
Willows Preparatory School (WPS®) is the upper levels campus of Bellevue Children's Academy® (BCA®). As an International Baccalaureate® World School serving grades 5-12, it is certified for the IB Primary Years Programme (PYP), IB Middle Years Programme (MYP), and IB Diploma Programme (DP) which prepare students for success at university and in their professional careers. Our IB curriculum, small classes, instructional methodology, and extensive extracurricular program are designed to foster a love of life-long learning while ensuring continual academic growth, social development, and pursuit of individual interests. WPS students are empowered to become global citizens and leaders who demonstrate innovation, compassion, creativity, and dignity.
WPS® is a proud member of the International Schools Partnership® (ISP), a consortium of 50 international schools of choice recognized across local communities and the global education sector for amazing learning, ambition, and growth.
Why choose WPS®?
• World Class Education through our International Baccalaureate World School Accreditation
– Promoting a global perspective through a collaborative and rigorous learning environment using the IB framework
• Academic Excellence
– Advanced robust curriculum that inspires students to thrive
• Depth vs Acceleration
– Beyond pure memorization of facts into understanding and application
• Inquiry-Based Learning
– Fostering curiosity and developing the skills needed to acquire knowledge both inside and outside the classroom
• Small Class Sizes:  14 students per class (average class size)
– Nurturing and student-centered classroom environments
Learn more about WPS® by visiting our website:
www.willowsprep.com