827 N Tacoma Ave
Tacoma, WA 98403

253-272-2216
Preschool to Grade 12
Annie Wright Schools serve students as young as 3 years old until the end of high school. Our lower and middle schools offer co-ed day school programs while we offer separate boy and girl schools each with both day and boarding options.
We provide a challenging, balanced program that helps our young men and women reach their academic potential. We are proud that, through small class sizes, differentiated instruction and engagement of our faculty, every student at Annie Wright is well-known and treated as an individual. As an International Baccalaureate (IB) World School, we aspire to develop in our students a global perspective and understanding of their place in the world.
Anne Wright Schools challenge our students to excel and become the best version of themselves. Our students are at the heart of everything we do; our faculty truly get to know our students and encourage them to express their individuality. We also seek to connect our students to the wider community and the world.
---
12351 8th Ave NE
Seattle, WA 98125
206-547-4614
Grades 6-8
Billings is an independent school in the Seattle area with a social justice mission and a one-of-a-kind expeditionary learning program. At Billings, each student develops a rigor of intellect and creativity, powerful ways to communicate and collaborate, confidence and self-knowing, and an openness to the possibilities of new information and systems of thought.
Billings is unique in that we offer expeditionary learning. The classroom expands far beyond our campus. There are numerous times throughout the year when students go on field trips. We are regularly out and about in our neighborhood, making use of the park and partnering with local businesses. When we teach in places as astonishing as the Olympic Coast or learn with marine scientists at our side, we frame learning in a way that is powerfully alive. When middle school students stretch themselves – in new countries or on new trails – they create their own identity, built upon personal stories of experience that last their entire lives.
Individuality, inclusivity, exploration, intellectual challenge, social justice, integrity, creativity, collaboration, and fun drive how we seek to educate your children. We want to form well-rounded, socially conscious students who want to continue learning and go on to improve the world.
---
7723 Chambers Creek Rd. W
Tacoma, WA 98467
253-620-8373
Preschool to Grade 12
From Kindergarten through high school graduation, Charles Wright Academy seeks to arm our students with the tools they need to successfully navigate the future with confidence. We seek to support the innovators, thinkers, communicators, explorers and collaborators of tomorrow.
We offer a rigorous liberal arts academic program that intentionally incorporates arts, athletics, and time in nature so that students can find their interests and excel. We do not teach to the test; rather, we cultivate critical thinking and provide safe opportunities for students to take risks. Through experiential education and hands-on approaches, our students learn in many different ways. We understand the importance of conversation and scholastic exchanges and promote lively discourse and debate as a valuable learning tool. We strive to give our students the most well rounded scholastic experience possible. Not only do we provide our students with an outstanding academic setting, but we are also committed to maintaining exceptional interscholastic athletic programs.
We challenge our students to explore and discover their gifts and measure their success through growth, engagement, finding joy in learning, and the discovery of new interests. We encourage all students to achieve their personal best in mind, body, and spirit. Our program supports this success in developmentally appropriate ways from preschool through grade 12 and culminates in the selection of a best-fit college or university.
Contact us today about enrolling your child at Charles Wright Academy!
---
3611 East Denny Way
Seattle, WA 98122
206-323-9011
Grades Preschool-5
The Epiphany School takes pride in their dedication to instilling independence of thought and a passion for learning during the formative years of Pre-Kindergarten through the end of Elementary school. Our school is known for its loving and safe community that simultaneously fosters leadership and teamwork. Epiphany School challenges and supports all students to become confident, curious, and courageous learners through innovative teaching in a caring and inclusive environment.
We seek to help your children develop their individuality through their academics. We build responsibility, collaboration, and social-emotional learning into each grade level, so that children increase their independence, confidence, and leadership abilities over time. Our academic structure focuses on the fundamentals of learning and supplements them with specialty subjects. Our students are provided with the important basics in math, language arts, and humanities; we then bolster those classes with art, lab sciences, physical education and more.
We strive to ensure that our students feel safe and valued in the community we've created. We place an emphasis on our values of responsibility, resourcefulness, and respect as guideposts to developing students' cognitive capacities and moral lives. Epiphany School actively cultivates an awareness and respect for diversity in all forms. We believe that maintaining a diverse environment is essential to our students' academic success.
Stop by the Epiphany School to get a sense of the safe and encouraging academic space we can provide for your child!
---
15201 Meridian Ave N
Shoreline, WA 98133
206-957-1523
Grades Preschool-8
Here at The Evergreen School, we intentionally create an educational culture that supports judicious risk-taking and authentic self-reflection. We consider ourselves to be a community of deeply engaged and proactive learners and citizens. Our schooling begins in pre-school and goes up through eighth grade. Our students go off to high school academically, emotionally, and socially prepared for this next chapter.
Our curriculum consists of a thorough integration of academics, social and emotional learning combined with a proactive commitment to diversity, equity, and inclusion at every grade level. We understand that every child is different and that their individuality must be taken into consideration for their instruction. We encourage students to embrace their idiosyncrasies and our teachers make sure they adapt to each child's specific needs. Setting goals, reflecting on successes and setbacks, and revising and improving on previous outcomes, at Evergreen students build genuine confidence in their own increasing capabilities.
As an educational institution, we believe that we have a responsibility to instill in our students the good we hope to see in the world. We encourage our students to be curious about their surroundings. Our students are contributors, they develop a passion for learning and a drive to achieve their goals.
At Evergreen, we seek to give our students the confidence necessary to accept mistakes and the courage to learn to correct them.
---
French American School of Puget Sound
3795 East Mercer Way
Mercer Island, WA 98040
206-275-3533
24 months-8th grade
The French American School of Puget Sound offers children from preschool through eighth grade a bilingual learning experience. This unique school setting, provides children with the ideal preparation to succeed in a multicultural world. At FASPS we create global citizens.
In the past 50 years, neuroscientists and psychologists have uncovered a wealth of scientific evidence to support the hypothesis that learning another language at a young age strengthens cognitive and linguistic development in children. Bilingual children develop critical thinking skills sooner than monolingual students. Additionally, children who acquire a second language early on have a stronger ability to focus and multi-task. At FASPS, we want to best prepare your children to excel in high school and beyond and a bilingual education gives your child the academic edge they need to stand out.
Over the years, FASPS has developed a unique and harmonized bilingual program grounded in the typical curriculum architecture of the French Ministry of Education and the U.S. common core standards. Our faculty very carefully maneuvers teaching in both languages, ensuring they build a balanced curriculum that best serves the students. Classes are taught 90% in French in the younger grades and gradually shift to 60% French by Grade 3. Students benefit from the strengths of both educational systems and the synergy gained from linking the two. This program encourages students to develop both a love of learning and language.
Contact us today to get more information about how your child would benefit from a bilingual education.
---
French Immersion School of Washington
4211 W. Lake Sammamish Parkway SE
Bellevue, WA 98008
425-653-3970
2.5 years to Grade 5
The French Immersion School of Washington offers excellent bilingual education for children as young as preschool up through fifth grade in a welcoming environment that encourages critical thinking and curiosity. We believe that children who develop their intellect and character in a bilingual, bicultural environment learn respect and appreciation for cultural differences and are better prepared for their future in a multicultural workforce and global environment. The ability to understand concepts, ask questions, problem-solve, write, play, and make friends in two languages is an advantage that will last a lifetime.
We offer an extremely unique instructional model that utilizes both English and French. Our immersion model builds a very strong foundation in both languages. From preschool to fifth grade our students spend on average 70% of their time learning in French. This allows them to become very proficient and profound thinkers in both languages and to develop a large range of vocabulary. Bilingual instruction in early childhood facilitates learning and critical thinking.
Our school maintains a small size without sacrificing diversity. We have 180 students across and over 20 different nationalities represented at our school. The multicultural environment we've created for our students enables them to develop a deep understanding and respect for other cultures. Their bilingual and bicultural experiences make them naturally open to new perspectives and ideas.
Contact us about your child's bilingual education, today! À bientôt!
---
2120 21st Ave. S
Seattle, WA 98144
206-324-4847
Preschool to Grade 5
Giddens School has a long time commitment to academics and learning, social and emotional development, and justice for students as young as preschool up through elementary school. We teach our students to believe in themselves, value differences, embrace diversity, think critically about the world around them, and possess both the knowledge and passion to work for progress.
Our teachers utilize the progressive education model in the classroom. Our use of the progressive approach at Giddens is grounded in three pillars. We prepare our students for upper school by instilling a deep knowledge of the core content areas such as math, science, reading, and social studies. Additionally, we make use of social and emotional learning to help our students garner a better understanding of their individuality. Finally, we encourage our students to look at the world through a social justice lens. Our students are critical thinkers, inquisitive minds and justice seekers.
We don't let age limit our students at Giddens. We have multi-grade classes because we know that students learn at different paces. Our multi-grade classes provide elementary students an opportunity to engage in a two-year cycle of learning and growing. At each grade band (K/1, 2/3, 4/5) students have the opportunity to experience new challenges and familiar contexts, supporting their overall growth and development.
At Giddens, we make sure your child understands the value of learning and make sure we're teaching them in the manner that is most conducive to their cognitive development.
---
1701 20th Ave S.
Seattle, WA 98144
206-763-1167
Grades 1-8
At the Hamlin Robinson School we believe that learning has no limits. We are an independent day school in Seattle that specializes in teaching students with learning differences. Our vision is for children who would struggle in traditional settings to experience the classroom as a welcoming and safe place for learning.We provide a multi-sensory language approach, full academic curriculum, and a positive learning environment that nurtures the whole child.
We provide exceptional instruction from first through eighth grade. All of our faculty regularly engage in professional development programs that are strongly focused on exploration of all avenues of education for students with language-based learning differences. Specifically, we use the classroom adaption of Orton-Gillingham — which is the Slingerland® Approach. This methodology provides the foundation for language instruction and other appropriate areas of curriculum. At HRS, students do not memorize lists of spelling words. Instead, they learn the process for blending words and use them in phrases, sentences and paragraphs. This helps them apply phonics and the structure of language to any written work. Throughout the curriculum, significant emphasis is placed on strategies for developing reading comprehension.
Children at HRS have many strengths and are creative and curious learners who flourish in an environment where their learning needs are supported effectively. Often their learning difficulties have prevented them from experiencing success in traditional scholastic programs. We offer the curriculum and support children with learning differences need to succeed and become more confident.
---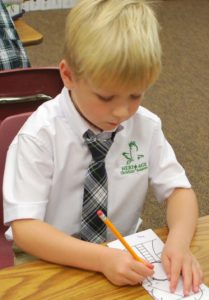 Heritage Christian Academy
19527 104th Ave NE, Bothell, WA 98011
425-485-2585
Preschool, Elementary, Middle School
Students who attend our program at Heritage Christian Academy demonstrate high mastery skills in core content areas.  Students receive a quality education from qualified staff members, who are genuinely committed to teaching Biblical values in a Christ-like and God-honoring manner.  Small classroom sizes allow students to be highly supported at the preschool, elementary, and middle school levels.  HCA offers before and after school care programs for all.  Before school care begins at 7:00 am until the start of school.  After school care hours are from 2:45 pm until 6:00 pm while Heritage Christian Academy is in session.  Come see the HCA difference!
---
510 N. 49th Street
Seattle, WA 98103
206-522-0350
Grades K-5
The Kapka Cooperative School provides progressive, integrative based learning for children in kindergarten through fifth grade. Our school gets its name from a Klamath word meaning "young pine." We help students master fundamental academics while fostering social and emotional growth.
Our learning program is unique in that we hold both students and faculty accountable for their learning. We strive to create an environment within which learning is fun and exciting for our students. The more they enjoy learning, the more they will be curious about. We appreciate each student for their individuality and can assure you that at Kapka children are seen for who they choose to be. Our teachers adapt their teaching to each student's learning style so that every child can acquire knowledge in the manner that feels most natural. Teachers look to students to guide the direction of their curriculum. This makes the child more invested in their education. We want our children to feel responsible for their own learning.
Our experience-based curriculum is developed through annual themes that inspire the students, providing an engaging vehicle through which they master fundamental academics. Our curriculum offers a thematic evolution so that children understand more about themselves, their surroundings and their place within their surroundings as they grow. Children reach academic milestones at Kafka while expressing their individuality and growing within a community.
---
3201 Hunter Blvd. S.
Seattle, WA 98144
206-721-3480
Preschool to Grade 5
At Lake and Park school we provide an intimate and personalized elementary school experience. What sets our educational program apart from the rest is that we offer theme-based instruction. Often selected from the social studies and the sciences, themes offer opportunities for understanding the hows and whys of things, allow children to come to grips with many topics that are often reserved for the older grades, and provide inspiration for expression in the arts.
We are dedicated to ensuring that grade level norms are met and that basic skills are not only acquired, but also regularly strengthened. Skills are frequently taught in tandem with subjects, but do often stand on their own. We encourage our students to go as far as they can with their basic skills. We believe that our students' capabilities are limitless and therefore allow our students to advance their skill sets as high as they can.
At Lake and Park we also understand the importance of the outdoors to a child's development. It is important that we incorporate environmental exploration into our curriculum. We want our students to not only observe nature, but to interact with it as well. We learn a shape of a tree up close and personal as we touch it and climb it over the months, over the years. We take trips further than our own locale as well, heading out to Issaquah Creek to release salmon, finding our way in winter to a mountain for sun and snow, and, closer to home,digging in our own p-patch at Colman Park.
Come visit Lake and Park school today and see how your child would benefit from our program!
---
Lake Washington Girls Middle School
810 18th Ave
Seattle, WA 98122
206-709-3800
Grades 6-8
A Lake Washington Girls Middle School strives to mold girls into confident and strong minded young women. Middle school is a critical period for women's emotional and cognitive growth. Given an environment designed to cultivate a sense of self, community, and intellectual curiosity, girls can realize their potential and power.
Our school was founded by a group of concerned parents who wanted to ensure that their daughters didn't limit themselves or allow society to. Women are under-represented in STEM fields, leadership roles and governmental positions which is why at LWGMS we prove to our students that they can achieve whatever they set out to. The LWGMS curriculum is designed to cultivate intellectual curiosity and a drive to social action in each LWGMS student.he program is designed to be hands-on and experiential, with collaborative learning, projects, oral presentations, and class discussions used to ensure that every student strengthens their voice as they learn. At the heart of the curriculum is a commitment to social justice.
At LWGMS we provide our students with the knowledge and skills necessary to succeed. Our girls garner academic strengths as well as the confidence they need to excel in high school whether they go onto a coed education or not.
---
2812 116th Ave NE
Bellevue, WA 98004
425-827-8708
Preschool to Grade 5
Here at the Little School we've created a small community perfect for your child's development. Our campus sits comfortably on 12.5 acres of woods and meadows that provide the perfect backdrop for children 3 to 11 to play and learn. Our size is what makes our school unique. Because we are little, each student knows and is known by the whole community, and children here learn to develop the interpersonal skills and confidence to advocate for themselves and for others.
Our faculty use the progressive educational model in our classrooms. This style of instruction engages students as active participants in their education, drawing on their natural curiosity and developmental readiness to instill an enthusiasm for learning. The progressive education tends to the growth of the whole student, addressing each individual's social, emotional, cognitive and physical development as well as their academic progress. The result is students who seek knowledge, have the social and emotional skills to engage in their community and actively participate in the world around them.
We supplement classroom learning with significant time spent outside. Our commitment to the community includes advocacy and care for our surroundings as well. The classroom extends to the outdoors, providing plenty of chances for children to appreciate the beauty and importance of caring for the natural world.
If you are seeking a close knit learning community for your child, The Little School is the school for you!
---
1415 Summit Ave.
Seattle, WA 98122
206-682-7309
Grades 6-12
The Northwest School is a day and boarding college preparatory school providing a liberal arts education for students grades 6 through 12. We prepare students to think critically, act compassionately and find their place in the world. We graduate students with historical, scientific, artistic, and global perspective, enabling them to think and act with integrity, believing they have a positive impact on the world.
We take a holistic approach to our students' education. We want our students to master the fundamentals of learning but most importantly we want to encourage them to problem solvers and critical thinkers in an ever-changing world. At the Northwest School we foster a culture of curiosity for our students. Intellectual growth requires more than memorization of facts, it necessitates recurring reflection and inquisition. In middle school our students develop their intellectual courage thanks to our supportive faculty. Small classes, together with assignments designed for diverse learning strengths, and a curriculum that stresses the process of learning, enable students to become self advocates and owners of their education.In 9th-12th grade, students pursue a challenging and interdisciplinary program of studies, consisting of an integrated Humanities program, hands-on laboratory science, applied mathematics, foreign language, visual and performing arts experiences and physical education.
We mold well rounded, college ready students who go on to become global leaders.
---
6128 168th Place SE
Bellevue, WA 98006
425-747-2911
Kindergarten to Grade 8
At the Open Window School we nurture and inspire students of high intellectual potential from Kindergarten through eighth grade. We offer gifted children an environment that fosters their advanced talents and abilities.
Our curriculum consists of a blend of traditional and innovative methods to nurture and inspire bright minds. We seek to promote self-confidence based on strong academic, critical thinking, and problem-solving skills. Teachers utilize research-based curricula and also develop and modify curricula to meet the various needs of their students.
Another powerful component our teachers utilize is Social-Emotional learning. Social and emotional learning (SEL) is a fundamental component of the Open Window School experience. In contrast to the "hard" academic skills, social and emotional learning (SEL) contributes to the vital "soft skill" set that research recognizes as even more predictive of success in academics, attainment of goals, and life satisfaction than IQ alone.
Gifted children need a school that properly nurtures and advances their capabilities. At the Open Window School we ensure that your child is being academically challenged and emotionally cared for.
---
20301 NE 108th St.
Redmond, WA 98053
425-868-1000
Grades 5-12
The Overlake School is an independent, nonsectarian, coeducational, college prep day school that serves grades 5 through 12. Our school fosters a community of compassionate, intellectual, and responsible individuals.
At Overlake, learning transcends the four walls of the classroom. Our students receive stimulating and in depth instruction combined with experiential learning. Challenging, exacting, both wide-ranging and in-depth, Overlake's balanced college prep curriculum teaches students the skills and knowledge to succeed at colleges and universities and as active members of a global society. At the core of an Overlake education is the ability to step outside the familiar, immerse in the unknown, and learn by doing. Students learn about their surroundings through outdoor exploration during one of the many field trips we plan. They develop a sense of responsibility and love of community through our service learning partnerships with local non profit organizations.
We seek to mold our students to be lifelong learners and curious individuals long after they are done with school. Our teaching model's combination of learning in the classroom and in the real world, allows our students to put their newfound knowledge in practice. Experiential learning also fosters maturity and gives students a sense of authority over their academic path.
---
St. Monica Catholic School
4320 87th Ave SE
Mercer Island, WA 98040
206-232-5432
Preschool to Grade 8
St. Monica Catholic School aims to instill a love of learning in children as young as preschool through eighth grade.Our curriculum focuses on inspiring students to read more, think about what they read, and communicate effectively about it. We provide a Catholic Liberal Arts experience that promises to prepare your child for the future.
Our exceptional curriculum strives to be distinctively Christ-centered by developing the whole child through an academically rigorous curriculum. At each level, we introduce appropriate material in a logical sequence. We work to adjust the pace and the scope of our curriculum to ensure a program that is excellent and exhilarating, for our students. We emphasize the rich tradition of a Liberal Arts education by using time-tested methodologies inspired by the Church's history, culture, and thought.Through compassion, prayer and service to God and neighbor, our students will model Christian virtue, communicate and think logically, contribute to the common good, and pursue truth.
We seek to help all of our students maximize their human potential, fulfill their God-given purpose, and flourish in a Christ-centered and rigorous academic environment.
---
8300 NE 12th St.
Medina, WA 98039
425-454-5880
Preschool to Grade 8
St. Thomas School is an independent day school serving children in preschool up through eighth grade. At St. Thomas, your child will be challenged to reach their fullest potential surrounded by a community that embraces high expectations, shared values, and a passion for learning.
The St. Thomas School journey is an intentionally designed program that thoughtfully and continuously addresses the developmental needs of children – academically, socially, and emotionally – as they advance through the Early Learning Center, Elementary Center, and Middle School. We believe that a child's educational journey must be balanced between the academic and affective domains. Academically our students acquire knowledge and skills, but they also must synthesize and apply their abilities to their studies. In support of growth of character and spirit, students engage in experiences that call upon them to explore, reflect, choose, act, and lead.
Our school's philosophy is led by our guiding principles. Our curriculum prioritizes written and oral communication as well as proficiency in the language of mathematics. We organize core subjects within a framework of cross-disciplinary themes, which help students see connections across subjects and relate what they learn to life. We begin each day with a gathering in our Chapel where we cultivate students' sense of personal and civic responsibility and an understanding of how their choices and ways of thinking are influenced by their peers, teachers, families, and their own inner voices.
---
7655 178th Pl. NE
Redmond, WA 98052
425-883-3271
Preschool to Age 4
The Sammamish Montessori School in Redmond provides an independence focused early education for children between the ages of 3 and 6. Our curriculum is based on Dr. Maria Montessori's belief that children have an inborn drive to become independent and our program encourages and allows each child to develop his/her academic, social and emotional self.
As our students grow, our goal is to foster independence, responsibility and follow-through, competence, problem-solving skills, the ability to work cooperatively within a group and follow the spark of intellectual inquisitiveness and mastery of academic skills kindled in their preschool years. Our curriculum utilizes a realistic understanding of the child's cognitive, neurological and emotional development. Children have the freedom to select their own learning materials and work at their own pace. Our teachers closely monitor their students' progress and provide them with more advanced materials when the child has mastered their initial chosen curriculum.The children progress sequentially through a series of increasingly difficult activities.
We provide our students with the hands-on activities they need to develop their decision making, independent thinking and collaboration skills. Not only are they properly stimulated in the classroom, but our campus also provides ample outdoor space for play. Our school features several fully fenced play areas for your children to enjoy safely with their classmates. Our playgrounds feature climbing apparatuses, sandboxes, turf covered areas, little houses and so much more.
Come see Sammamish Montessori and get a taste of what we can offer your child!
---
2619 4th Ave. N
Seattle, WA 98109
206-284-6220
Kindergarten to Grade 8
At Seattle Country Day School, our Kindergarten through 8th grade program specializes in nurturing and strengthening Seattle's gifted children's intellectual and emotional needs. Since 1964, we have taken it upon ourselves to provide the guidance and deepened instruction essential to properly supporting a group of students whose needs are not always met in the prototypical classroom.
When it comes to instructing children with high intellectual and creative potential, it is imperative that their academic program be challenging, engaging, and responsive to their innate curiosity and love of learning. Our classrooms promote curiosity and allow our students to delve deep into the subject matter with the support of their peers. Our teachers use a combination of traditional and progressive approaches with a focus on inquiry-based instruction. Project-based learning is another staple of a SCDS education; students routinely complete projects in which they have to apply what is being learned. Local, regional, national, and international trips serve to advance student learning as well. Our students are given the opportunity to tap into their own creativity all while collaborating with their peers.
Another cornerstone of the SCDS program is our Social Emotional Learning (SEL) program. Starting in the Lower School, students learn to build relationships with one another, identify and regulate their emotions, and contribute to a diverse community. As they grow,students learn the neuroscience behind emotions and continue to explore creativity, empathy, and the role of technology in their lives. This social and emotional education is tailored for SCDS's gifted population and its positive impact can be felt far beyond any one classroom.
If your child is gifted, or you believe your child may be gifted, don't hesitate to contact Seattle Country Day School about enrollment!
---
Seattle Jewish Community School
7217 Woodlawn Ave NE
Seattle, WA 98115
206-522-5212
Kindergarten to Grade 5
Seattle Jewish Community School offers children from kindergarten through fifth grade an integrated education through the lens of the Jewish experience. Our students develop a strong Jewish identity, built on the richness of our collective history and tradition. We encourage our students to build strong connections with one another as well as to develop a strong sense of self.
At SJCS, we use the cohort system which eliminates the antiquated system of classifying students by grades. Instead, we separate our students into three learning communities. Pedagogical research has shown that intellectual, social, and emotional development is not strictly age-based. Organizing our classes in this manner, allows for students to receive the instruction best suited to their academic level. Additionally, it fosters a community where students can consider themselves to be a part of a learning family in which older students can act as mentors to their younger peers.
SJCS' integrates Academics, Jewish Values and Traditions, Social Emotional Learning (SEL), and Specialty Subjects to support and nurture each child's intellectual, creative, social emotional, and spiritual growth. Our team of specialized teachers provide all of the children with a balanced curriculum of academic fundamentals (language arts, math, science, social studies) combined with Jewish learning (Hebrew, history, traditions), and specialty subjects (PE, art, music.)
---
6515 196th St. SW
Lynnwood, WA 98036
425-778-8572
Preschool to Grade 8
At Soundview School we offer our students an ethical, rigorous, and compassionate education. We provide a learning environment designed to serve your child's needs from preschool through eighth grade. Students leave Soundview as curious, confident, and capable young people.
\We educate our students with the International Baccalaureate (IB) tradition. The IB is a framework for education. It does not tell us what to teach. Instead, it guides how we teach. Our program is always under construction – it's designed and revised based on ongoing educational research, practice, and the needs of our future world. Through our curriculum and school culture, we guide our students to recognize that humans, no matter their differences, share many of the same desires, challenges, and experiences. If we share the job of taking care of our planet and its people, we can contribute to a better, more peaceful world.
Soundview School educates students to become innovative thinkers and ethical citizens and leaders who will serve our community with compassion and respect. We teach future-ready skills by integrating the rigors of the International Baccalaureate curriculum with student-driven, action-oriented, projects that are engaging and relevant to today's world.
The Soundview community is built and dependent upon close, highly collaborative relationships among students, families, and teachers. Join us!
---
914 Virginia St.
Seattle, WA 98101
206-621-9211
Kindergarten to Grade 5
Spruce Street School is a Pre-K through fifth grade school offering personalized instruction, social-emotional developmental support and superior academics. We encourage students to anchor their learning in real-world applications, preparing them to be enthusiastic lifelong learners and able contributors to society.
We take an interdisciplinary approach to elementary education. This type of program prepares children for holistic lifelong learning rather than compartmentalized training on discrete subjects. Science and social studies give our students the opportunity to experience life rather than simply learn about it. The classroom experience includes music instruction twice weekly, visual arts, and an artist-in-residence budget for each teacher. Each class creates an annual dramatic performance related to the themes they have learned over the year.
At Spruce Street we have multi-age classes because children tend to have more positive attitudes in multi-age classrooms. Our multi-age classes usually span over three age groups. Children experience an even broader multi-age community through All School Meetings, Electives, Arts Week, and Buddies.
If Spruce Street sounds like the right early education for your child, contact us today!
---
5601 University Way NE
Seattle, WA 98105
206-524-0653
Preschool to Grade 5
At University Cooperative School we celebrate the beauty of our students' journey through childhood. We provide children from preschool through fifth grade with a cooperative learning environment where they can develop interests and feel responsible for their own learning.
University Cooperative School is organized into two pods – Grades Pre-K – 2 and Grades 3-5. Each pod has its own schedule, traditions, learning spaces, and core teachers. Core teaching teams work with children over three years, developing warm relationships and deep understandings of each child's needs. Younger students learn from the older, while fifth graders and second graders become leaders in their pods. All-school activities like Friday All-School Sing and Mercado (a culminating Cultural Studies unit event) create multi-age friendships and community.
A great deal of our curriculum is hands-on and project based which we find is the most engaging form of instruction for young children. Key pieces of our curriculum are divided into multi-subject, long-term projects. While learning core academic material, students also hone skills in working cooperatively, staying focused in long-term projects, and understanding connections among different disciplines and topics.
At University Cooperative School we encourage our students to learn by doing and to enjoy the continuous curious nature of childhood.
---
The Valley School
318 30th Ave E
Seattle, WA 98112
206-328-4475
Lora Kolmer
Director of Admissions and Community Relations
lorak@thevalleyschool.org
At the Valley School we strive to guide our students to explore their intellectual curiosities and develop their personal interests in a community setting.
We offer schooling to students from Pre-K through 5th grade on an intimate scale to maximize individualized attention. We believe that each student has their own unique intellectual and social developmental path and we offer a variety of types of instruction in order to meet those needs. Each grade only has one class of no more than 18 students so our teachers are able to provide personalized teaching. Thanks to our small size, we are able to adapt to each student's learning pace.
Our staff is comprised of early childhood experts who value students' voices. We've designed the typical Valley School day around developmentally appropriate practices and guidelines. Our program promotes healthy habits through a social and emotional curriculum, plenty of exercise, fine and gross motor skill development, time spent outdoors, and a low-stress environment. We are of the belief that stress inhibits learning so we make it a priority to ensure that our students are learning in a relaxed environment with minimal homework.
Our campus' all-star centerpiece is our beautiful outdoor play space, which offers a myriad of opportunities for your child to express their creativity. Children learn by doing so we use play and exploration as catalysts for learning. We've dubbed our playground "The Second Classroom" because so much student development and learning happens there. Purposeful Play and Playful work are at the heart of our academic mission.
Come visit the Valley School and see how a small community can have an incredibly positive effect on your child's development.
---
5001 NE 50th St.
Seattle, WA 98105
206-527-9388
Preschool to Grade 12
Villa Academy is a Catholic independent school dedicated to excellence in the education of the whole child and guided by the Cabrinian tradition of educating compassionate hearts and confident minds. We seek to instill in children from preschool through middle school the confidence they need to change the world.
We balance traditional learning with experiential learning to support different aspects of student growth and development. The traditional— math facts, studying greek and latin roots, essay writing, and analyzing primary sources—are important to meet the demands of any future educational setting. The experiential deepens and expands learning and supports students' social, emotional, and physical development. At Villa, students work hard because we set the academic bar high, but we believe that children learn best when they are challenged, engaged, and inspired. We provide them with the opportunity to explore real-world issues, think critically, question assumptions, and develop skills for their future academic journeys and beyond.
We make sure to examine our curriculum through a lens of equity and inclusion. We want to encourage our students to explore their personal experience as well as contemplate that of their neighbor when it comes to identity and culture. We celebrate our similarities and differences.