While we can't travel or easily meet up with friends, I've challenged myself to find other ways to help my kids learn about other cultures. Sometimes this looks like a takeout meal from a new restaurant and other times it's a local adventure to learn more about the heritage of our fellow Seattleites. Our trip to West Seattle's Chinese Garden gave us an opportunity to do both!
Located on 4.6 acres on the South Seattle College campus, the Sichuan-style Chinese garden is the only one of its kind outside of China and was built as a partnership between artisans and architects from Seattle and our sister city, Chongqing.
While visitors are requested to stay away from the rest of the college campus to help curb the spread of COVID-19, the public is welcome back in the Chinese Garden and the adjacent South Seattle College Arboretum as of September 2020.
Traditional elements are kid-friendly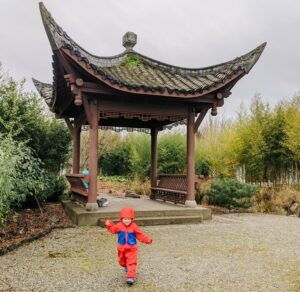 Incorporating four elements that are typical in Chinese gardens — stone, architecture, plants and water — makes the space feel really engaging, yet peaceful, for visitors. The garden's website shares more about the principles of balance between yin and yang that are embodied by the four elements. Water, for example, nurtures and rejuvenates while stone provides strength and stability. Pines represent endurance and bamboo tells us to be flexible. These teachings felt particularly relevant during the upheaval of a pandemic and emphasized how much we can learn from other cultures.
Experiencing the four elements for themselves, my kids adored traipsing along paths through bamboo groves and peeking at the small fish in the pond. A plaque adjacent to a large sculpture of a carp fish captivated them with a legend in which carp leaping the falls of the Yellow River turn into dragons and fly away into the sky.
Small hills and rock walls invited climbing and play, but the walkways are mostly gravel and could largely be navigated with sturdy strollers or wheelchairs.
Peek hopefully through windows at the Spring Pavilion
A temporary sign near the entrance said the beautiful Spring Pavilion was open from Tuesday through Sunday from 11:30 a.m. to 5 p.m.
We spent a couple of hours in the garden on a Tuesday morning, but no one ever came by to open the locked doors to the open-air walled courtyard. Surprisingly, my kids didn't seem too disappointed – they loved peeking through all the windows around the courtyard and racing along the pathways. I'd love to come back and try again though because the sculptures and small ponds inside looked captivating.
We visited on a day when the forecast promised rain and wore our waterproof gear, but ended up staying quite dry. However, a beautiful gazebo and the walkway along the pavilion provided ample cover for when it started to sprinkle at the end of our visit. The intricate designs in the roofs also invite shape exploration for young children — we found squares, triangles, diamonds, rectangles and ovals just in the gazebo!
Extend your garden adventures to the arboretum
It took some coaxing, but I was finally able to pry my kids away from the lion sculptures in front of the pavilion to go see the arboretum. The two garden spaces are adjacent to each other, so you don't need to go back into the parking lot and may not even realize you've wandered between them.
Designed and built by students of South Seattle College, the arboretum also has paths that naturally interest kids. Mine loved climbing the stairs of a large gazebo, walking carefully on a stone bridge over a babbling creek and playing peekaboo through the slats of a wooden bridge.
The wood on the boardwalks and bridges gets slippery, so watch little waddlers who may not be expecting it. The rain pants came in handy for my kids who decided to intentionally slip and slide on an observation deck.
Since we were biding our time to enter the pavilion that never opened, we spent over two hours in both gardens and walked over a mile at the slowest possible pace. It's definitely a spot where you can adjust timing to your family's interest and energy.
Another cultural treat: Salvadorean bakery
Since we'd spent more time than I'd planned in the garden, I needed to find a kid-friendly lunch spot quickly. Luckily, the Salvadorean Bakery and Restaurant is only 10 minutes down the road in White Center and offers online ordering.
We showed up early and our order of their famed pupusas (a handmade corn tortilla stuffed with a variety of fillings) and chicken soup wasn't quite ready, so I bought a sampling of treats from their beautifully stocked pastry case and we held an impromptu tasting in the car. The alfajores were the undisputed favorite with their layers of dulce de leche sandwiched between sugar cookies and dusted with powdered sugar.
We shared three pupusas (pork, chicken and spinach) and had a clear winner again – the revuelta with a creamy and savory combination of pork, gooey cheese and refried beans. I also loved the delicate flavors and perfectly cooked vegetables in the chicken soup. Our lunch was the best possible comfort food on a chilly day.
My kids are already asking when we can go back to the gardens and taste more Salvadorean treats. Our adventure was a great way to experience a lesser-known part of Seattle and learn more about the rich cultural heritage in our area.
Seattle Chinese Garden: information to know
Getting there: The Seattle Chinese Garden is located on the South Seattle College campus at 6000 16th Ave. S.W. The Salvadorean Bakery is located in White Center at 1719 S.W. Roxbury St.
Hours: The garden is open daily from dawn until dusk. The listed hours for the pavilion are Tuesday through Sunday from 11:30 a.m.-5 p.m., but it was not open during our visit. The bakery is open from Monday through Saturday from 6:30 a.m.-9 p.m. and Sunday from 6:30a.m.-8:30 p.m.
Cost: Entrance to the garden and arboretum are free, although donations are encouraged. The Salvadorean Bakery's pupusas are a steal at only $3.60 each and other items range from less than a dollar for some cookies to $15–20 for entrees.
Parking and restrooms: Ample parking is available in the large South Seattle College lot with a handful of ADA spots. There are no open restrooms on site.
Other: Masks and social distancing are required at all times. Leashed dogs are permitted in the Arboretum.
This story was first published on Jan. 1o, 2021.
More close-by excursions:
A walk on the lake in Seattle's Washington Park Arboretum
New, all-abilities playground at Juanita Beach Park in Kirkland
11 Seattle-area state parks to visit in fall or winter
Want more up-to-the-minute information from Seattle's Child? Sign up for our newsletters.