"The Little Mermaid" is one of those childhood animated Disney classics, and also a recent live-action film, but seeing it onstage at Seattle's Fifth Avenue Theatre is a very special experience.
The production was just beautiful. How did they turn a theater stage into an underwater wonderland? Creative use of set adornments and lights — and virtually seamless harnessing that allowed characters to "swim."
Sometimes a stage version can seem jarringly different from a beloved movie that a child has seen over and over, but I don't think that's the case here. My daughter, who said "Little Mermaid" was her childhood favorite, thought some characters (she mentioned Prince Eric) were more fully developed in the stage version than in the Disney film.
As if so often the case, some of the smaller characters really stole the show with their lines and their songs. I'm thinking particularly of Sebastian and Scuttle, but of course also Ursula the Sea Witch. The slapsticky pre-dinner scene with Chef Louis also brought big laughs, even if it wasn't my particular favorite.
I wonder if the young fans enjoyed the joke when Prince Eric was trying to guess the name of his then-voiceless companion. "Is your name Belle? Jasmine? Elsa?"
Unexpected applause erupted when the prince asked King Triton for Ariel's hand in marriage, and the king replied, "My daughter can speak for herself."
If your child (or you) has an Ariel outfit, by all means wear it!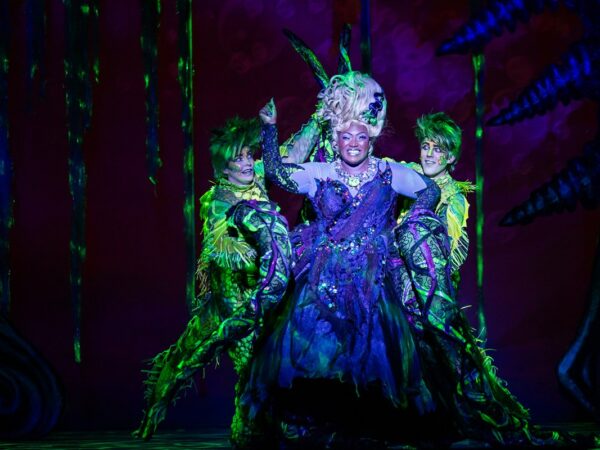 'Little Mermaid' review: details
The 5th Avenue's production of "The Little Mermaid" continues through Oct. 8.
From opening curtain to the final bow, we were in our seats a little over 2 1/2 hours. The 5th asks that no one under 4 (including babes in arms) be brought, but our matinee had plenty of young fans, including what appeared to be a "Little Mermaid"-themed birthday party. (What lucky kids!) During the curtain call, we could hear a young voice yelling, "I love you!"
Find information here on accessible performances, including sensory-friendly, ASL-signed, open captioned and audio described.
How to score a deal: $30 day-of-show tickets for certain zones are available for the general public to purchase in person, starting at noon the day of the show. All guests must be present at purchase. Also, there's a special promo code (DISNEY100) to get a discount on some seat levels on shows through Sept. 24 (but it must be used by Sept. 19!) If you've got a group of 10 or more (like that birthday party), you can get a discount. And, if you're there, check your program for a special "see it again" code.
Side note: The new-ish live-action "Little Mermaid" film is now streaming on Disney+.