Welcome to your list of family-friendly, winter-themed fun! Leah here, Seattle's Child Calendar Editor, former teacher and mom to three young boys. Here we are, right in the middle of the dark, cold winter, and The Playlist is here to keep you afloat during the dreariest of days. Although the days are short, there are handfuls of fun, winter-themed learning activities in the area to cure that cabin fever, and the teacher in me has packed your month with lots of learning and creating, too. From ice skating and nature hikes to winter slime and snowball science, we will cure you of those winter blues in no time!
Here's the January Playlist!
Fizzing ice science, snow slime, winter tree art, healthy snowman snacks, and book and movie lists that will knock those cozy, wool socks off. Plus, lots of ways to get out of the house and embrace the cold through learning and fun.
The holidays have passed us by (finally?!) and we're back into a routine. Here are some kid-friendly ways to pass the time this January, and have fun learning, exploring, and creating, too.
Movement
Although we're just now on the other side of the winter solstice and we've been confined to the indoors for what seems like forever, January is a big month for getting our bodies moving. With the New Year comes new commitments for health and happiness for the whole family, and here are some ways to help you meet your goals:
Head to one of the local ice rinks in town, like Oly on Ice or the Bellevue Ice Rink, put on some skates, and have a ball with friends. Or, check out this complete list of winter family ice skating options.
The UW Botanic Gardens at the Washington Arboretum offers Family Nature Classes with the focus of "What's Happening in Winter?" Children explore literacy, math, motor skills and more at learning stations that help them access all five of their senses.
A Winter Wings Walk at the Ranger Station in Bellevue explores the migration of birds during the winter season. Perhaps spot some birds on this easy hike, and finish the day with a craft to take home.
Take a walk through a Winter Wonderland in Tacoma with a naturalist, who will teach participants how plants and animals adapt to winter.
Learn all about the wintertime low tides on an Evening Beach Walk, led by Seattle Aquarium Beach Naturalists in the West Seattle area. What kinds of creatures will you discover?
Sensory & STEM
Take advantage of the fact that you're, let's face it, stuck indoors for most of this month, and bring on the hands-on learning! There are a plethora of fun and engaging STEM activities on Pinterest, and some educational workshops (many free!) happening in the area, too.
Ice Skating Penguin Sensory Play. Toddlers and preschoolers can create their own mini ice rink for small hands guiding tiny figurines to explore. Adding color and warm water expands the possibilities and teaches how ice melts.
Winter slime. We cannot deny that slime is still a huge hit with the kids. Here is a winter-themed recipe that they are sure to love, using mostly products you can find around the house. Or, head to this Winter Slime Party at the library, happening at the end of the month.
I am loving this idea of a Snowflake Tinker Tray, or any type of themed tinker tray, depending on what your focus is and what you have lying around the house. This one includes items like cotton balls, buttons, beads, and pom poms, organized in a muffin tray and ready for imaginations to run wild! (Image by paper-and-glue.com)
Instant Ice Science Experiment. All you need are some plastic containers and (you guessed it) ice to do this project that shows how water freezes, and seems like magic!
Try these Salt Crystal Snowflakes, which just require pipe cleaners, mason jars, and a couple other items. Give yourself two or three days for the creations to set, and then admire the beautiful snowflakes you've made!
Magic Snowballs. Turns out we don't need another Seattle Snowmaggedon to play in the snow! You just need baking soda and water to turn your kitchen into a winter wonderland. Add food coloring and vinegar and let the magical science begin! (Image by entertainyourtoddler.com)
Check the Seattle's Child Wintertime Activities Pinterest page for more winter science fun!
Reading & Storytime
Reading! This is one of the best and easiest ways to connect the learning to your themed activities. To bring in the New Year, Third Place Books has brought to you another fabulous list of children's books that are perfect for snuggling up together with a cozy blanket.
Chirri and Chirra: The Snowy Day by Kaya Doi: Enter the enchanted wintery world of Chirri and Chirra as they bicycle through frozen forests, drink punch in giant ice castles, and drift to sleep in igloos underneath shooting stars. Doi's artwork evokes so much snuggly warmth that readers will want to stay in her wonderland forever.
Snow Place Like Home by Christine Soontornvat: Do you have Frozen fatigue? Pick up this new early chapter book series from Christine Soontornvat to pique the interest of young readers looking for their next favorite ice princess story.
The Lotterys More or Less by Emma Donoghue: Emma Donoghue is back with a winter installment in her series that began with The Lotterys Plus One, which is kind of like Cheaper By the Dozen updated for modern sensibilities. This time, the nontraditional Lottery family has to contend with many obstacles that impede their holiday plans. A heartwarming story that will suit fans of the Penderwicks and the works of Beverly Cleary.
Stina by Lani Yamamoto: Suffering from seasonal affective disorder? Just going stir-crazy from the chilly weather? Pick up this simply yet beautifully illustrated book about an engineer in the making who uses her ingenuity and crafting skills to overcome her hatred of the cold. It even includes a recipe for hot chocolate in the back!
A Winter's Promise by Christelle Dabos: Translated from its original French, this immersive YA fantasy presents a tale that manages to be breathtaking, cozy, and sweeping in equal parts. Think the Golden Compass meets Pride and Prejudice meets Harry Potter. It's an obvious yes for the whimsical young adult reader in your life.
Many libraries are offering winter-themed storytimes this season, and here are our top picks:
Stormy Weather Storytime at Miller Library. Learn how plants and animals react when storms come through the reading of three stories about stormy weather (a fable and two science-based tales). Then, make a winter branch craft to take home.
Story and a Stroll at Mercer Slough Environmental Education Center. Read Baby Bear is not Hibernating and follow along with Black Bear and his adventures with moose, owl, and rabbit as he learns that having a cozy shelter is more important than he'd realized.
Every Wednesday through January, head over to Winter Preschool Storytime at the Mountlake Terrace Library for cozy reading and good company. Visit the Seattle's Child Family Fun Calendar for many other storytime events around Seattle.
Finally, if you're gearing up for an evening on the couch, pop some popcorn and refer to this Top 10 Movies for a Snow Day list for some awesome family-friendly picks.
Fun Food for Kids
'Tis the season of comfort food, and it is also a New Year and a fresh opportunity for creating healthy habits. Why not incorporate healthy recipes into fun eating? Seattle's Child has created a new Pinterest page filled with Kid-Friendly Food picks that are sure to please evening the pickiest of eaters. Here are our winter-themed go-tos:
2-Ingredient FroYo Bites. Combine vanilla yogurt and mashed berries, freeze, and you've got a healthy and yummy winter snack. (Image by babble.com)
Try one of the many snowman-inspired snacks, which are easy-peasy and are sure to please-y. I love these Mini Snowman Pizzas, with perhaps these Banana Snowmen on a Stick as a side dish. And why not have these Snowman Popcorn Cups for dessert? Adorable.
For a fun treat, try these Polar Bear Graham Cracker Squares, which are a lot like s'mores you can make at home. And what kid, might I ask, doesn't love a good s'more in the wintertime?
Art
Winter-themed art is a wonderful chance to explore art inspired by the calm of nature. Experience a variety of media like aluminum foil, newspaper, paint and more with this list of artistic activities that are designed for kids.
Coffee Filter Snowflakes. This project is great for cutting practice and developing those fine motor skills, or you can save it for the big kids. Blend color on the coffee filters using the unique process of dropping water onto marker designs, and new creations will appear. (Image by onelittleproject.com)
Winter Tree Finger Painting. This is a great one for toddlers, and just requires blue paper, black marker, and white paint. If your kiddos would rather not use their fingers, grab some Q-tips to decorate the branches with "snow."
How to Paint a Snowman. For more advanced young artists or, better yet, for caregiver and child to do together, this is a fun tutorial using acrylic paints that is sure to produce a fridge-worthy art piece.
Aluminum Tape Art Projects for Kids. If you want to try something different, invest in a roll of aluminum tape and a thin canvas, and use glue and yarn to create trees, then cover with tape. Add touches of alcohol inks to embellish if you'd like.
Newspaper Winter Landscape. There are a lot of great winter landscape projects out there, but I love this one for its mixed-media appeal and opportunity to upcycle. Use bubble wrap to "paint" snow for the background, and old newspapers cut into triangles for trees. Here is a similar lesson on depth and perspective I recently did as art docent for my son's class, and the kids loved the process.
Get out of the house and create with others at the Messy Winter Afternoon at the library early this month. Get your hands sticky with glue and birdseed as you make a craft to take home.
Out & About
From museum exhibits to family-friendly shows, there are plenty of fun experiences in the Seattle area that are not to be missed this month.
All happening through January 5th, Pacific Science Center's SnowZone, Seattle Aquarium's Winter Fishtival and the Burke Museum's Winter Activities provide tons of winter-themed learning and fun for the whole family.
Ice Adventures. Head to Hands On Children's Museum in Olympia for a weekend of ice shaving, melting, and skating, and even costumed princesses! (Image above by Hands On Children's Museum)
Snow Queen Family Concert. A girl sets out on a musical journey to find her friend who was put under the icy spell of the Snow Queen. This story was inspired by the same Hans Christian Anderson fairy tale that inspired Disney's Frozen.
Escape winter altogether at the Seattle Aquarium Hawaii Weekend where you can dress in your best tropic apparel, discover Hawaiian Island sea life, and enjoy all kinds of Hawaiian entertainment. Sign me up!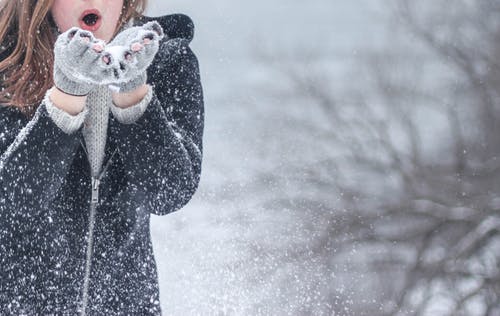 For more ideas on themed learning from gardening to construction to ocean life and much more, check out my blog at creativehomeeducation.com.
The Playlist archive