All images provided by Children's Film Festival Seattle
Back in late February when the Children's Film Festival opened in Seattle, my kids and I had a chance to see an all-ages compilation of shorts called The Icing on the Cake at Northwest Film Forum on Capitol Hill, and we were absolutely pleased with our experience. We were all sad to learn that the Film Festival was canceled midway through, due to COVID-19.
Luckily, for the first time ever, the Children's Film Festival Seattle is going VIRTUAL from May 13-17, and many of the films that were showing in the theater will be streaming live, Icing on the Cake being one of many! Access to the shows is on a pay-what-you-can sliding scale of $0-25, and you can learn more – including the complete list of films, age recommendations, content advisories and how to stream – on the Film Festival website or the Seattle's Child Virtual Events Calendar.
We saw singing squirrels, a grumpy elephant who needed some cheering up from his own trunk, and a talking cactus that had us giggling all the way through the show. We highly recommend these gorgeous, lovely, easy-to-digest shorts to families with kids of all ages. Here's what my kids thought about Icing on the Cake!
Which film was your favorite?
Ronan, age 7: The elephant and cactus one [I Have a Little Cactus]. It was about an elephant giving another elephant a cactus, and the elephant getting the cactus didn't like it, but then the cactus started singing, and then he liked it. And then the cactus fell off into someone else's house and the owner of the house came over and yelled at him and then he got the cactus back. I liked when the cactus started singing and I liked the cactus's face. His face made me happy.
Deacon, age 4: I liked when the cactus fell on the other elephant's head!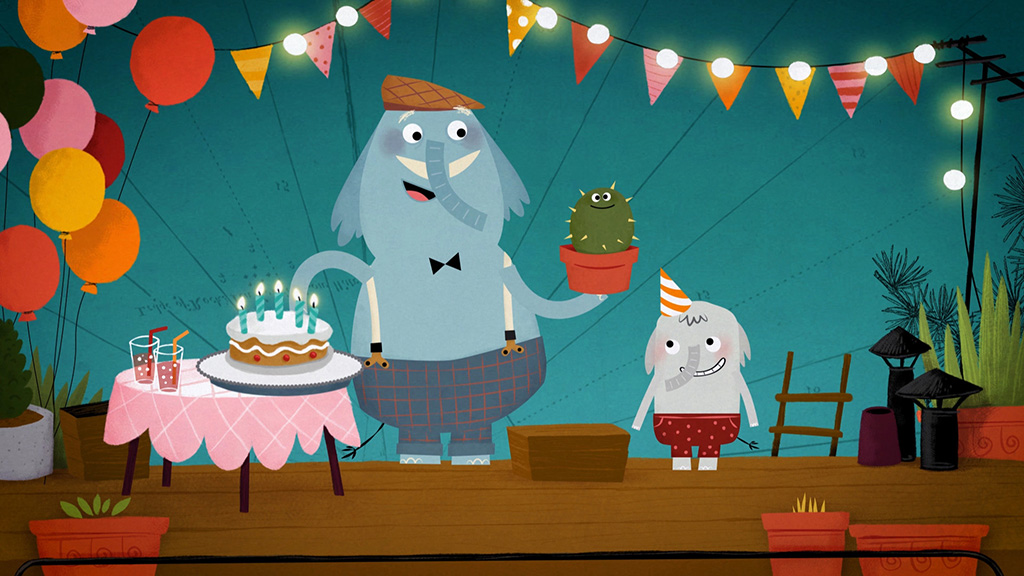 I Have a Little Cactus
Tell me about a part from a film that made you happy.
D: [Snail the Painter] So the snails got in the dots and then they made colors! Then one, at the end, made a rainbow paper! It took all the colors and then it spread all of the paper rainbow! It made me feel good. It made me think about art and rainbows. Did you see the shell turn rainbow? It had its shell that turned rainbow and then it spreaded…and it just made the paper rainbow!
Snail the Painter
Were there any parts that made you sad?
R: The saddest one I saw was called "Elephant" and the elephant was really sad, but his trunk tried to make him happy by talking, making noises and singing funny. And at the end, he was happy.
D: When the sad elephant was sad, it tried to dunk his nose into the black water! And then he tried to make it stop singing because he doesn't like singing.
R: When the elephant dunked his trunk into the water and he took it out and then his trunk spit water at his face, so he sang really bad! And it made his trunk go from happy to sad. And he couldn't get his trunk back happy so he started singing really good and then they started singing together, and it meant he was happy.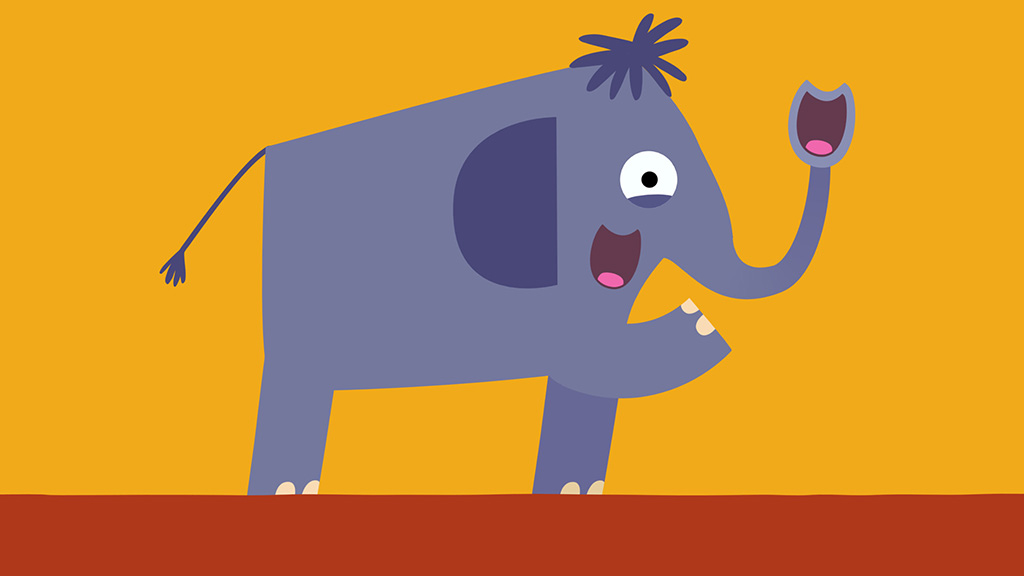 Elephant
Did you see anything magical?
D: [Pen & Magic] A girl found this weird pen, and she drew with it. Then, a cake came out! Animals came out! Dragons came out! Anything that you can think of came out! And then, they all had a party with cake and cupcakes, and it was just so good. It made me wanna eat the cupcakes and the cake. All of 'em!
Which characters were your favorite?
D: [Little Grey Wolfy – Summer Party] He made a cake. He used a little help from his team. Bears, chipmunks, birds. First, the bear got some honey. At the end, they all ate cake!
Little Grey Wolfy – Summer Party
Any other interesting characters you saw?
D: Scissors guy! [Mister Paper Goes Out For a Walk] The guy cut out stuff and then he made it real. He was on a walk. He cut out a dog, and then he made the dog into a bird! He did it outside like pfft pfft. He made a hat for himself.
Mister Paper Goes Out For a Walk
What would it be like to make a film short?
R: It would kinda be hard and easy at the same time. 'Cause it's hard to think of something to do, but it's easy at the same time because you don't have to make it very long. You don't need to make something that's like two hours long. It could be like two minutes long! There's more excitement in shorter movies, 'cause they can make something really bad happen, and then magically make it good again!
Any other special moments you remember?
D: The bird one [Maestro] was really fun. Like, boom, wahhh! It was like out of nowhere, but I don't think there was a story. I just think it was the starting. It was a really good starting. It was, like, so good.
Maestro
There are two showings of Icing on the Cake on Wednesday, May 13 at 11 a.m. and Saturday, May 16 at 9 a.m. In light of current Shelter in Place circumstances, the Children's Film Festival Seattle runs online this year from May 13 through 17. Visit the Film Festival website or the Seattle's Child Virtual Events Calendar for information on how to purchase tickets and stream films.
Leah Winters is the Calendar Editor for Seattle's Child, and a former K-8 teacher with a Masters in Art Education from Boston University. She is also the (very busy) mother to three young boys, ages 7, 4, and 1. Visit her website on thematic home learning at www.creativehomeeducation.com.