Resilience is on my mind these days. While there continues to be distressing international news, we are also seeing examples of great strength and resilience every day.
Stress can come in many forms. It is naïve to think we can protect our kids from every stress and upsetting situation. The question is, how can we help our kids develop the tools they need to navigate the challenges life will inevitably throw their way? How can we build resilience?
The way we think about stress and what we choose to do about it can affect how we are impacted. It also affects our mental, emotional and physical health. This month, I had the opportunity to talk with an outstanding young man with the fantastic mantra "We can do hard things." In all honesty, this is exactly what I want to hear right now.
Morgan is 32 years old and was born extremely premature (at 25 weeks, while a full-term pregnancy is 40 weeks). While he has had a lifetime of health challenges, surgeries and hospitalizations, Morgan describes them as "unwanted visitors" that do not define him. His parents taught him at an early age to "control the things he can and not try to control the things he can't." He takes that to heart.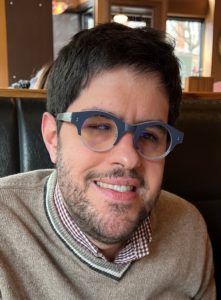 I asked Morgan to share how he approaches stress:
Set goals: Morgan is actively doing physical therapy and occupational therapy because his goal is to have a more independent lifestyle. That's not just about physical strength: Setting goals can help give you the vision, mettle and strength to keep moving forward.
Stay busy: Morgan is a great example of staying busy in positive ways. He attends online classes at the Alyssa Burnett Center for Young Adults on the Autism Spectrum at Seattle Children's, works in a retirement home, and has a deep passion for sports and ham radio. When your life is filled with activities that interest you, there is less energy for stress and more support to cope with it.
Find your distraction: Take a break when you need it. Morgan is working on finding distractions to go to if he feels overwhelmed or stressed. If things feel too much, he puts his earbuds on and focuses on the music. (Which I might add, is exactly what I do.)
Control what you can control: Morgan shared that he learned this from an early age. There are some things because of his health challenges that he cannot control. He described learning to focus his energy on controlling what he can and doing the best he can do every day.
Take things one day at a time: Such great advice. Sometimes it's just better to break projects down and take a little bit every day. It also supports getting to your goals, staying busy, and distracting yourself instead of worrying about future "what ifs."
Have a mantra: Morgan's mantra is, "We can do hard things." He says he uses it every day when he's about to start a new hard thing. Reminding yourself that you can do it and giving yourself to the confidence to try can be a big shift toward being more resilient.
Of course, life will always have its ups and downs and some true challenges for all of us. Giving your kids (and yourself) the tools for tackling challenges as they come can help us weather the storms and enjoy the sunshine when it comes around again. "We can do hard things" celebrates our resiliency, determination and courage in the every day.
More from Dr. Block in Seattle's Child:
Developing an "attitude of gratitude" in your family
When should kids get cellphones? Some thoughts