This article was updated August 2022
Outdoor dining at restaurants has always been a good option for families. Messy and noisy young kids are less bothersome to other diners when eating outside and there's often distracting scenery that will keep a fast eater in their chair longer.  Patio season typically correlates to warm weather but in the year of the pandemic, it's been an all-seasons attraction. Here are 15 Seattle-area restaurants with excellent food and great areas for enjoying a meal outside.
See also: Kid-friendly outdoor dining places with good walks nearby

Agua Verde Cafe/Facebook
The burritos at Agua Verde are big; so are the restaurant's awesome views of Portage Bay. Kids' fare is simple: bean and cheese burritos or their famous "mangodilla," a mango and your-choice-of-meat-filled quesadilla.
Tip: Agua Verde gets crowded during the summer. Grab a basket of chips and go wait for your table at the adjacent waterfront park.
Kids will love a paddle around Lake Union (older kids, anyway). Rent single and double kayaks and paddleboards from Agua Verde Paddle Club, just below the restaurant, March through October.
1303 NE Boat Street
Seattle, 98105
206-545-8570

Leslie H./Yelp
Anthony's main restaurant might be a bit sophisticated for a casual family meal, but head downstairs to the Beach Café and you'll find a lovely spot for outdoor dining while enjoying the splendid view of boat activity on Puget Sound.  The menu is basic, but that won't matter when you're sitting on a sun-soaked patio, sipping peach lemonade, chowing down on comfort food – clam chowder, fish tacos, and deep-fried calamari – and enjoying delicious marina views. A large sandbox for the kiddos is available in outdoor dining.
They don't take reservations for the Beach Cafe but at least if you have to wait for a table it's a fabulous place to do so on a summer day.  Or you can always order to-go and head to the beach for a picnic. Or if you are feeling adventuresome, walk on the nearby Edmonds/Kingston ferry for a scenic, short ride.
Open for lunch only Monday – Thursday. Open for lunch and dinner Friday – Sunday.
456 Admiral Way
Edmonds, Wa 98020
425-771-4400

Beach Cafe/Facebook
Not to be confused with Anthony's Beach Café, this Kirkland restaurant is a great spot for outdoor dining with kids for breakfast, brunch and lunch. You'll get sweeping views of Lake Washington with your order of classic American fare.
Kids will love strolling the docks and exploring the waterfront at Carillon Point.
Open Wednesday – Saturday 5 pm – 9 pm, Sunday Brunch 10 am – 2 pm
Reservations are available only thru OpenTable, not by phone.
1170 Carillon Point
Kirkland, WA 98033
425-889-0303

Elemental Pizza/Facebook
U-Village is a popular hangout for Seattle families: There's shopping, a playground, fun water fountains. When you need to refuel, enjoy outdoor dining on the patio at Elemental Pizza. Their pizzas are made from fresh ingredients, and you can watch them bake in the open wood-fired ovens.
Elemental has both indoor and outdoor seating available and the new grassy play area nearby is a great place for kids to cavort before the pizza arrives.
2634 N.E. University Village St.
Seattle, WA 98105
206-524-4930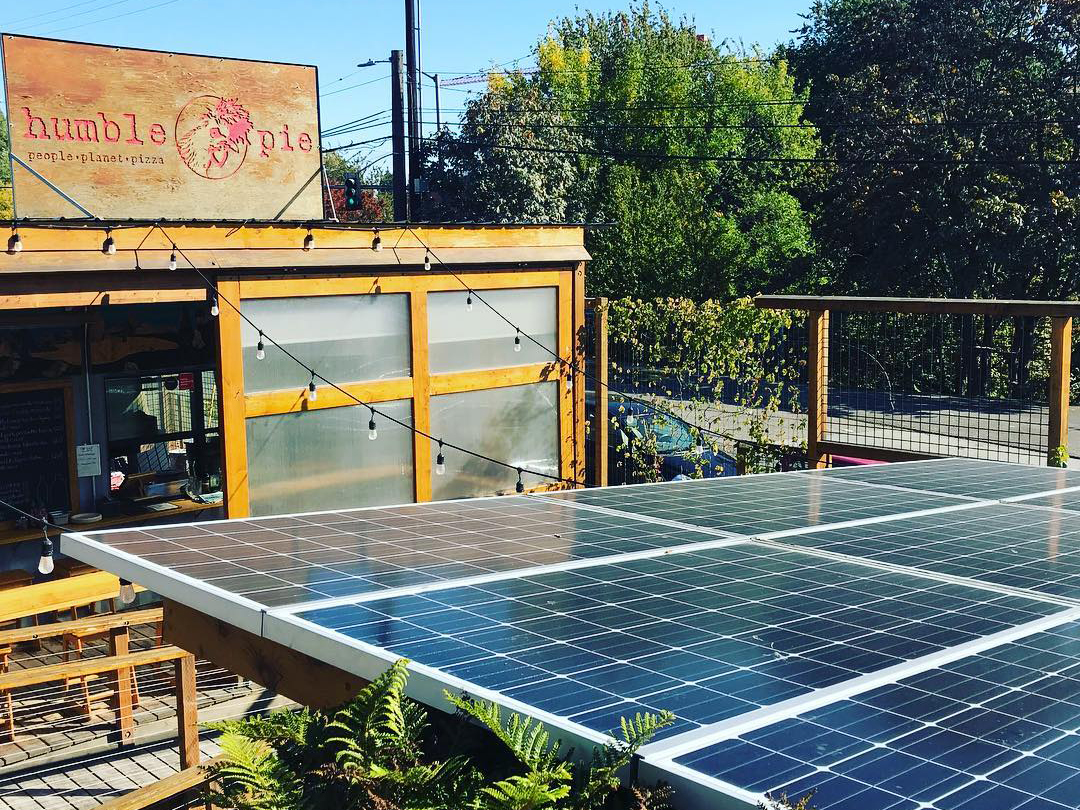 Humble Pie/Facebook
Humble Pie is an unassuming pizza joint right off of Rainier Avenue. Long before the pandemic made outdoor dining a necessity, this place has offered only outdoor dining at picnic tables beneath a solar panel roof – no indoor seating.  It's wonderful in the summer but even on a cold, rainy night it's a great place to stay cozy and enjoy some of the best pizza in town.
Try the prosciutto, egg, and arugula pizza. If you want to hold the meat, no problem: Half of their pizzas are vegetarian-friendly. Pair your pizza with one of two flavors of local favorite Rachel's Ginger Beer – original and blood orange.
Kids will love watching the chickens scratch and peck in the nearby coops. Be sure to check their FB page for latest updates.
525 Rainier Avenue S
Seattle, WA 98144
206-329-5133

Ivar's Salmon House/Facebook
There are many Ivar's restaurants around Seattle, but this one in the Northlake/Wallingford neighborhood sits right on the water with a patio offering up-close views of Lake Union boat traffic and the downtown Seattle skyline. Whether you're in the mood for a quick, take-and-go lunch or sit-down dining, you have options: Order deliciously deep-fried seafood at the Fish Bar window, then take your pick of picnic tables around the corner on the patio barge. Half of the patio is reserved for guests of the Salmon House – a full-service restaurant with the same fried goodness, plus healthier options such as Portobello Caesar salad and grilled salmon.
Tip: Bring out-of-town guests here. The sweeping views and seafood menu will check off two items on every Seattle tourist's bucket list.
Kids will love watching the seaplanes take off and the water taxis drop off passengers at the restaurant dock.
401 NE Northlake Way
Seattle, WA 98105
206-632-0767

Chinook's/Facebook
Located at Fisherman's Terminal, this place is a classic waterfront fish & chips bar with some of the best fried fish in town.  Get your fish to go, grab a spot on the benches nearby and dig in.
Tip: There's free parking right next to the restaurant.
Kids will love checking out the colorful fishing boats in the marina and reading  about Seattle's fishing industry.
Indoor seating as well as outdoor seating is also available at the very family-friendly restaurant Chinook's at Salmon Bay right next door ( a great place to bring families visiting from out-of-town).
1900 W. Nickerson St
Seattle, WA 98119
206-283-4665

Little Water Cantina/Facebook
This family-run Mexican restaurant in Eastlake has been featured on the Food Network and the Travel Channel for its picture-perfect, mouthwatering food and knock-out view of Lake Union from the large outdoor seating area. It's also known for its top-notch tequila bar and making the 'Don Juan of margaritas so a popular place to grab a drink on a summer evening, but the food and setting are kid-friendly. Kids will love the made-fresh guacamole and chips; quesadillas; and the rice and beans with avocado skillet.
They serve local and organic food when feasible, use environmentally friendly cleaning products, compost their food waste and use green technologies to minimize water and energy use.
Tip: Kids like to roam around the patio, and that's okay! It's gated off with only one means of egress, so you won't have to worry too much if the children are socializing while you're sipping a margarita.
2865 Eastlake Ave E
Seattle, WA 98102
206-397-4940

Marination Ma Kai/Facebook
Hawaiian food by the beach? Yes, please! You might be familiar with Marination's big, blue food truck, which became popular for its melt-in-your-mouth Hawaiian-Korean cuisine. Marination Ma Kai is their brick-and-mortar restaurant in West Seattle. Sit on the patio for a great view of the Seattle skyline, and try their popular tacos or fish and chips with miso-infused tartar.
Tip: Take the King County Water Taxi from downtown extends the fun.
Kids will love the mac and spam and Hawaiian shaved ice for dessert.
1660 Harbor Ave. S.W.
Seattle, Wa 98126
206-328-8226

Evan B. via Yelp
Miri's is a little gem at the south end of the Golden Gardens Bathhouse with fresh ingredients and healthy options. After a day of play in the sand, exploring tide pools, and throwing Frisbees in the grass, Miri's hits the spot for outdoor dining on the beach.
Tip: Heading to a picnic or potluck at Golden Gardens? Stop at Miri's for yummy takeout options: acai bowls, big salads and kebab sandwiches. They also cater beach birthday parties.
Kids will love the little Dutch pancakes called poffertjes, berry slushies, and Full Tilt ice cream bars.
Open every weekday from 11 a.m. -6:30 p.m. and weekends 10a.m. -6:30 p.m.
8498 Seaview Pl NW
Seattle, WA 98117
360-317-8530

Red Mill Burgers/Facebook
Red Mill has long been on various culinary reviewers' lists of "best burgers in Seattle." GQ and the Oprah Show declared their Double Bacon Deluxe with Cheese one of the "20 hamburgers you must eat before you die." One Yelp reviewer said, "My kid just wolfed a blue cheese bacon burger wrapped in lettuce, no buns man… and she doesn't even like any green leafy things. Needn't say more."
Tip: Red Mill used to be cash-only, but they now accept credit cards. They also have three locations, all with outdoor seating: Phinney Ridge and Interbay.
The park with a good playground that sits just north of Woodland Park Zoo – about 6 blocks south of Red Mill – is a good place for a picnic.  And consider grabbing a piece of pie at the truly exceptionally A La Mode Pie just across the street from the park.
Grown-ups will love that there's a "no cell phones" policy. Tweens and teens will have to put their screens down, heads up, and maybe, just maybe, engage in conversation.
Red Mill – Phinney Ridge
312 North 
67th
 St
206-783-6362

Smarty Pants Garage/Facebook
This motorcycle-themed American fare pub with "dang good sandwiches" is tucked in the alleyway behind Grand Central Bakery. There's only one item on the kids' menu – a grilled cheese with a side. The regular menu has lots of options, and portions are plenty big to share with your littles. Their spacious patio welcomes dogs, too.
Tip: There's no changing table in the bathroom (boo!). Speak up about that if you visit; maybe you'll inspire change.
Kids will love the motorcycles on display and more garage-themed décor.
626 SW 152nd St
Burien, WA 98166
206-457-8181

Uneeda Burger/Facebook
As the name suggests, you need this burger in your belly. The beefy, locally sourced burgers come in all sorts of worldly variations: Try the Monsieur, the Philly Smash or the Medi-terra lamb burger.  They also have hearty veggie burgers, sandwiches and salads. The indoor seating area has lots of windows and there's a deck for outdoor dining.
Kids will love: Hand-dipped shakes made with Snoqualmie Gourmet Ice Cream.
Tip: Open for indoor and outdoor dining.
4302 Fremont Ave. N.
Seattle, Wa 98103
206-547-2600

Joshua Huston
Nothing says summer like bbq. When you're in the mood for something a little more sophisticated than hot dogs, the Woodshop has you covered. Try the wood-smoked, Texas-style brisket with creamy mac and cheese on the side. Their spacious picnic-table patio has plenty of room for the whole family – even the family dog.
Kids will love the fried mac-and-cheese balls and five different barbeque sauces to try.
Currently open for dine-in (check website for days) and takeout.
2513 S. Jackson St.
Seattle, WA 98144
206-485-7381
More Seattle-area family dining