We're getting to the time of year where we've almost made it through winter, and school holidays start showing up on the calendar again. Do we travel somewhere? Do we dare make plans? Thankfully there are lots of options for family travel in the Pacific Northwest, if we still want to stay close to home.
Most of these places are within a three-hour drive from Seattle, some can be booked last minute and almost all of them are pup-friendly, too.
[ Related: Must-stop playgrounds for your NW road trip ]
Seabrook
Seabrook should win the easiest close-to-Seattle pandemic getaway award.
This oceanfront community near Pacific Beach has a variety of lodging options from tiny, homestyle cottages for small families to mansions that can house a family of 22 for a weekend or extended schoolcation.
This picture-perfect town has a bakery (get the cinnamon bun!), an ice cream shop, a handful of delicious restaurants, an adorable bookstore and a swimming pool. And while Seabrook is known for its sandy, bring-your-camera beach, the mountain biking here is family friendly and fun too. You can rent or bring your own bikes and Buck's Northwest in town has surf gear, paddle boards, clam digging supplies and lessons too.
Pro tips: We often stop at the Costco in Tacoma (about halfway from Seattle in traffic) for a bathroom break and groceries, and we often eat takeout tacos from nearby Tacos Guaymas in our car in the parking lot. Our pup loves Seabrook as much as the rest of the family does and many of the rentals in Seabrook are dog-friendly as well.
[And here's a review from another family who recently visited Seabrook: a beachy getaway and family-friendly fun]
Whidbey Island
A little-known fact about the Inn at Langley on Whidbey Island is that if your kids are 12 and over there is a room for up to four people that you can rent and bring them and your pup along. This is the kind of trip where everyone brings their favorite books and devices and puzzles and lounges in a beautiful room with a gorgeous view.
The Captain Whidbey might be another option if you are looking to bring along younger guests, and there are ample lodging options on Whidbey and Camano Island if you check out their local tourism site.
Pro tips: Nearby beaches, hikes, Whidbey Pies and a day trip to Coupeville are all easy adventures and there is a driving-only option to this island (it's a longer loop, check Google Maps) if you don't want to take a ferry.
Leavenworth
This mountain town with its Bavarian heritage already feels farther away from Seattle than it actually is.
Check out the reindeer farm nearby, that's also fun for kids. A unique stay option about 30 minutes outside of Leavenworth is the Petite Retreats Tiny Home Village at the Leavenworth RV Campground. The tiny homes here have names like Otto and Belle and have unique decor and make good use of their tiny spaces. They have kitchens and restrooms and are stand aloneunits if you are looking for a non-hotel option. Most hold four and a few up to five people. If you book in the winter months, make sure that you are prepared for the weather and check appropriate websites ahead of your visit for snow and ice conditions.
Pro tip: These are quite popular and book up quickly. In addition, there is at least one tiny home that is dog-friendly.
Also nearby: Parent review of the Sleeping Lady Resort outside Leavenworth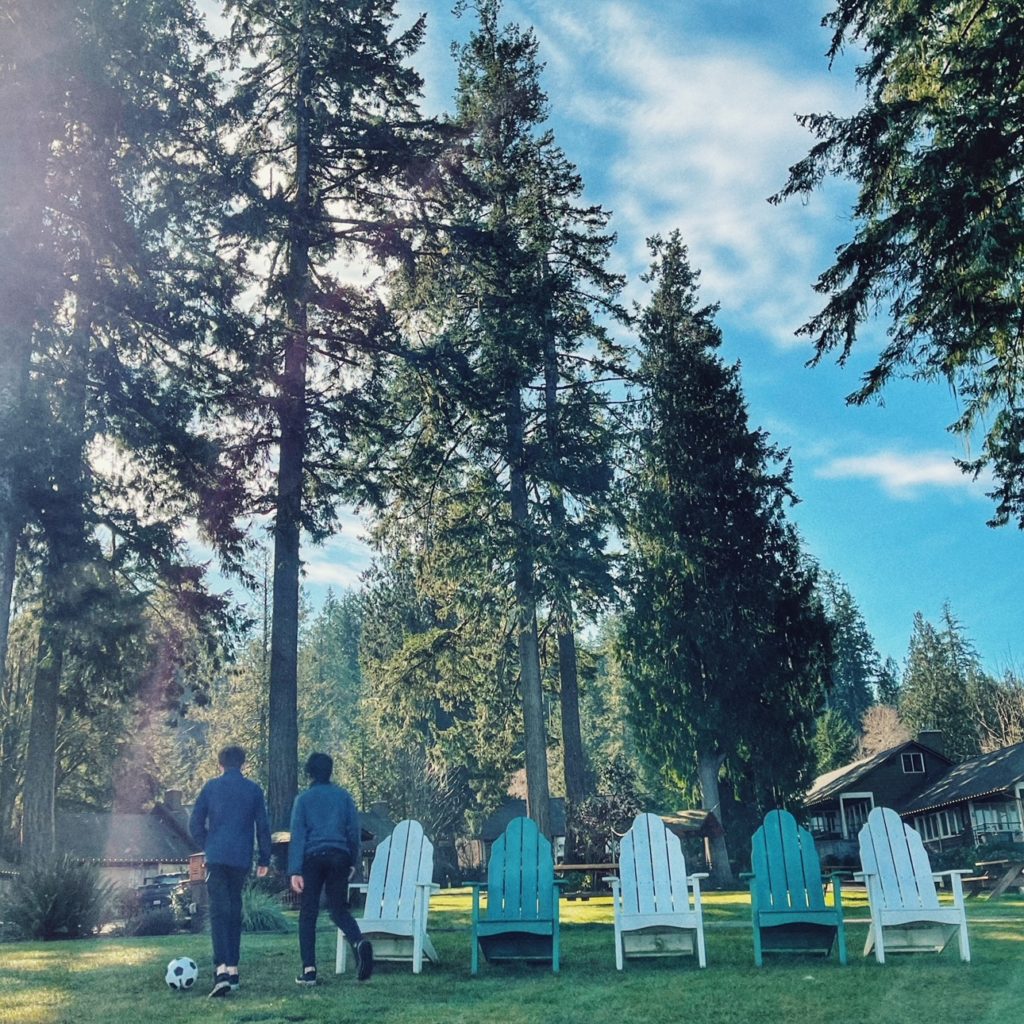 This popular spot on Hood Canal has regular hotel rooms, but also cottages with kitchens that are easy places to stay for families because you can also get takeout here too.
A few cottages are dog-friendly, and they face a grassy area where kids can kick a ball around or roast marshmallows at a fire pit at night.
On our last visit there were dining bubbles people could reserve to eat "indoors" outside with a small group (21+only). This resort also has a pool and an iconic dock that makes the prettiest pictures on foggy mornings.
Pro tip: Ask at the front desk about the geocaching program.
Parent review of a weekend at Alderbrook: It's comfortable and full of family-friendly fun
Vancouver, B.C.
Maybe you want to get back to international travel again, but you're not ready for an airplane trip.
Vancouver, B.C. is about 3 hours north of Seattle, and the Fairmont Vancouver Waterfront has a few really cool rooms you might want to know about, if you travel with kids who love pools. The "terrace" rooms at the Fairmont Vancouver Waterfront have doors that open to a garden space that you can walk through to get to the pool. Booking this room ensures that you are on the same floor as the pool. (While Fairmont hotels are usually accommodating for pets, this specific room cannot be booked with pets in tow.)
Room service at the Fairmont Vancouver Waterfront is beautifully done. There are many restaurants and cafes in the vicinity for easy dining or takeout. Make sure to check for the Washington state residents' rate when you book.
Pro tip: For travel to Vancouver, B.C., always check the government website: currently vaccinations are required as well as a PCR test, taken within 72 hours of arrival, and there is an app you need to download before you cross the border too.
Published Feb. 16, 2021
More family getaways:
What to do with kids (there's a lot) at Semiahmoo Resort