I think we can all agree: family travel is exciting (new adventures, foods and places to explore!), it can be exhausting ("Hey, Siri: How do you get a toddler over jet lag?"), and expensive (sorry, bank account, we'll get through this together!). For families traveling with a neurodiverse child, travel can also be extra: extra-planned, extra-high sensory, and extra-adapting to changes. With these few handy travel tips, however, neurodiverse families can fully enjoy travel together (extras included).
Our story
From the onset, we've prioritized travel (my kids had collected half a dozen stamps in their passports before they were even potty trained). In recent years, however, we have had to adapt to a new way of traveling with our family.  
A few years ago, one of our children was diagnosed with Autism and ADHD, and navigating the needs and challenges of a neurodiverse child has influenced how our family travels. With a few intentional adjustments, however, travel is still possible and even enjoyable!
Whether we're going on a local road trip or hopping on an international flight, I am mindful of how we can create the best experience possible for our neurodiverse family and these 5 tips have helped our travels as a neurodivergent family
Pre-travel prep: Feedback from the family
As soon as we begin planning a trip (let's be honest, travel with kids is a trip, not a vacation), I involve my kids. Leaving the comfort of our routine and the consistency of daily life at home is difficult for my neurodiverse child. Having a say in what the trip will look like helps to resolve fears or questions related to our travel. 
Before we travel, we research the location we'll be visiting together. We find activities and attractions that speak to each family member's interests. Once we have a plan in place, I create an itinerary so my kids will know what to expect each day: where we will be, what we will be doing, and who we will be seeing. When possible, I also add photos of the places we will be visiting so there will be (fewer) surprises along the way.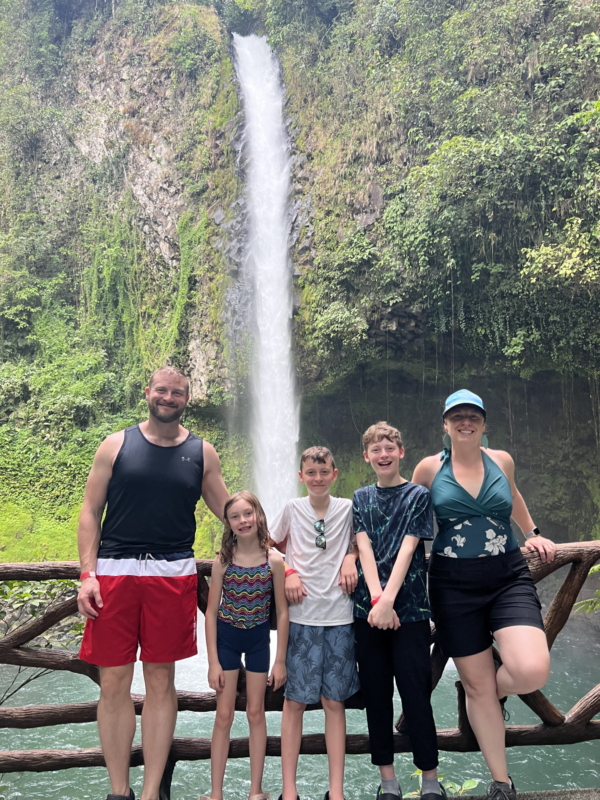 Timing, timing, timing
Many neurodiverse children have specific times in the day when they are better able to regulate their behaviors and emotions. For my neurodiverse child, mornings are extremely difficult, but afternoons usually go pretty smoothly. As a result, we plan the bulk of our travel and activities for the afternoon, when possible. By planning our travel around what works best for our family's needs, we reduce the likelihood of meltdowns and behavior challenges during what is already a stressful situation. 
Packing priorities
As you begin packing for your trip, think beyond the basics. What items does your neurodiverse family member use on a regular basis for comfort, self-regulation, or de-stressing? 
Consider packing fidgets, noise-canceling headphones, a nightlight, a portable sound machine, and especially that stuffed animal your child can't sleep without (from someone who has been there and done that, TRUST ME- you don't want to forget the stuffed animal at home). Also ensure you have enough medication, supplements, and special foods for dietary needs to get you through your trip. Pack all of your necessary items (that are not quickly and easily replaced) in a bag that is easily accessible and with you at all times.
Special services and accommodations: Ask for help
There are many special services and accommodations for travel available to neurodiverse families, you just need to know where to look and what to ask for. 
The TSA Cares Program is a free service available at all domestic airports in the United States. This program aims to help travelers with special needs or disabilities to have a safe and smooth experience getting through airport security. To sign up for the program, you simply need to fill out a form, online, within 72 hours of your scheduled flight. You will then be given instructions on how to connect with a TSA Cares agent at the domestic airport(s) you will be traveling through so you can receive additional assistance on your travel day. When you register for TSA Cares, you will be connected with a specially trained TSA Agent at your airport who will adjust the screening process for your specific needs. For example, low- or no-touch security screening or going through a separate security line so you can have extra time and space to move through the screening process are accommodations that they can provide for your family. 
Another program is through Walt Disney World. They offer a number of services for neurodiverse families, including advance ticket purchases, strollers and wheelchairs, rider switch, break areas, and dietary accommodations. For more information, contact Disability Services at (407) 560-2547 or email disability.services@disneyparks.com.
Oftentimes travel destinations offer additional services like the ones at Disney so call to see what those accommodations may be before you head out on your adventure away from home.
Allow space
Allow yourself the space–both physically and mentally–for changes in how you travel.
Consider the physical needs of your neurodiverse family member. The first thing we do when we arrive at our lodging–whether it is a hotel, a vacation rental, or a family member's home–is to designate a space where our neurodiverse child can go to be alone. It is important for them to know they have a safe space where they can retreat if they need to rest or self-regulate away from others. For our family, allowing for this physical space often means that we rent vacation houses with separate bedrooms instead of staying in shared hotel rooms when we travel. 
Providing a space to rest and recover
As important as physical space is for neurodiverse individuals, mental space is also vital. Travel brings many changes from the norm, so it is important to allow for downtime to rest and recover. This downtime could include naps, play time (we always bring a few small, easily portable toys and games when we travel such as card games, coloring supplies, and a small bag of Legos), or even screen time.
When our family travels we usually only plan one activity or outing per day so there are margins in the day for downtime. We also schedule rest days into our itinerary where there are no planned activities so we can truly go with the flow, even if that flow is just a lot of naps and pool time. Along these same lines, be willing to adjust your itinerary if a need arises. Sometimes changing plans is necessary and, who knows?! Maybe that unanticipated change will lead to your greatest memories!
There is a wide world out there to explore, and with the right preparation, every family can experience new adventures together. Not only is it possible to travel with your neurodiverse family, but you can thrive along the way with the help of these tips. Happy travels!
Read more:
What not to say to a parent with a child on the autism spectrum
Amazing images from Anthony Schmidt
How to have a birthday party with a child who has sensory challenges