Editor's note: Many events are being canceled, postponed or adjustedin response to concerns over the spread of the new coronavirus in the Puget Sound area. Before heading out, it's wise to confirm that your event is still taking place. Events at King County and Seattle public libraries are canceled.
Whether you've got an avid bookworm or a reluctant reader, unusual characters or settings at story time can get kids excited about reading. Here are some of the most unusual and fun story times in the Seattle area — and bonus, most of them are free!
A Boatload of Stories Aboard the Arthur Foss
In the 1890s, the tugboat Arthur Foss carried gold miners and supplies to Alaska and, during World War II, served as a U.S. Navy vessel. Now, the 131-year-old tugboat welcomes preschool-age kids on board for stories about ships and the sea. Tugboat Storytime takes place from 11 to 11:30 am on the second and fourth Thursdays of each month. After the story, kids can walk through the tiny kitchen, peek at the narrow bunk beds and climb the steep stairs to try out the steering wheel. Free; Historic Ships Wharf at Lake Union Park, 1010 Valley St.; Tugboat Storytime
Paws for a Good Book with Rover
He's a good listener who doesn't mind if your beginner reader trips over a few words. For kids who are hesitant to read to other humans, a pooch may be the perfect book buddy. Reading with Rover is a program that brings therapy dogs to read with kids in libraries and bookstores throughout King County. Free; various locations; Reading with Rover Events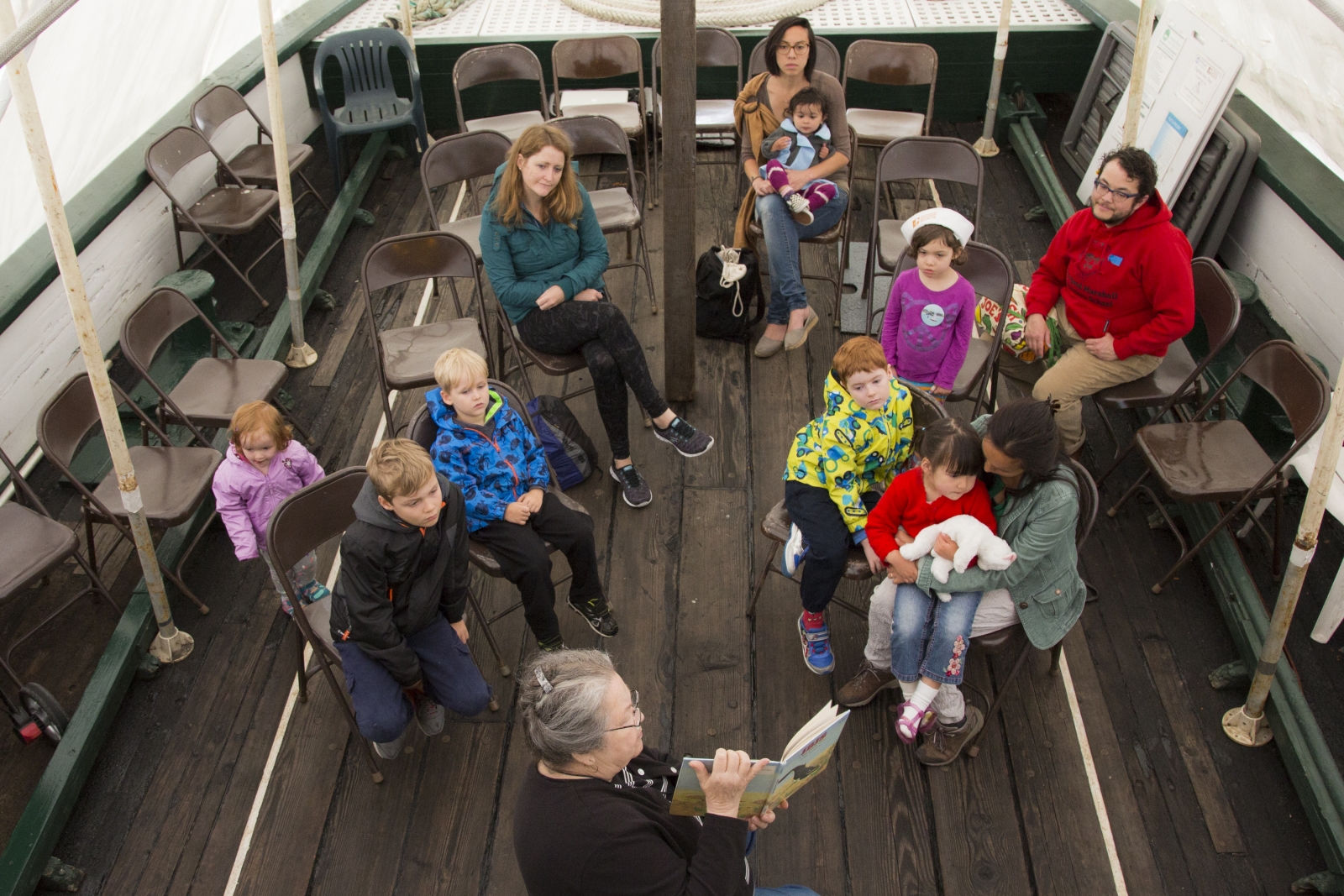 PHOTO: JOSHUA HUSTON
A 128-year-old tugboat serves as a unique reading venue.
PHOTO: JOSHUA HUSTON
Theo Chocolate'sstory timepromises sweet rewards.
.
Chocolate and Stories at Theo's
The storyline of Molly and the Chocolate Tree is hardly suspenseful, but the highlight of story time at the Theo Chocolate factory isn't the story, it's — you guessed it — the chocolate. While reading the story, your guide will ply the group with samples. Afterward, everyone goes on a tour of the factory, where kids are encouraged to shake! spin! and mix! like cocoa beans. If your kids aren't wired enough, the tour ends in the factory store, which features unlimited samples.
Chocolate Story Time is held at 2 pm Thursdays through Sundays, and daily beginning in mid-June for the summer season. It's recommended for ages 4 to 7, and an adult chaperone is required. $8; 3400 Phinney Ave. N; Theo's Chocolate Storytime
Planting the Seed for Young Readers at Center for Urban Horticulture
One Saturday a month, your little garden helpers will love listening to stories about plants and nature in the sunny children's nook of the Miller Library at the University of Washington's Center for Urban Horticulture. An activity in the program room follows each story time, then everyone is welcome to stroll through the 16 acres of gorgeous display gardens outside. Kids can sniff the flowers while grown-ups gather ideas for plants suited to Pacific Northwest urban gardens.
The gardens are free and open every day of the year, as is the Miller Library, which anyone can use, not just Huskies. Free; 3501 NE 41st St. Urban Horticulture Storytime
Experience the Art of Storytelling at Frye Art Museum
CANCELED FOR MARCH: There are likely no better storytellers than the professional teaching artists from Seattle Children's Theatre. "Small Frye" is the first Friday of every month, where kids 3 to 5 are invited to listen to a story in the Frye Museum's galleries — audience participation encouraged! Afterward, kids can head to the museum's studio for an art project related to the tale. Storytime is drop-in; registration is required for the art project. Free; 704 Terry Ave.; Small Frye: Storytelling + Art
Stories in Languages from Around the World at the Library
Research says that exposing babies to multiple languages is good for brain development. In lieu of expensive language classes, consider dropping into one of Seattle Public Library's story times offered in Somali languages, Spanish, Mandarin, Vietnamese and American Sign Language. Even if they don't understand the words, Even if they don't understand the words, kids can follow the rhythm of the sounds, and good pictures are universal. Plus, it's a chance to meet new friends from other parts of the world.Various locations: For a full list of Seattle Public Library Story times, go to the Seattle's Child Events Calendar and go to Story Times under the Events filter.