"The problem is," our Uber driver tells us, "it's sunny all the time in Pasadena."
Meaning he's too spoiled to live anywhere else. After a recent trip to Southern California, we'd have to agree. We got a huge dose of Vitamin D while scoping out family-friendly Pasadena ahead of the WSU-UCLA game.
Talking game: Rose Bowl
This year, the Pac-12 shriveled down to the Pac-2. For the legions of beleaguered Cougar fans in Seattle, this season may be your last chance to see the crimson and gray at the Rose Bowl. Washington State University plays the University of California, Los Angeles, on Oct. 7.
Family-friendly Pasadena: Be a tourist, enjoy the weather
Pasadena is best known for the Rose Bowl and the Rose Parade. It's also home to the original Trader Joe's (610 South Arroyo Parkway) and local lore has it that it's the birthplace of the cheeseburger.
The city sits at the base of the San Gabriel Mountains, just 10 miles northeast of downtown L.A. Instead of a sea of concrete, a big blue sky seems to go on forever.
If you want to stick out like a tourist in Pasadena, keep craning your neck up to look at those palm trees. I couldn't help myself; the trees looked like something out of The Lorax, and locals here take them for granted.
They also take the balmy temps for granted. We met Pasadena natives who'd never been to the annual Rose Parade because it's "too cold." Fifty degrees in January.
Tip: If the heat does get to you, take refuge in the Pasadena Ice Skating Center (300 East Green Street) — the coolest place in Pasadena.
Getting to Pasadena, California
Pasadena is a 2-hour direct flight from Sea-Tac. Hollywood Burbank Airport (BUR) is much closer than Los Angeles International Airport (LAX), just a 20-minute drive to Pasadena. And Burbank is tiny, so you'll breeze through the barely-there security line.
Things to do with the family
Whether you're headed to Pasadena for football or some of that California sunshine (or both!), here's where to bring the kids:
The world-famous Rose Bowl
Do you know where the term "bowl game" in football comes from? The Rose Bowl Stadium (1001 Rose Bowl Drive). "The granddaddy of them all," says tour guide Sam Hodson. "It all started here."
The century-old stadium holds 15 events annually, including six home games for the UCLA Bruins and the annual Rose Bowl. It also hosted five Super Bowls, two World Cup finals and two Olympics.
Tip: On the last Friday of the month, you can attend a public tour for a backstage look at the stadium. Walk in the same halls as Beyoncé and Mick Jagger! The stadium hosts a huge flea market on the second Sunday of every month.
Pose for pictures at City Hall
The first thing I noticed after hopping off our flight is how squeaky clean Pasadena is. A city attorney at City Hall revealed the secret: the building gets power washed twice a week.
Seattle City Hall is just a building; Pasadena City Hall (100 Garfield Avenue) is a work of art. The 1927 Beaux Arts building is so strikingly beautiful, it's the second most photographed location in L.A. County. The attorney grumbled about having to sidestep photo shoots and confetti constantly. We saw girls floating in their quinceañera dresses and they were breathtaking.
If the building seems familiar, it might be because Pasadena City Hall doubled as Pawnee City Hall in Parks and Recreation. The domed tower is also visible from Leonard and Shelton's apartment window in The Big Bang Theory.
Walk around historic Old Pasadena
When you think of L.A. County, you might think of traffic, sprawl, gridlock. Old Pasadena, however, is surprisingly pedestrian-friendly. Some intersections even have diagonal crosswalks.
These 22 blocks comprise the city's original commercial district and are filled with architectural charm. The Rose Parade runs through Old Pasadena on Colorado Boulevard, the historic Route 66. In kidspeak, Route 66 is the road Lightning McQueen ends up on when he gets lost.
Old Pasadena sits outside L.A.'s Asian enclaves, so we weren't expecting to find seriously legit dim sum here. Turns out Chef Tony (2 East Colorado Boulevard) is the same Chef Tony He behind a string of restaurants in British Columbia.
Get your wiggles out at Kidspace Children's Museum
Kidspace Children's Museum (480 North Arroyo Boulevard) is next to the Rose Bowl, and it's a must if you have toddlers or preschoolers. The museum is mostly outdoors, with a pretty hillside path leading to different areas for imaginative play: a pretend campsite with plush snacks, the mini market, a faux lake made of blue sand, and the littlest filling stations for trikes. You will absolutely die of cuteness.
Make sure to bring swimsuits for the water play area. There's a big playground in front of the children's museum, too.
Hang out with the Old Masters and Impressionists
There are a ton of crowd-pleasers at the Norton Simon Museum (411 West Colorado Boulevard), from Rembrandt to Picasso to van Gogh. Even the outdoor sculpture garden is Monet-inspired, with a pretty pond filled with water lilies. Everybody loves the Impressionists.
Frank Gehry designed the museum's interior galleries in the '90s, the renowned architect behind our own MoPop. In a surprise twist, here, Gehry squared off the previously rounded corners of the galleries.
Reward the kids by following up with Little Flower (1424 West Colorado Boulevard), about a mile west of the museum. This hidden gem is famous for its caramel; you can also get quiche and sandwiches to eat outside next to the roar of the Ventura Freeway. (Classic California vibes, am I right?) While waiting for your order, browse the phenomenally curated selection of kids' toys and art supplies. Scented glitter gel pens, I love you.
Visit Little London
A group of kids turn the corner into Burlington Arcade and exclaim, "It's Diagon Alley!" 
While the rest of Pasadena favors Spanish-inspired red clay tile roofs, Burlington Arcade (380 South Lake Avenue) channels London. It even comes with a red telephone booth — locked, no doubt, to prevent you from accessing the Ministry of Magic.
The shopping plaza is bookended with Float Coffee Shop (seriously amazing sandwiches) and OinkMoo Boba on the other end. One sip of the taro bubble tea and my boba connoisseurs were beyond impressed.
Take a trip through Asian culture and art
Take a wild guess at what's inside the University of Southern California Pacific Asia Museum (46 North Los Robles Avenue). Did you say art from Asia and the Pacific Rim? A big giveaway is the building's facade, with its upturned roofline and stone lions guarding the entrance. Turn-of-the-century art collector Grace Nicholson wanted her own palace (#goals), so she had one built in Pasadena, modeled after the Imperial Palace style in Beijing.
At check-in, the receptionist handed us a pair of 3-D glasses to watch a stop-action film made from 10,000 woodblocks. They also won over the kids by welcoming them with a goody bag filled with art activities.
Pick out new reads at Vroman's Bookstore
Vroman's Bookstore (695 East Colorado Boulevard), founded in 1894, is the largest and oldest indie bookstore in SoCal. For many years, it was the largest bookstore west of the Mississippi. Today, it's owned by descendants of the store's first employees.
The expansive children's section takes up nearly the entire second floor! Feel free to nerd out at the section of the store dedicated to swanky stationery or the real newsstand along Colorado Boulevard.
We dined on enchiladas alfresco one block over under the palm trees and stars. A-plus for ambiance at El Portal (695 East Green Street).
Stroll through the galleries and gardens at The Huntington 
Technically, it's in neighboring San Marino, but The Huntington Library, Art Museum and Botanical Gardens (1151 Oxford Road) are absolutely worth Ubering over to.
My biggest regret is only having an afternoon here; it's easily an entire day to explore the 130 acres of gardens and galleries. The Chinese and Japanese gardens are the most fun for kids to wander because they're filled with bridges and little pathways. One genius parent even brought drawing boards for a daddy-and-me sketching session.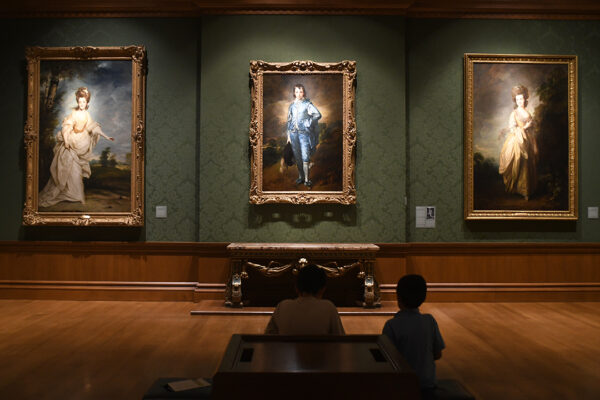 The grand art museum here was originally the winter home of railroad magnate Henry E. Huntington (well la-di-dah). Don't miss the iconic Gainsborough's The Blue Boy, and directly opposite, Wiley's A Portrait of a Young Gentleman.
Read more
 Head to Monterey, CA for family-friendly attractions