Get ready for a new experience in Leavenworth! Leavenworth Adventure Park opens in June and promises fun for the whole family.
Location
Located 2.5 hours east of Seattle, Leavenworth is known for its beautiful Bavarian town, hiking, and nature activities. The Leavenworth Adventure Park is an added attraction to all that the town has to offer, especially as summer rolls in. The adventure park is located at the entrance of Tumwater Canyon, roughly half a mile away from the downtown area. (9342 Icicle Road, Leavenworth WA 98826)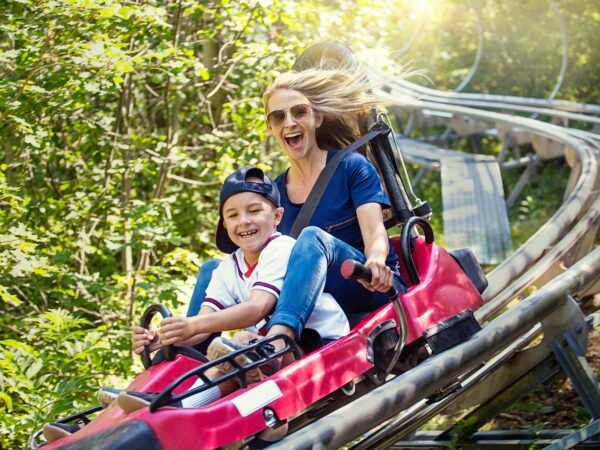 Attractions
The Leavenworth Adventure Park features four new attractions: the Tumwater Twister Alpine Coaster, Bavarian Bungee Bounce Trampoline, the Alpine Ascent Climbing Wall, and Gems of the Enchantments Mining Sluice.
The Tumwater Alpine Coaster is Washington's first alpine coaster that is user-driven. Tobaggan's will carry 1-2 people up the coaster with top speeds of 27 mph. The rider makes the experience– go fast or slow and admire the views. Handbrakes help to steer your trip up and down the coaster at a speed of your choosing. Rides are offered rain or shine. Photos of the riders are taken at various points on the track and can be purchased at a photo kiosk after the ride.
Try the Bavarian Bungee Bounce Trampoline; prepare to strap on your harness, and jump up to 20 feet in the air on these new bungee trampolines. Reservations are recommended for this attraction.
Climb your way to the top of the Alpine Ascent Climbing Wall at Adventure Park in Leavenworth. Choose one of four lanes, ranging from easy to difficult climbs. Two routes per lane challenge participants as they reach 27 feet high.
Look for treasure and gemstones in Leavenworth's scenic landscape? Try out the Gems of the Enchantments Mining Sluice activity. Great for the whole family, this interactive session allows children to take home treasures, while learning about each rock and gem from an information card. Pan for up to 15 gems from a bag of rough that can be purchased at guest services. Reservations recommended.
Tickets and pricing
There is no entrance fee into the Leavenworth Adventure Park. Purchase tickets based on the activities that you choose.
Pricing is as follows:
Alpine Coaster:
Single Ride:
Child (3-6): $5
Youth (7-12): $17
Adult (13+): $20
Bungee Trampoline:
All: $12
Climbing Wall:
All: $12
Mining Sluice:
$8/13-lb of rough that includes 15 gems and teach & learning activity card
See the website for details on Adventure combo packs.
Days and times of operation
Grand Opening June 1, 2023
June 1-June 30: Open Thursdays-Mondays Noon-5 p.m. (closed Tuesdays & Wednesdays)
July 1-September 4: Open 7 days/week 10 a.m.-7 p.m. (last reservation at 7 p.m.)
Park will operate year-round in rain, snow or shine
Read more: