We adults are fully vaxxed, but it's going to be a while before the kids can get shots. In light of that, my family is sticking to getaways where we're mostly outdoors and where it's easy to maintain social distance.
Enter Seabrook.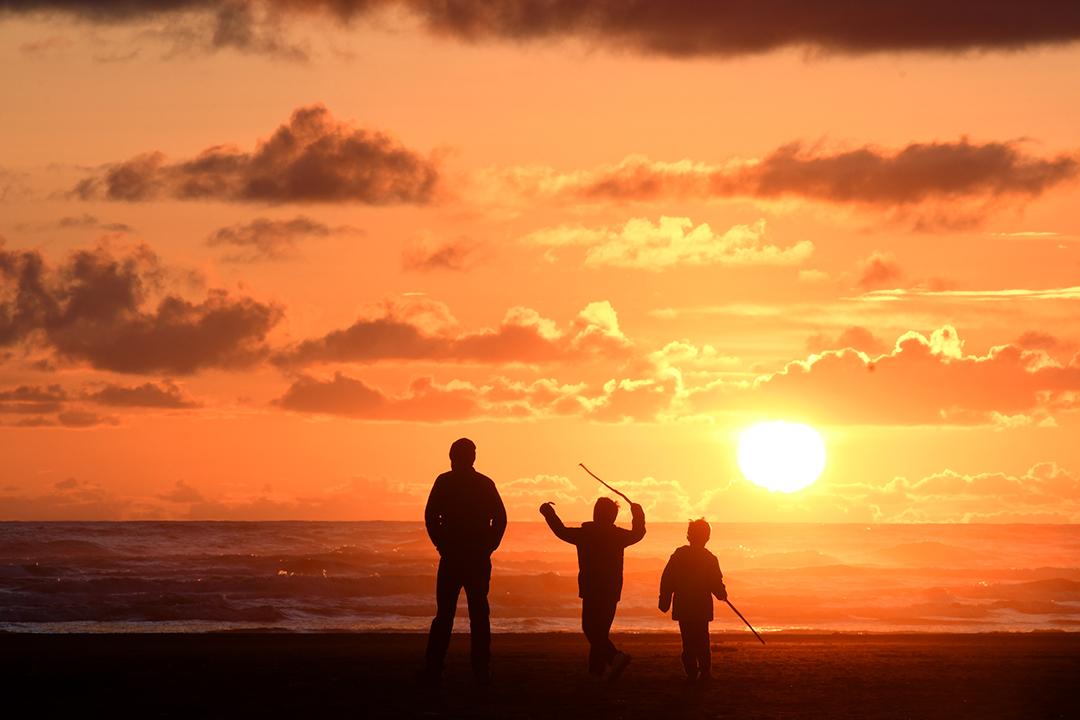 If you've haven't heard of this gem of a beach town on the Washington coast, it might be because it's relatively new. Seabrook is a planned community that broke ground in 2004, and construction is still going gangbusters. (Recession? What recession?) It's so gangbusters that the front door of our rental cottage opened to a cement mixer and a port-a-potty. Dump trucks rumble through the picturesque streets. Business is booming. If you know the board book "Goodnight, Goodnight, Construction Site" by heart, this is heaven.
The town is laid out in cute little neighborhoods, all within a 10-minute walk of the ocean. It's designed to look like a classic New England beach town. There are oyster shell-lined paths, firepits for s'mores and wooded trails woven into the town's layout. It's all so bright and shiny, it's almost spooky.
Young families love this place. Everything you need for a glorious summer getaway is right there. The ocean is across the street down a staircase. There's a fully fenced playground with a zip line. Visit the toy shop and the bookstore with an adorable children's nook. For a yummy treat, try the artisanal pizza place and the candy and ice cream shop.
Seabrook currently has 450 completed homes, with another 100 to 150 new builds planned. Sixty percent of the homes are vacation rentals, and another 10 to 15 percent belong to owners who live here full time. There's even a K-6 Montessori school with 21 students enrolled.
The clientele does skew affluent, and the homes are not inexpensive to rent. I booked a two-bedroom duplex (at midseason rates, with a Cyber Monday discount) and it still wound up being $180 a night with all the taxes and fees. In the peak season, houses can go for more than $2,000 a night.
At the height of the pandemic last spring, many Seattleites who could swing it fled the city. Seabrook imposed a seven-day minimum on stays back then, which would have cost a small fortune, but there's no prettier place to work and attend school remotely. This summer, things are much more relaxed. The playground has reopened and the pool and gym are open by reservation. Some visitors even use the town as a base for a day trip to Olympic National Park, which is about an hour's drive from Seabrook. ( Here's what to see and do there. )
If you're lucky enough to be headed to Seabrook, you'll want to bring:
A dog.

A kite, if you don't have a dog.

Many layers. With the wind coming off the Pacific Ocean, it feels 20 degrees cooler by the water than it does in town. It might be a sunny summer day and you'll still need that down coat at the beach.

Most of your groceries. The small market in town isn't the best. Locals say they trek to the Walmart in Aberdeen to stock up.
The bottom line
We booked a stay at Seabrook this year to get away from people. My kids loved it. It was fun. At checkout, I got a cheery text from management reminding me to take out the trash and run the dishwasher before leaving. Fingers crossed, next year we'll be able to explore cities safely and stay in a hotel with room service so it can feel like a vacation for, ahem, the entire family.


Getting there
Seabrook is about a three-hour drive from Seattle. You'll take Interstate 5 South to Olympia, then head west to Aberdeen and Hoquiam. From Hoquiam, take 101 North to the left fork at Ocean Beach Road. Follow Ocean Beach Road to Pacific Beach, and Seabrook is a mile south of Pacific Beach.
Originally published June 2021
More in Seattle's Child
An Olympic Coast family beach trip during a winter storm
Your guide to exploring Seattle-area beaches at low tide
Sleeping Lady Resort, Leavenworth: a parent's review