Owen Beach in Point Defiance Park (Tacoma) will reopen Saturday, June 4 (2022), after 16 months of extensive renovations.
A public celebration is set from 11 a.m. to 1 p.m. that day. It will include light refreshments, kayak rentals, pavilion tours, and a ribbon-cutting at 11:30 a.m. The event also marks the kickoff of the Tacoma Trails Challenge (more on that here).
What's new at Owen Beach
Here are some of the improvements to Tacoma's most popular beach:
A new, safer, two-way entry-exit road for vehicles.
Conversion of the old entry road to a safe trail for pedestrians, bicycles and other non-motorized transport
New, bigger parking lot with ADA-accessible drop-off zones close to the water
New restrooms and water-view benches
A brand-new beach pavilion and seasonal food concessions
New, accessible children's play area with a sea-blue surface interactive nature sculptures, including a whale that can be climbed inside
A new lawn, plus an ADA-accessible plaza and pathways
New kayak-launch slope and rental facility
A renovated picnic shelter
Signs explaining the history of Owen Beach as meeting point for Indigenous tribes on canoe journeys.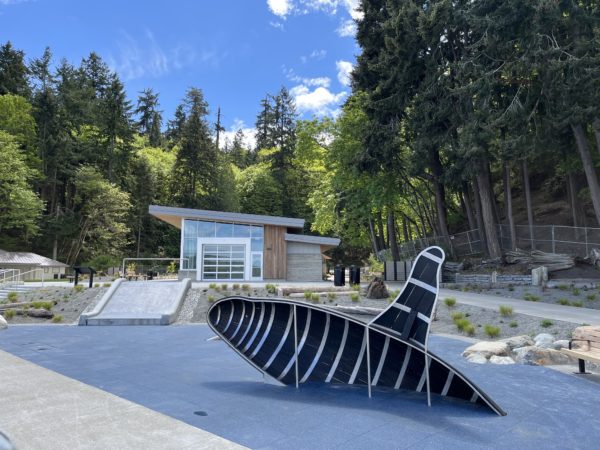 In addition, the park has been designed to survive the sea-level rise expected from climate change. Visitors will notice that the popular promenade was moved 18 feet inland. The lawn and parking lot also were moved farther from the water.
Owen Beach Park opened in 1957. With its 1,000 feet of shoreline, it is a very scenic, popular location. Point Defiance Park is the second-largest urban park in the continental United States. Learn more about the renovation project here.
Upcoming events at Owen Beach: Naturalists will give special "explore the shore" presentations at Owen Beach on three upcoming Fridays. They are free and designed for people ages 5 and up. No need to register; just show up 15 minutes before the start time:
Friday, June 17: 1-3 p.m.
Friday, July 15: noon-2 p.m.
Friday, August 12: 11 a.m.-1 p.m.
[ Related: 6 things to do with kids in Point Defiance Park || Check out the new Nature Play Garden at Point Defiance Zoo ]
Also at Point Defiance:
In other news from Point Defiance Park: The Outer Loop of Five Mile Drive is closing to motorized traffic. Metro Parks Tacoma said this decision, effective Friday, May 20, is because of safety concerns. Specifically, there is erosing and slope instability.
However, bicycles and pedestrians will still be able to use the road, which winds around the tip of Point Defiance. Walking trails and restrooms will stay open. There are viewpoints to see Vashon Island, Dalco Passage, Gig Harbor, and the Tacoma Narrows and Bridge. In addition, Owen Beach and Fort Nisqually can be reached by the Inner Loop of Five Mile Drive.
Owen Beach is reopening in June after renovations.
Go to Metro Parks Tacoma's website for more information on the closure. Also, here is a map to help you visualize where you can and cannot drive in the park — and also why the views are so spectacular!