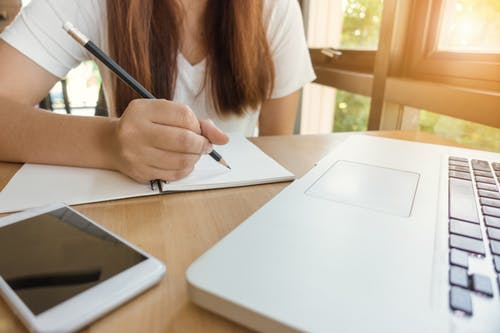 As parents, we're all trying our best to maintain a sense of calm among the coronavirus chaos, but when schools close and "homeschool" is thrown into the equation, things can feel pretty daunting. We're here to help you out.
As schools plan for remote learning, many online learning sites are creating new tutorials for beginners, offering free training for new teachers, and providing some of their content for free. We spoke with several teachers from an independent school in Shoreline, a preschool through eighth grade for highly capable learners. These savvy educators shared with us their top picks for online learning, many always free and some being offered at no cost in light of the recent COVID-19 outbreak. Here they are:
Khan Academy. If you don't know about this one yet, you should. Originally a math education go-to, Khan now offers support for learners, teachers, districts and parents and lessons ranging from science to grammar to history and more.
Scholastic Learn at Home. In light of recent events, Scholastic is offering free content, filled with articles, stories, learning challenges, and even virtual field trips. Right now, kids can get three full hours of content every day, and it can be accessed on any device.
Storyline Online. Created to instill a love of reading in young people, this website has a collection of children's stories read aloud by actors and actresses from the Screen Actors Guild.
ABC Ya! This once totally free resources is still mostly free, and includes games and activities that are so fun, kids won't even realize they are learning! Practice the alphabet with the Alphabats, go on a Multiplication Space Race, or choose activities based on topics of interest, like cats, food or cars.
NeoK12. A solid collection of learning activities including educational videos, games, quizzes, puzzles, and more. Click on one of dozens of categories like World War II, laws of motion, allergies, or arts & crafts for tons of learning modules to choose from.
Biblionasium. A great (safe!) space for online reading for kids, and a way for kids to discover books and share reviews and recommendations with each other.
PacSci Curiosity at Home. Pacific Science Center has put together a ton of science resources for kids while they're learning at home. Daily actvities include live video streams, interacting with experts, hands-on STEM tutorials, interviews, and experiments of all sorts.
Newsela. Another great website for practicing language arts skills. This one features news and non-fiction comprehension.
ReadWorks. Thousands of fiction and nonfiction reading passages under a wide range of topics including Arts & Culture, Earth & Space Science, Geography & Societies, and more. Use the audio book function, answer questions after a reading, do vocabulary activities to test knowledge and more.
Quill. This is a great writing practice tool, helping kids to develop well structured sentences, respond to writing prompts, develop strong editing skills, and more.
Scratch. An introductory programming website, where kids can learn to create interactive stories, games, and animations through coding, and then share them with others.
Tinkercad. This is an awesome website for 3-D design, electronics, and coding. Minecraft fans will get a kick out of the Minecraft Modeler! There's something here for every aspiring engineer/designer.
SciStarter. Not a traditional learning practice tool, but this website offers "citizen science" projects that kids and families can contribute to from home.
PhET. University of Colorado Boulder offers interactive simulations for investigating physics, chemistry, math, earth science, and biology.
NASA Kids' Club. There's so much science to discover here, it will keep kids busy for hours! Try the Space Place, where kids can play games, do online crafts, and more, all relating to NASA.
BrainPOP. Designed with fun, kid-friendly animation, this favorite offers learning within traditional academic subjects, and provides endless tools within just a few clicks. Watch a video to learn about body systems, take a quiz on the Agricultural Revolution, and so much more.
Lunch Doodles with Mo Willems. Need a lunch break? Artist Mo Willems is bringing his doodle game to the screen with daily lunchtime tutorials (1 pm Eastern Standard Time) to keep you company while you get creative.
Outschool. Ready to invest in real, individualized instruction away from home? Starting for as low as $5 per class, enroll kids ages 3-18 in small group, video chat classes taught by real teachers, ranging in topics from Harry Potter's Wizard Writing Class to the Math of Mythical Art.
Keeping younger students in mind, as well as parents who'd like to avoid so much screen time and are able to orchestrate some of the learning, a second grade teacher shares: "We have all been working on having resources available in case they are needed for unexpected extended school closure. We tried to be thoughtful about if a parent is home with their children, they likely won't have time for solid one-on-one time, and sometimes parents don't want too much screen time. We tried to put together a variety of projects, and things to do with materials around home. These are some ideas we may use in second grade, but they could be for other grades, too."
Read aloud to an adult or a favorite stuffed animal or pet.
Make a book about something, or writing a "how-to" book (for example, "How to make a sandwich").
Choose an act of kindness for a family member, maybe helping plan a meal, setting a table, cleaning up etc. (For more ideas on how to teach kindness to kids, see The Playlist: Love & Kindness)
Write a poem or a song about something of interest.
Use recyclables to make something that moves. Or make a magic wand! What would it be able to do?
Observe a few grains of salt, and pepper with a magnifying glass. Compare, list what shapes, colors you see, draw it.
Practice math by playing card games (you can change the level of difficulty by taking higher number cards out). Here are a couple of ideas:
Target number: Put 4 cards out face up, then 1 more card, this card is the target number. Try to use as many of the 4 cards to get to that number (any combo of addition, subtraction, multiplication, division).
Exactly 20: Place 1 card at a time down and add up each card. Try to get exactly 20. If the number goes over 20, then subtract.
One STEM specialist teacher offers advice as both an instructor and a parent; "In terms of how parents can be helpful, online learning games still benefit from parent support, even if they look independent. Parents can even just be doing their own work or reading nearby and asking their child every once in a while what's happening in the simulation or game. Encouraging kids to pause, think about what they're doing, and share their thinking out loud can keep their brains actively engaged and learning rather than it just turning into essentially passive screen time."
More tools and ideas for if you are stuck at home
Recess time! Ways to keep kids active inside
Guide your preschooler's home learning with a Montessori approach
Coronavirus information:
Ask the Pediatrician Q&A: Your coronavirus questions
Coronavirus advice for parents from Dr. Jeff Lee aka Dad Next Door