Once a month, on Thursday, the public gets the run of some wonderful Seattle-area museums. This is a great way to explore museums on a budget if you don't mind things being more crowded than usual. And a great way to experience all the museums in our region with your child over several months.
Some of the museums have exhibits that are either designed with kids in mind or have obvious appeal to certain children. (If your daughter dreams of being an astronaut, the Museum of Flight is obviously a great place to be.) Some of them, particularly the art museums and some historical exhibits, are not a draw that way, but that doesn't mean that kids can't enjoy them. Kids can be delighted by weird sculptural forms, colorful paintings or intriguing artifacts. Take it slowly, don't try to do too much at a time and let the kids take the lead. If you are looking at an art museum, ask your kids about what they see, and what it makes them think about. If you are looking at historical exhibits, pick an object and talk about the story behind it.
Visiting first Thursday museums in 2022: Many local attractions have moved to advance-purchase, timed-admission tickets. And some places still have capacity limits or mask mandates. Check all details of the place you plan to visit.
[ Always find more fun in our Things to Do section and Family Event Calendar. ]
Free first Thursday museums:
Museum of History and Industry
860 Terry Ave N
Open 10 a.m. to 8 p.m.
The permanent exhibits on the History of Seattle and on Maritime Seattle are always good for stirring the imagination. You can also check out the Bezos Center for Innovation for free. Some special exhibits require an additional tickets.  Here's the scoop on free first Thursday. And here's how one family enjoyed their recent MOHAI excursion.
Museum of Flight
9404 E Marginal Way S, Tukwila​
Hours: 10 a.m. to 5 p.m. daily; open late on first Thursday with free admission from 5 to 9 p.m.
This facility is rejoining the first Thursday museums lineup as of April 7, 2022. It's great for anyone with an interest in aviation, travel, science, history or any number of other areas. Free admission from 5-9 p.m. on the first Thursday of the month. (Bonus: Parking is always free!)
1300 1st Ave
Open 10 a.m. to 5 p.m. Wednesday through Sunday
Free first Thursday tickets will give you the run of the permanent collection and special exhibitions these days. SAM is always free for kids 14 and under, discounted for teens and students and free for seniors on First Fridays. See also: 4 easy art projects inspired by a visit to Seattle Art Museum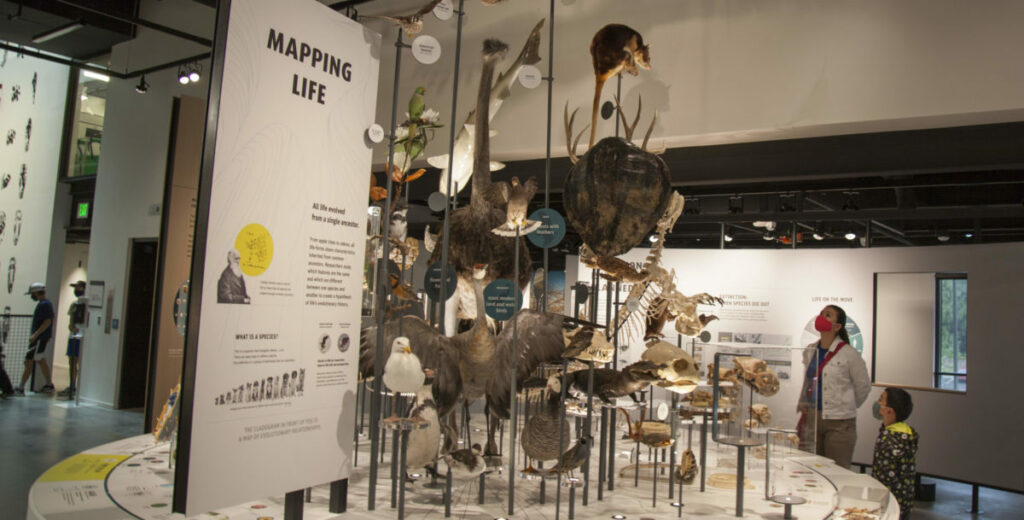 4300 15th Ave. N.E. (UW campus)
Open 10 a.m. to 8 p.m.
Check out the new galleries and exhibits showcasing Washington's history and culture. More information: New Burke turns the museum inside-out. And here's what it's like with masking and no hands-on activities (hint: still great).
2655 NW Market St., Ballard
Open: 10 a.m. to 5 p.m. Wednesday through Sunday
The Nordic Museum offers free admission on first Thursdays (last entry time 4 p.m.; ticket required).  Admission to the permanet galleries is free, and special exhibits can be seen with a $5 ticket. Explore 12,000 years of history and learn about the unique history of people from Scandinavian lands who settled in the Pacific Northwest.
A different free day:
Open 10 a.m. to 5 p.m. Friday through Sunday
This newly renovated museum in Volunteer Park has a limited schedule, so its free day is the last Friday of the month. And children 14 and under are free all the time. What to see: 7 things to show your kids at the Seattle Asian Art Museum.
Washington State History Museum, Tacoma
The museum offers free admission from 3 to 8 p.m. on the third Thursday of each month. The museum showcases Washington through a variety of permanent and temporary exhibits. Its centerpiece is the Great Hall of Washington History. There also are exhibits dedicated to the incarceration of Japanese Americans during World War II; a look at the role of migration and immigration in shaping our state; and an exhibit on the Rev. Dr. Martin Luther King, Jr., who visited Washington in 1961. Great suggestion: While you're in Tacoma, grab a snack or meal downtown along Pacific Avenue.
Not your typical museum:
Seattle Japanese Garden
1075 Lake Washington Boulevard East, Seattle
The Japanese Garden is a 3.5-acre urban oasis within the Lake Washington Arboretum. It is typically open beginning at 10 a.m. Tuesday through Sunday. The usual admission charge is $8 for adults, $4 for seniors and kids 6-17; free for kids 5 and under. Admission will be free the first Thursday of each month.
A new exhibit, "Garden Images," by Seattle artist Stephen Okawa, will be on display in the Tateuchi Community Room. Inspired by Okawa's love of nature, Japanese art and gardens, the exhibit was created in 2020 in celebration of the 60th anniversary of the Garden. The series is printed on handmade paper from Nepal and mounted as triptychs on birch boxes.
Worth the drive north:
Hibulb Cultural Center
6410 23rd Ave. N.E., Tulalip
The Hibulb Cultural Center and Natural History Preserve is in Tulalip, about 35 miles from downtown Seattle. Learn the history of the Tulalip Tribes by checking out an interactive cultural center, longhouse and canoe hall. In addition, Hibulb offers 50 acres of forests and wetlands that families can explore, too. Free admission on the first Thursday of each month; otherwise $10 for adults, $7 for seniors, $6 for students and military veterans, free for kids under 5. There's also a $25 family admission rate, and museum members and Tulalip tribal members get in for free.
Open, but no free Thursdays for now:
719 S King St
Open: 10 a.m. to 5 p.m. Thursday through Sunday.
The galleries of this museum of the Asian-Pacific American experience has a wonderful permanent display called "Honoring our Journey," which is packed with stories and artifacts. There's also a variety of temporary exhibits. The museum also offers neighborhood tours and other programs.
15th Ave NE & NE 41st St.
University of Washington
This gallery on the UW Campus is devoted to contemporary art in all its surprising variety. It is currently open 10 a.m. to 5 p.m. Saturday and Sunday only, and admission is free through Oct. 1, 2021. Last admission 4:30 p.m.; tickets by walk-up only; no online ticketing.
510 Bellevue Way NE
Hours: 11 a.m. to 5 p.m. Wednesday through Sunday
Bellevue Arts Museum has temporarily suspended its first Friday (not first Thursday!) free day but offers Student Sundays, free admission on the second Sunday of each month. Here are other ways to get discounted admission.
Free every day
704 Terry Ave
Open 11 a.m. to 5 p.m.
This art museum is free every day and has a variety of exhibits, showing sculpture and painting from the 1800s to the present. The Frye also offers youth-oriented programs.
2901 Western Ave., Seattle
Part of the Seattle Art Museum, this is an outdoor, walk-through experience that is perfect for kids and families. The 9-acre site is also the largest greenspace in downtown Seattle and is within walking distance of the waterfront and many other attractions.
Not open: 
Northwest African American Museum
2300 S Massachusetts St., Seattle
The physical museum remains closed, but it has an active online presence with information and events. This museum explores the African-American experience in the Pacific Northwest. The permanent Journey Gallery has interactive exhibits illustrating 300 years of local African-American History. There are also temporary exhibits.
2245 1st Ave S
This museum devoted to vintage and contemporary computers closed during the pandemic. Check its website for updates.
To learn more about visiting museums with kids, take a look at our family guide to local museums "Museums are for Kids."