Get ready to explore the south side of Seattle in a whole new way on this family-friendly day trip to Des Moines (not to be confused with the city in Iowa).
Take an interactive adventure to discover stories about UFOs, bootleggers and a controversial fish statue. Walk through a former gravel pit turned art installation, visit a dog park that was once a Nike missile site and find two gardens with intriguingly different histories. Plus play pinball, ride bikes and enjoy a variety of tasty foods from international dishes to mini-donuts. All within a few miles of each other.
Interactive exploration
Close to downtown Seattle, Des Moines is located on Puget Sound. Often called the "Boating Capital of the Northwest" Des Moines is a wonderful place to experience water and land activities.
One way to see this family-friendly city is by using the Seattle Southside Scenes app created by the Seattle Southside Regional Tourism Authority.
Download the app and discover nine fascinating locations (sites are in Des Moines, Tukwila and SeaTac), each with a unique story. Along the way, you'll read facts about each stop and watch short videos. Among the nine destinations, choose to learn about the provocative statue in the middle of the town or explore Spice Bridge, an international food hall in nearby Tukwila. Take a stroll over to Robert Morris Earthwork, a piece of nature art that was once a gravel pit transformed into a circular maze of greenery.
Sites to explore in Des Moines
Located at the corner of Marine View Drive and 7th Avenue is a whimsical statue of a fish with a controversial story. Created by Richard Beyer who, while not formally trained, sculpted several public pieces including "Waiting for the Interurban" in Fremont.
Address: 21634 and 21640 Marine View Drive South
Don't miss a chance to have a close encounter with this image that captures the story of UFOs spotted just off the shores of Des Moines in 1947. You'll be witness to this alleged event involving two men in a boat, a mysterious substance, government cover-ups and a dog!
Address: 605 South 223rd Street
Explore a cool forested paved path by foot or on wheels. Starting from a small parking lot at the north entrance, the 2-mile trail follows the creek as it meanders its way down to the beach. Once there, enjoy playtime along the water, check out the marina — where on Saturdays there's a farmers market from June through September — or stroll the half mile into downtown Des Moines before heading back.
Good to know: The trail is four miles round trip with 250 feet of elevation gain/loss.
Address: North entrance: Des Moines Creek Park, 2151 South 200th Street
South entrance: Des Moines Beach Park, 22030 Cliff Avenue South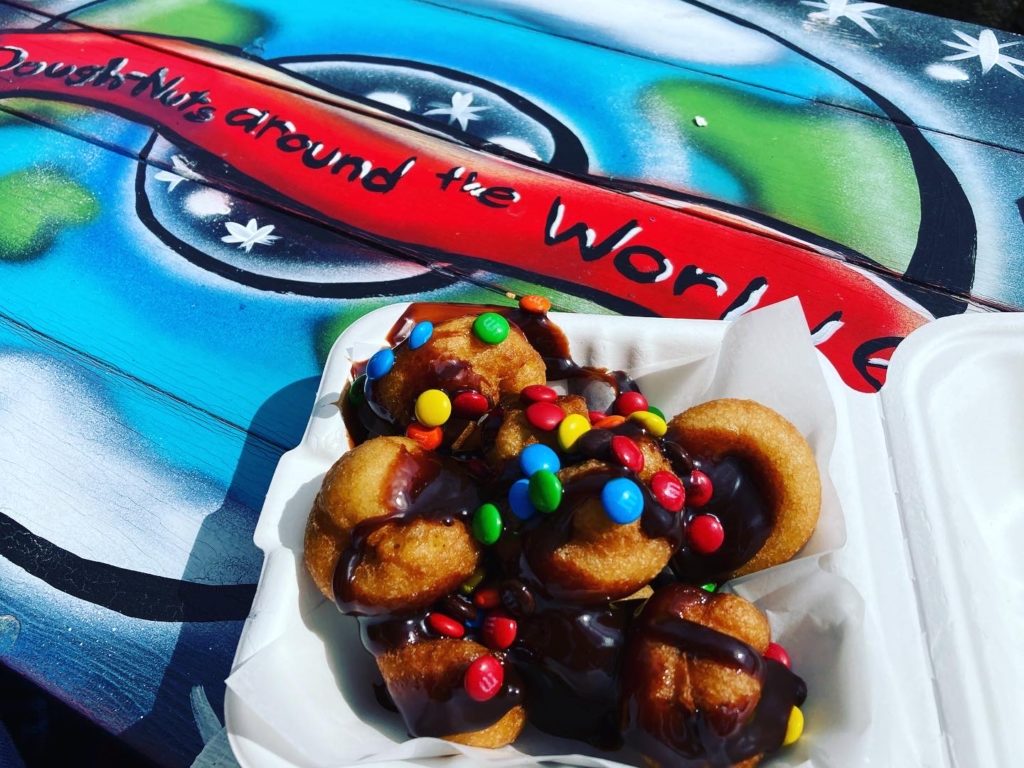 Stop for a treat at Mini … The Dough Nut
Enjoy delicious mini donuts with a menu of different toppings. Choose from fun names like Donutella (Nutella spread), Donut Be Cheesy (cream cheese and graham cracker with choice of fruit glaze) and Donut Be A Piggy (maple with bacon). It's even served out of a mini building with outdoor tables, including a mini one just for kids. Yum and fun all in one!
Good to know: Open Wednesday-Sunday, 9 a.m.-5 p.m.
Address: 21925 Marine View Drive South
A family-friendly arcade featuring over 50 classic arcade and pinball games. Introduce your kiddos to Ms. Pac Man and Frogger, then show off your pinball skills. Can it get any better? Yes! There's beer and cider for the grownups, and the arcade is available to rent out for private events, which is the perfect winter birthday idea.
Good to know: Open Monday-Saturday, noon-11 p.m. and Sunday by reservation. Prices: $9 per adult, $6 per child (ages 5-12). Four and under are free with paid adult entry. Includes unlimited free play of all games except pinball.
Address: 22306 Marine View Drive South
Once you've worked up an appetite for playing games, walk next door for a menu of tasty choices beneath the bright neon hot dog sign. Options range from classic hot dogs to ones with a Colombian twist, plus empanadas. There are also corn dogs, sausages and vegetarian options too. Plus toppings to pick and choose from. Dine inside or on the flower-filled patio.
Good to know: Open every day 11 a.m.-7 p.m.
Address: 22302 Marine View Drive South
Read more
Add these to your travel bucket list