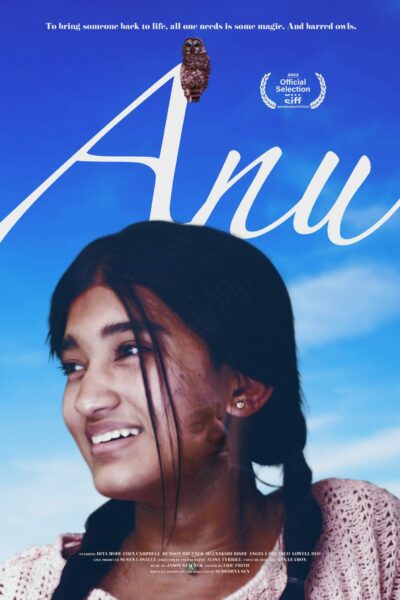 The sudden death of a loved one is a hard hit for any child, especially if the loss is a parent, grandparent or someone depended upon for a daily dose of love, support, guidance, and acceptance. Finding the path that moves forward is often not so sudden, winding as it does through the sorrow-lined woods of resilience and self-actualization. 
In ANU, the 80-minute coming-of-age film by local filmmaker Sudeshna Sen, 12-year-old Anu navigates the path from grief to acceptance with heart, soul and, eventually, her long dark tresses. The film is screening this week at the Seattle International Film Festival as part of the festival's FutureWave program of films specially curated for youth ages 13 to 21.
Movie in a nutshell
Anu and her grandfather have a deep, loving relationship, one that fills the gap left by Anu's loving but less available working parents. Bapu cooks Anu's favorite foods, helps her prepare for her dance recitals, gives her encouragement, teaches her bird-watching, and is ever-ready with words of wisdom and guidance from the spiritual traditions of India. 
"You have your own inner light," Bapu tells Anu. "The light is everywhere; part of the absolute."
When Bapu has a stroke during a birding walk with Anu — and then dies — the girl is devastated. But even before the family makes it home from the hospital, Anu is visited by Bapu's ghost. The encounter leaves the girl convinced her grandfather isn't gone forever and sends her on a complicated quest for how to bring him back to life. 
A man name 
Upon discovering that her Bapu was actually named Siddhartha (after the wandering 5th-century Hindu ascetic and religious teacher who founded Buddhism), the girl lands on her approach. She will become a sadhu — a Buddhist holy person — to get as close to the gods as possible and thus argue her case for her grandfather's return to life.
It is an ill-advised spiritual journey that includes fasting and fainting, fake fortune-telling, a buzz cut, and a trip to the far-off Mystery Museum (without parental permission) to see if the Kaptivating Konark can bring Bapu back. None of these machinations result in Bapu's return, but they do lead to stronger friendships, some funny mishaps and scenes, closer connections with both Anu's parents and, eventually, a lightening of the grief's grip. 
In the end, Anu comes to accept that her grandfather is physically gone for good. The most poignant moments of the film come with this realization. Here Anu finally lets her tears of grief flow and, soon after, discovers a photo of her Bapu as a child. With her short-cropped hair, the two look like twins. Comparing herself to the image, Anu recognizes she will always carry her grandfather inside her.
The lessons
Along the way, "ANU" delves "deep into the realities of immigrant life and female agency" as SIFF reviewer Mackenzie Wardlow put it. 
Young viewers may recognize many of the locations in the film. It was shot in Ballard, Shoreline, and other spots around greater Seattle. I found myself trying to name locations in just about every scene, which lent an added level of intrigue to viewing. But, largely it is the gentle heart of this film, adapted from the children's novel "Looking for Bapu" by Anjali Banerjee that makes this recommendation. 
The film has its quirks and cliches. For example, by the third time Anu dismisses her mother's care efforts with a "Bapu did . . ." or "Bapu didn't . . ." a parent viewer might want to shout at the screen "We GET it, she misses him!" Then there's the hair issue. It's hard to ignore the obvious wig that the title character wears until the scene when her locks are shorn sadhu style. And, if your tweens and teens hate an after-school-special feel in a film, warn them ahead of time. Still, encourage them to go. In the end, the quirks are forgettable but the spirit of the film lingers.
Without violence, cursing or over-dramatization, "ANU" is a sweet and poignant film, family-friendly to the end, and imbued with important lessons about death and life. Chief among them: Loss is painful, but it will lessen and it can lead to growth and the deepening of other connections in one's life if one is open and listening.
SIFF screenings 
ANU will be screened twice this week. May 14 at 4 p.m. at SIFF Cinema Egyptian and May 15 at 6 p.m. at Shoreline Community College. Get tickets.
More at Seattle's Child:
FutureWave: SIFF line-up for teens
SIFF 2023: Family-friendly films