Halloween events, updated for 2021:
Halloween is back!
Many of the events and activities that were canceled or modified in 2020 are returning for 2021. (Also, some of the clever, virtual or distanced promotions that people came up with are sticking around.)
Here's what we know about Halloween 2021. Check back often for updates.
Remember to wear masks, bring hand sanitizer and practice social distancing. In addition, check to see if advance RSVP or ticket purchase is required.
[See also: Ideas for cheap, low-waste Halloween costumes, Halloween events at zoos and Northwest Trek]
Halloween events, 2021: malls and downtowns
The Landing in Renton is offering the "Halloween selfie experience" from noon to 4 p.m. each Saturday and Sunday (Oct. 16-31). The setup is near Trencher's Kitchen & Tap. Visitors can choose from three selfie sets and post pics on Instagram for a chance to win a gift card.
*NOTE THE EARLY DATE: Kent Station is holding Haunted Boo-Levard from 3-6 p.m. Sunday, Oct. 24. Kids can trick-or-treat outside participating businesses and along Ramsay Way through Kent Station. In addition, more treats will be available from decorated cars in the "trunk-or-treat." Kent Station and the city are cosponsoring this all-outdoor event; masks are required.
ANOTHER EARLY DATE: Sunrise Village on Puyallup South Hill is hosting "No Tricks, Just Treats," featuring a trunk-or-treat and trick-or-treating from 3 to 6 p.m. Saturday, Oct. 23, and an outdoor showing (with a place to cars to park) of "Monsters Inc." beginning at 6:30 p.m.
'Boo in Burien': Downtown Burien has brought back its annual trick-or-treat event. It will be from noon to 4 p.m. Saturday, Oct. 30, in Burien's downtown core. Participating businesses will have signs in their windows. Discover Burien Boo Boxes, including a baking kit, candy, crafts and trinkets, can be ordered for pickup Oct. 21-29; $25, order here. Also, "The Addams Family" (2019 version) will be shown at 8 p.m. Saturday (Oct. 30) at the Discover Burien Drive-In, the parking lot on Southwest 153rd Street between Sixth and Ambaum.) $25 per carload; tickets here.
Des Moines Trick-or-Treat path: Visit businesses in the Des Moines Marina District from 2 to 5 p.m. Saturday, Oct. 30. Look for signs along Marine View Drive and Seventh Avenue.
Kent Street of Treats: Trick-or-treating and other fun activities in downtown Kent, Second Avenue and West Meeker Street, 2-5 p.m. Saturday, Oct. 30. Sponsored by Kent Downtown Partnership.
Halloween events, 2021: Museums and more

The Hands-On Children's Museum in Olympia is holding its popular annual Boo Bash. Activities include crafts, games, a scavenger hunt, photo booth and more. Go online to get timed admission tickets and learn COVID protocols. The event runs Oct. 22-31  (special sensory-friendly version 9-10 a.m. Oct. 24 and 31.)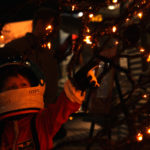 The Museum of Flight becomes one of the area's biggest haunted houses. Its safe, Halloween-themed games and activities will spark the imagination and spirit of innovation. Hunt for ghouls, hear spooky stories and howl at the Halloween moon. Festivities run from 10 a.m.-4 p.m. on Halloween Day. Costumes encouraged. All visitors age 5+ still need to wear their Museum-approved face covering. However, per museum policy your entire face cannot be covered.
Halloween events, 2021: Misc.
Caramel for a Cause: The Flora Bakehouse on Beacon Hill, 1511 S. Lucile St., will sell bags of housemade caramel corn and fresh caramel apples for $5 each, with 100% of the profits going to Cleveland High School's ASB and Maple Elementary School's PTA. The sale will run Friday through Sunday, Oct. 29-31, until the limited quantity is gone.
The Federal Way theme park will be open Fridays, Saturdays and Sundays, Oct. 8-31, with two separate events: family-friendly activities for younger kids from 2 to 6 p.m. Sundays and "Fright by Night" beginning at 7 p.m. Some of the evening events, including haunted mazes, are not recommended for kids under 13. Also, Halloween movies will be played at 2:30 and 4:30 p.m. (Sat. and Sun.) on an LED screen. The fine print: Masks are required. Beginning Oct. 29, both masks and proof of vaccination (12+) will be required. Reservations are required (even for season-ticket holders), and the event is expected to sell out, so plan early. Also, new policy: Minors must be accompanied by an adult (21+) while in the park.
The Northwest Railway Museum will hold special Halloween excursions on weekends, Oct. 16-17, 23-24 and Halloween weekend, Oct. 30-31. People are encouraged to wear costumes for the two-hour decorated train excursions. (Kids in costumes will get a small prize.) Trains depart from the Snoqualmie Depot or from North Bend. Schedule, details, ticket info here. Masks required of everyone age 5 and older. In addition, proof of vaccination required for 12+ beginning Oct. 25.
The Chehalis & Centralia Railroad is planning to offer special, 30-minute Pumpkin Train Rides at noon and 1:30 p.m. Saturday and Sunday, Oct. 16-17 and Oct. 23-24. continues. The adventure includes treats, a costume contest and a chance for kids to pick their perfect pumpkin. There both open and enclosed train cars for this excursion through the Chehalis River Valley; however, the trains are not heated. Also, snacks and beverages are available for sale at the depot but not during the ride. Reservations are required.
Seattle's Edgewater Hotel event, outdoors on the waterfront at Pier 67, is for all ages. It starts at 1 p.m. Sunday, Oct. 17. For kids, there's a pumpkin patch, petting zoo, and s'mores and craft stations. For adults, a Craft Beer Garden will also include seasonal food and other Seattle area-vendors. Admission is free, but capacity is limited; here's how to reserve a spot.
"Thrill the World" zombie dance event
Part of a worldwide, synchronized dance to Michael Jackson's "Thriller," performed at Normandy Park Towne Center. Festivities begin at 2 p.m. Saturday, Oct. 30, and also will include a pumpkin patch, craft booth, music, scavanger hunt, costume contest and more. The dance performance is set to take place at 3 p.m.
More Halloween 2021:
Book pick: Two adorable monster stories for Halloween 
5 fun and easy fall craft projects for kids