The King County Library System's (KCLS) annual Best Books list has arrived! Here are a few of KCLS' favorite titles from 2021, chosen by staff from across the Library System. Find your Best Book — and get gift ideas for the booklovers on your holiday list — by checking out the full KCLS Best Books list.
All KCLS libraries are open. Here's everything you need to know to plan your next visit.
Best Books 2021: adult
The Bomber Mafia by Malcolm Gladwell
Staff: Lisa Rosenblum, KCLS Executive Director
I am a big fan of everything that Malcolm Gladwell writes. "The Bomber Mafia" resonates with me because my father served in the Pacific Theatre during World War II. It is also one of the first audiobooks to offer features beyond just reading aloud, which makes it a very enjoyable listen. 
Cloud Cuckoo Land by Anthony Doerr
Staff: Sarah, Corporate and Foundation Relations Specialist
Pulitzer Prize author Anthony Doerr strikes again with this wild, millennia-spanning tale.  Dedicated to "the librarians then, now, and in the years to come," libraries, books and reading take center stage in this vast and original story. Incredible prose, compelling characters and storytelling magic make this a must-read!  
Klara and the Sun by Kazuo Ishiguro
Staff: Megan, Public Services Assistant
I love this book, and so many other works by Kazuo Ishiguro! In it, Ishiguro introduces readers to Klara, an "artificial friend" who contemplates AI and the meaning of life. "Klara and the Sun" is a great mix of sci-fi and speculative fiction! 
Crying in H Mart by Michelle Zauner
Staff: Matthew, Library Technical Assistant
Indie rock musician Michelle Zauner unpacks her Korean American heritage and the death of her mother in this moving and relatable debut memoir. A relevant read that sheds light on Asian American experiences and identity in the U.S. Bonus: Zauner herself narrates the audiobook. 

Best Books 2021: teen/children
Outside, Inside by LeUyen Pham
Staff: Robin, Children's Librarian
This touching book celebrates essential workers and community helpers from a child's perspective during the COVID-19 pandemic. Pham's wonderful illustrations capture a diverse set of experiences in a rapidly changing world. 
Too Bright to See by Kyle Lukoff
Staff: Emily, Children's Librarian
"Too Bright to See" is a hauntingly beautiful ghost story about growing up, exploring gender identity and navigating grief. Kyle Lukoff's debut middle grade novel takes readers on a suspenseful and tender coming-of-age and coming-out journey. Not to miss!
Fat Chance, Charlie Vega
 by Crystal Maldonado
Staff: Genesis, Library Page
"Fat Chance, Charlie Vega" explores how hard it can be for a young woman, especially a Latina, to learn to love your body when no one else does. Maldonado tackles body image issues, family dynamics and societal expectations with grace and humor.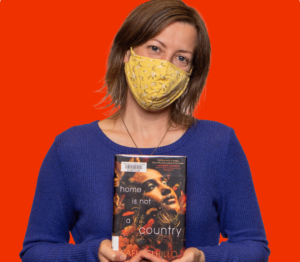 Home is Not a Country by Safia Elhillo
Staff: Rachel, Librarian
The lyrical prose writing in Elhillo's new novel is beautiful and powerful. Readers follow Nima, a first-generation immigrant who is grappling with her identity. "Home is Not a Country" is a moving story about growing up and finding yourself, and about finding strength in your family's past experiences. 
For more book news each month, sign up for the Book Corner newsletter, a partnership between Seattle's Child and the King County Library System.