Spring days are here and we've got the travel bug. My family and I spent the weekend on San Juan island being foodies, visiting parks and museums, farms and pastures.
We're counting down the days for our next visit to spend more time on this kid-friendly island.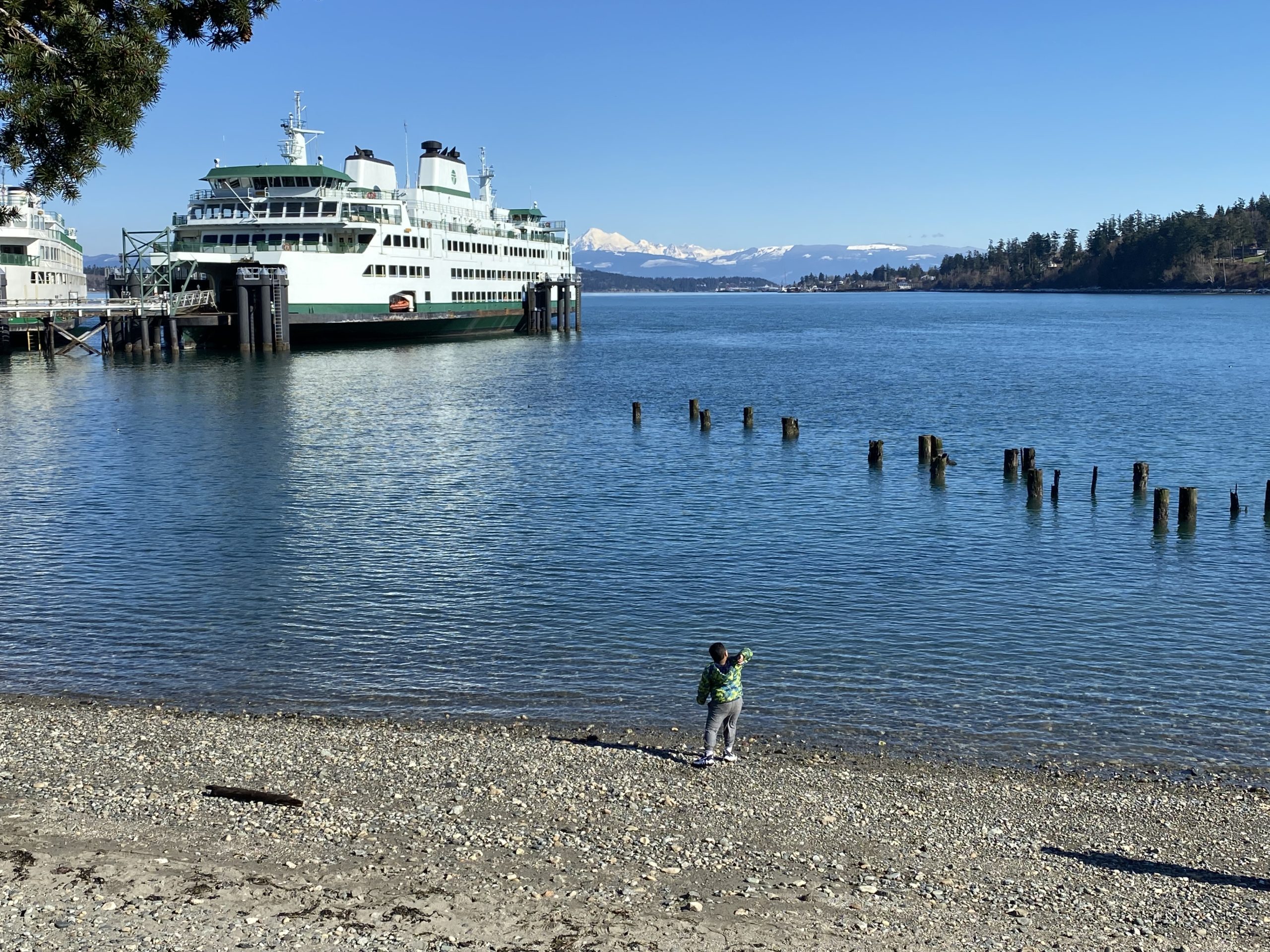 Getting there
We planned our trip from the Eastside to the Anacortes terminal – an hour and a half drive. Get to the terminal at least an hour before your sailing time. Round-trip fare for a family of four, with a standard vehicle, ranges from $90-$100.
Once you've lined up for the ferry, take the time to use the restroom, explore the cafe and go down to the shoreline and feed the ducks (bring your frozen peas), walk the rocky beach, and skip some stones.
The Ferry ride
The ride to Friday Harbor is an hour long. We parked our car and ventured up to the passenger seating area. Riders are encouraged to wear masks, but it isn't mandatory. The food and beverage kiosks are now open, but when we went they were closed. Bring your own snacks to be safe or make a purchase from the vending machines. Bathrooms are open, clean and have air filtration systems.
We headed out to the front of the ship to take in the views and feel the very cold breeze blowing. The kids took laps around the interior of the ferry, while we went over plans for the weekend.
Where to stay
From B&B Inns to private cabins and hotels, there are plenty of family-friendly places to stay on the island.
We stayed at Friday Harbor Suites, a hotel with standard-sized rooms. It was an average hotel, with dated décor, thin walls and low-pressure showers. There was a kitchenette with a full-size fridge that came in handy to store leftover food and a hot pot to boil water for coffee and tea. There's no stove or oven though, so plan on microwaving meals and leftovers.
Since it's the off-season the hot tub is not open and room service has been suspended unless you stay for three nights or more.
Friday Harbor: where to eat and what to see
Friday Harbor is the major town on the island. Charming streets lined with lights, bookstores, coffee shops and restaurants.
Walk the streets and admire the many murals that line the building walls. My children did some window-shopping, spotting books and toys that they liked.
Don't miss the Serendipity Book Store, a house converted into a store carrying new and used books – 50,000 to be exact! You're bound to walk out of there with some good reading material.
Friday Harbor has a plethora of dining options serving all sorts of food from sushi to burgers to fish and chips.
We settled for dinner at Cask & Schooner – a ship-themed restaurant with an old-timey feel. They served the tastiest clam chowder, fish & chips, and meat pies!
The Bean Cafe had a nice breakfast serving locally-sourced coffee, baked goods, breakfast sandwiches, bagels and quiche.
This was also a stellar place to get salted caramel! Don't miss these gooey, sticky, savory sticks of sugar, wrapped in wax paper. It was the one treat we wish we had bought more!
If you have the facilities to cook, stop at King's Market or the San Juan Food Co-op to stock up.
Further out into the island you'll want to stop at Lime Kiln Cafe in Roche Harbor for breakfast or lunch. Don't miss the house-made donuts. They sell out fast so snag a few early in the day.
Aquarium at the ferry terminal
This isn't anything like the Seattle Aquarium, but boy do they have a lot growing in one single tank!
Find anemones, crabs, coral, fish, snails, shrimp and all different types of sea creatures. Located in the building under the clock tower and by the ferry boats you'll find this piece of wonder.
"Every time I look, there's something new!" my oldest said.
The tank is a window to the sea life surrounding San Juan Island. Be sure to step out on to the dock to read the placards filled with information about the organisms in the water.
Look over the rail and see cauliflower-looking coral, swaying to and fro- actually called plumose anemones.
Farm tours and visits
If you've got time to drive around the island, take the trip from end-to-end. Farmland as far as the eye can see is what we saw amidst the tall trees and water views. Rolling hills and valleys surrounded century-old barns and farmhouses.
Many of these farms offer tours and animal experiences. Be sure to check out the Amaro Farm specializing in sheep farming and the Farm at Krystal Acres hosting alpaca experiences.
(See full review of the cutest sheep in the world at Amaro Farm)
The Whale Museum
Don't miss the Whale Museum, located in the heart of Friday Harbor. The museum boasts plenty of information about the local Orca pods as well as exhibits featuring whale and porpoise skeletons. Step into the phone booth exhibit and dial the numbers to hear the sounds of various whales in the wild.
Visit Lime Kiln State Park
Lime Kiln Point State Park is known around the world as the premier destination to see Orca whales without having to travel offshore. Take the short hike to the lighthouse and look out to sea from the bluff. The lighthouse serves as an educational center and opens in the summer.
Parks and beaches
There are so many places to explore the beaches, history and beauty of San Juan Island.
The Sculpture Park at Roche Harbor had us walking through acres of art, while a trip to South Beach had my kids climbing over driftwood and building damns.
American Camp had us stepping foot in a piece of history where a war had taken place, while Grandma's Cove was a steep hike down to a remote sandy beach (watch for low tide times).
San Juan Island is an amazing place to explore for a day, a weekend or the week. With so many things to do and the kindness of locals, this is a destination that we want to explore again and again.
Know before you go: Ferry Ride
• The Washington State Department of Transportation (WSDOT) is taking vehicle reservations on routes to the islands. Book your reservation ahead of time.
• Tickets are released by tiers, so if you miss your booking, grab a reservation online or via phone- 2-months, 2-weeks, and 2-days before the sailing time. Reservations open at 7 AM.
• Pro tip: If you plan to go island-hopping (San Juan, Orcas and Lopez) it's better to stop at San Juan Island first. Tickets from San Juan, on the inter-island ferry, are free and provide round-trip service.
• Walk-on to the ferry, tickets can be purchased at the Anacortes terminal.
Another island to visit: Vashon Island! Read more about what you can do there!