First-time campers looking for family-friendly campgrounds, this write-up is for you!
I bet you've seen many beautiful photos of families in the outdoors car-camping, tent-camping, or in a trailer or motor home. You might be wondering how to do it yourself. We're here to help with our guide to family-friendly camping for first-time campers. It's filled with tips on where to go, what to bring, campsite expectations and more!
Book your family-friendly camping trip: Sooner than you think
Most people have no idea what they will be doing in a few months, let alone 9 months from now. So, the idea of planning a camping trip for the summer of 2024 may seem crazy, especially if you are trying to navigate this for the first time. However, it's necessary to plan ahead, due to the popularity of many of these campgrounds.
For the state parks listed below, we highly recommend being signed in on the Washington State Parks website and ready to book your trip at 7:00 a.m., 9 months before the date you want your trip to start. (Example: If you want to go camping July 19-21 2024, then you must book your trip October 19, 2023 at 7:00 a.m. sharp.)
Cancellations at your family-friendly campground
Be sure to read up on the cancellation policy. If your plans change be courteous and transfer your campsite to another family or cancel completely so the spot will open on the system. Join a camping group on social media to make transfers easy.
What to pack for your family-friendly camping experience
Whether camping in a tent, RV or trailer here are some things you'll need to have a safe and comfortable trip.
Tent: If your budget can go a little bigger, purchase a bigger tent. If you have a family of 4 and the tent proportions say that the space fits 4 people, assume it is comfortable for 3 adults. Opt for a larger 5-6 person tent if space is a concern. Also, if you'd like to move around in your tent while standing, evaluate how tall you want your tent to be and rent/purchase based on height. Don't forget to get a tarp for underneath the tent and ensure it is the appropriate size. Too small, and your tent floor won't be protected. Too large, and rainwater may collect and end up underneath your tent.
Tip: Borrow or rent equipment before making your purchase. Set up the tent in your backyard to get a feel for how comfortable the setup might be. Camping in your backyard is a good way to test your equipment and patience.
Sleeping bag and mat: Campgrounds are hard and uncomfortable, contributing to a rough night of sleep. Choose a sleeping bag and mat that fits your body and is warm enough for unpredictable cold weather. Your mattress pad should also have a high insulation value to store your body heat.
Tip: Set up your tent, mat and sleeping bag early at the campground so you don't have to do it in the dark.
Another tip: Bring a pair of earplugs with you. Neighbors might snore, other children may cry, or the rain may not lull you to sleep, as much as you think, if you're in an RV.
Lighting: There is no lighting at the campground so bring your own. Bring a lantern, flashlight, and headlamp to help you find your way in the dark. Depending on fire restrictions, you may build a fire to keep warm and brighten up the place. Bring wood, a lighter, newspaper/paper and fire starters.
Cooking and dining at your family friendly campground
Having a meal together is part of the experience. Here's what you need to have a nice meal in the outdoors.
Stove: If you're not cooking all your meals over the fire, you'll need a 2-burner propane stove to help do simple things like boil water for hotdogs, instant soups and more. Keep foods simple and don't forget the smores!
Pots, plates, forks, spoons and cups: Most families purchase a set of dinnerware, usually made of plastic or metal. Remember that dishes need to be washed so having a water supply or a water source nearby is helpful. Using disposable material is less desirable for environmental reasons, but if that's all you have, then remember to pack everything out of the campground and dispose of materials appropriately.
Cooler: Pack a cooler with ice and food essentials. If your family is car camping, consider purchasing a plug-in cooler (use your car to plug in the cooler while driving around or getting to camp). It's convenient to keep things extra cold.
Tip: When you're in the outdoors, you may encounter wildlife – seal up your food in canisters and large containers. Purchase tamper-proof locks so bears, bobcats and raccoons (among other wildlife) won't be unwanted guests at dinnertime.
Another tip: Some campgrounds have picnic tables for dining. Bring a plastic tablecloth and spread it on the table for an extra cozy feeling.
Family friendly campgrounds: Making it even more comfortable
Sometimes the simplest things like a place to sit, blankets, and warm clothing can make camping relaxing and fun.
Don't forget to pack these things:
Camp chairs: Seating is limited at most campsites, so bring you own camping chairs. Hammocks are also a great idea, if you can find two trees close enough.
Camp clothing: Bring layers and wear as appropriate for the weather. Wear sturdy shoes, and bring slippers or slip-on shoes for trips to the campsite bathroom. A hat is useful for blocking the sun, and long sleeves help when bug season is at its worst.
Medications, games, creature comforts: Don't forget any necessary medications for your child and yourself. Pack the sunscreen and bug repellent too.
Bring a favorite stuffie or a good book. Kids like a reminder of home, while they make new memories in a new place. Boardgames will help too, if boredom sets in. Bikes are also wonderful to have, if space allows. Many campsites have open areas or trails for kids to walk, scoot, or bike.
Family friendly campgrounds: Where to go
Deception Pass State Park
41229 State Route 20 Oak Harbor
Drive time from Seattle: 1 hour 25 minutes
This beautiful, wooded campsite is one of the most popular in the state for good reason. With numerous hiking trails, beach lines with award winning views and of course the famous bridge suspended 180 feet over the dramatic waters of Deception Pass, there is no shortage of things to explore. A few of our favorite things to do here as a family include: swimming, fishing and kayaking at Cranberry Lake. We also love spending a day at the beach playing in the water, building sandcastles and beachcombing.
Tips:
• Pack your life jackets and floaties to use at the Cranberry Lake swimming area.
• In the summer take the tide pool tours. Staff of the Rosario Tide Pools take you on a trip to explore a world only uncovered at low tide. Tours are limited to 16 participants and only available on selected dates. Pre-registration required.
• Deception Pass has welcomed Blue Otter Kayaks to the shores of Cranberry Lake. Kayak, SUP and canoe rentals are available daily from 11-5 through Labor Day. You can call to make reservations, however, I was told that typically, reservations are unnecessary and you can walk up and rent. For more information, visit Blue Otter Kayaks online.
• Check in at the ranger station and ask for a Jr. Ranger packet. Complete them and turn them back in before you leave.
Lake Easton State Park
150 Lake Easton State Park Road
Drive time from Seattle: 1 hour 15 minutes
Just a short jaunt over Snoqualmie Pass and nestled in the trees is an amazing family friendly campground that makes for a perfect weekend getaway. Lake Easton State Park truly has a little something for everyone. From a hike with beautiful views, a playground on a beach with sandy shores and large relaxing wooded campsites, this park won't disappoint. Our favorite activities when we stay at Lake Easton include: family bike rides around the campsite and on the hiking trails, spending lots of time swimming in the lake, and playing at the nearby playground.
Tips:
• Be sure to check out the 5-mile loop hike around Lake Easton. This hike features beautiful views of the lake, a train track, an old tunnel and a trail bridge that spans the Yakima River.
• If traffic noise bothers you, be sure to look at the park map before booking your campsite to ensure you get a spot away from the interstate.
• Pack your bikes, hiking shoes, swimsuits, water floaties, kayaks and paddle board for this trip.
• Remember lifeguards are not stationed at the beach or on the lake. Practice water safety and keep a close eye on your kids.
• Jr. Ranger packets available at check in. Complete them and turn them back in before you leave.
Family friendly campground: Grayland Beach State Park
925 Cranberry Beach Rd Grayland
Drive time from Seattle: 2 hours 20 minutes
Our family discovered Grayland Beach State Park last year and it quickly became a favorite for us. The campground is large, but its loop style layout make many of the spaces feel secluded and private. In addition to tent and RV spots, Grayland also offers yurts for those who may want to camp, but don't own a tent, or just want a different experience. For the yurts, know that you need to bring your own bedding, showers and bathrooms are a short walk away and they are pet friendly. Several trails leave from the campground and lead you through gentle grassy dunes to the beach. Much of our time here was spent relaxing at our campsite, walking or driving the beach (our kids were delighted to find a few intact sand dollars and shells on the beach) and exploring nearby Westport.
Note about driving on the beach: Although it is ok to drive on the beach here, know that you are doing so at your own risk and 4-wheel drive vehicles are strongly recommended. Also know that rules of the road still apply on the beach and reckless driving is not allowed. You must drive slowly and be aware of tides, pedestrians, wildlife and large logs. With that being said, my kids thought this was by far one of the best parts of our trip and loved our beach drives. If you are very uncomfortable driving in off-road conditions, then this might not be the best activity for you.
Tips:
• Be sure to pack sand toys for the beach and buckets or bags for collecting shells and sand dollars. Our kids also used their buckets to catch and release frogs at our campsite.
• Jr. Ranger packets available when you check in at the ranger stations. Complete them and turn them back in before you leave.
• If staying in a yurt, be sure to pack all your bedding as it is not included.
• Be sure to explore nearby Westport. Here are some of our family's favorite discoveries there: Grays Harbor Lighthouse (the tallest lighthouse in Washington State), Westport Maritime Museum, Westport Viewing Tower and walking around the Westport Marina.
Fort Worden State Park
200 Battery Way Port Townsend
Drive time from Seattle: 2 hours 10 minutes
Fort Worden is hands down our family's favorite camping spot. There is so much to do and see for both kids and adults. The campground is large and spacious and a short walk from the beach and old military bunkers. We love exploring the bunkers and always bring headlamps, flashlights and glowsticks. Yet, we still manage to get creeped out in some of the long dark halls or stairways. It is truly a surreal feeling to walk these bunkers and buildings and try to imagine what it was like when they were in their prime, bustling with activity. Some of our other favorite activities here include: exploring The Puget Sound Coast Artillery Museum, The Port Townsend Marine Science Center and the Point Wilson Light House (all within walking distance from the campground).
Tips:
• Be sure to pack your bikes for this one! The campground is large, flat and perfect for family bike rides.
• Don't forget to pack flashlights, head lamps and glow sticks to explore the bunkers, its dark in there!
• A word of caution about the bunkers: There are many spots with no handrails and many uneven areas in the rooms and halls where things may have been removed etc. Please always keep a close eye on your kids here and be cautious while exploring.
• Downtown Port Townsend is a short drive from the campground and has many bookstores, souvenir shops, and a candy and ice cream shop our kids loved.
• Jr. Ranger packets available at check in. Complete them and turn them back in before you leave.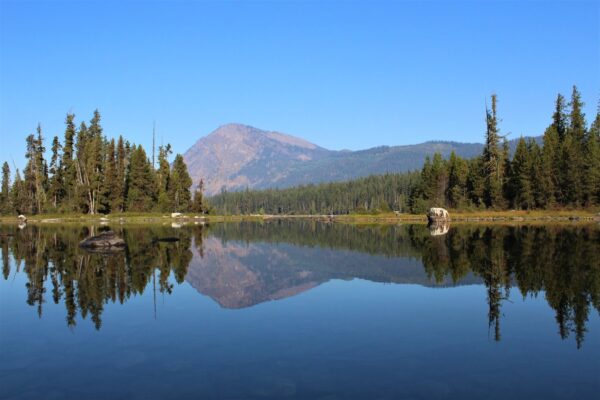 Family friendly campground: Lake Wenatchee State Park
21588 SR 207 Leavenworth
Drive time from Seattle: 2 hours
We can't make a list of great campgrounds for first time campers and not include Lake Wenatchee State Park! This park is well known and popular among families for a reason. Take a dip in the alpine lakes swimming area or rent a kayak or stand-up paddle board for the afternoon. Need a break from the water? Explore the nearby trails on horseback, bike or foot. Other available activities within the park include a playground, horseshoes, and a volleyball field. The possibilities are endless here for fun and adventure.
Tips:
• Pack floaties and water shoes for the swimming area.
• Horseback Rides: For a quiet adventure and some of the most beautiful scenery in the Cascade Mountains, take a horse ride with Icicle Outfitters located at Lake Wenatchee State Park. Tours range from a few hours to a full day.  For additional information and reservations, visit them online.
• Kayak & Paddleboard Rentals: Lake Wenatchee Adventures offers kayak and SUP rentals daily from 10-6 from Memorial Day Weekend through Labor Day.  They are located near the swimming beach next to the concession stand and restrooms.
• Enough online reviews of this park have warned about mosquitos, that I thought it was worth mentioning. Pack your pop-up screen houses, mosquito repellants and citronella candles, just in case.
• Jr. Ranger packets available when you check in at the ranger stations. Complete them and turn them back in before you leave.
Family friendly campground: Cama Beach State Park
1880 SW Camano Drive Camano Island
Drive time from Seattle: 1 hour 15 minutes
For those who want to get away, but camping in a tent might not be your jam, Cama Beach just might be for you. This unique park does not offer tent or RV camping, but has rows of beach front cabins, a park store and a large firepit for evening socializing. It feels a little like you've stepped back in time when visiting here. The state park also features a great hall and café, as well as boat-building classes offered by The Center for Wooden Boats on scheduled weekends in the boathouse.
Each cabin comes with a combination of bunk beds and stand-alone beds (mattresses are provided, but bring your own bedding.), kitchenette with a sink, microwave, and a small fridge (there are no stoves or ovens, however, so bring your own camp stove or outdoor grill). You will want to pack as though you are tent camping (ie: bring dishes, food, bedding, pillows, flashlights etc.)
Tips:
• Reservations for the cabins can be made 9 months in advance like other state park camping reservations. However, groups of 7 cabins or more (when booked together) can be made up to 18 months in advance with a minimum of a 2-night stay. Plan accordingly and book here. Make sure to search under "roofed" accommodations for Cama Beach Cabins) or by calling (888) CAMPOUT or (888) 226-7688.
• Pack as though you are tent camping, but without the tent. Bring dishes, food, bedding (including pillows!), flashlights etc.
• Don't forget to ask for your Jr. Ranger packets when you check in at the ranger stations and complete them and turn them back in before you leave.
Tolt-McDonald
31020 NE 40th St, Carnation
Drive time from Seattle: 40 minutes
Officially known as Tolt River-John MacDonald Park, this park and campground in Carnation is known by locals as Tolt-MacDonald Park. This beautiful campground remains somewhat of a well-kept secret; however, word seems to be getting out about what a true gem it is. Popular among camping newbies and longtime campers alike, this park offers some unique exploring opportunities. One of those being a 500-foot-long suspension footbridge that spans the Snoqualmie River and provides amazing views and access to beautiful forested and riverside trails. Kids will delight in crossing the bridge and hiking to the river below where they can play and explore. In the Fall, spawning salmon can be seen in the river and soaring above, eagles and osprey, in search of their next meal.
Tips:
• Reservations for Tolt-McDonald can be made on the King County Parks website up to a year in advance (2 night minimum). You can also contact the Regional Scheduling Office at 206-477-6150 or send email to regional.scheduling@kingcounty.gov.
• The campground has six yurts overlooking the river and seasonal camping for RVs and tents – all with fire pits.
• Tolt-MacDonald Park is the site of two popular annual events: the three-day Timber! Outdoor Music Festival and Beat the Blerch, a ridiculously fun running event. Be sure to check the dates of these events to avoid crowds.
• Swing by First Light Farm & Learning Center, a short drive from the park, for fresh produce, raw local honey, and other farm stand items.
Family friendly campground: Lake Kachess
Bakers Ln, Easton
Drive time from Seattle: 1 hour 15 minutes
Set in dense old-growth forest and surrounded by high mountains, Kachess Campground is considered one of the most beautiful in the Cle Elum area. Offering both tent and RV sites, Kachess is a prime location for fishing, swimming, boating, paddling and mountain biking in summer and early fall.
Tips:
• This campground is popular, especially on weekends, so reservations are highly recommended. Reservations can be made here, 6 months in advance. There is a two night minimum requirement on weekends. Reservations are released daily at 7 a.m. PDT on Recreation.gov for six months in advance. So, for instance, at 7 a.m. today (March 26), sites were released for Sept. 26.
• Starting at the campground, the Kachess Lake Trail is a short loop next to the lake, enjoyable for hikers of all levels.
• Don't forget your water shoes for this one! The beach around the lake is beautiful but rocky.
Read more
Read all about this family's first-time in an RV
Camping with toddlers? Here are our top tips