Book picks for kids (and adults):
Looking for some reading inspiration? Here's a peek at what KCLS staff and the young readers in their lives are digging into this month!
All KCLS libraries are open. Plan your next visit at kcls.org/visit.
Adults: The Beautiful Ones, by Silvia Moreno-Garcia
Silvia Moreno-Garcia's Regency-style romance and magical fantasy follows an elite love triangle in a world resembling 19th-century France. Hector Auvray is a popular performer gifted with the power of telekinesis who resides on the periphery of high society. Hector harbors a secret love for Valerie Beaulieu, a married woman above his station who once returned his affection. When Valerie's cousin, Antonina, arrives in town from the country, Hector discovers she has similar telekinetic abilities and the two form a connection. Sumptuous scenes of passion, betrayal and scandal make this a lush and cozy winter read.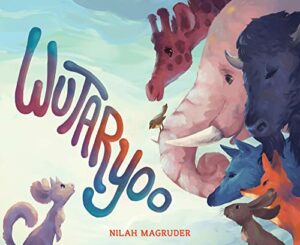 Kids: Wutaryoo, by Nilah Magruder
When curious animals in the forest ask a small being with large round ears, small horns and a long, curled tail who she is, she does not know how to answer. She is the only one of her kind and she doesn't know where she came from. When she replies with the same question, they answer easily — rabbits, wrens, wolves and frogs — and share their origins and histories. Adopting the name Wutaryoo, she embarks on a quest to find her own story. As her journey takes her further and further from home, and then eventually back again, this colorfully illustrated picture book shows readers how each individual's story has worth, and how personal histories are made along the way.
More book picks for kids (and other book news):
After racist run-in, mom embraces her heritage in kids' book
"I'll Take Care of You," a beautiful, comforting tale for kids
Meet Nina Laden, children's author/illustrator from Lummi Island
Find the latest book news, recommendations and more by signing up for our monthly Book Corner newsletter