When fellow parents ask how I find time to read with a newborn and toddler at home, I tell them I read what I love! Here's a peek at what I'm enjoying and what my children and I are reading together, because finding books they love will help your kids read more too. Both of these titles, and many more, are available as eBooks or audiobooks in KCLS' digital collection.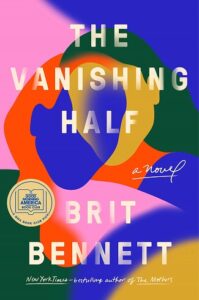 What I'm reading: "The Vanishing Half" by Brit Bennett
Bennett's luminous second novel is one of the few books I've been able to finish since February, when we welcomed our new baby home. It follows Desiree and Stella Vignes, Black twins born in Louisiana in the 1930s. The girls run away from home as teenagers. One begins a new life passing as white; the other ultimately returns to the tiny town where they were born. The novel follows their lives and the lives of their daughters. Bennett explores concepts of identity, race and family with these two unique and memorable characters.
What we're reading: "You Matter" by Christian Robinson
Research shows that babies as young as 6 months old notice race, which means it's important for parents to start talking to kids about race as early as possible. This beautiful book celebrates the difference and importance of each person. The inclusive, joyful illustrations are a wonderful way for parents to talk about race in a positive way with very young kids.
Related: More books on race for families wanting to educate themselves || More book picks from Emily Calkins of KCLS