A big whoop went out as construction wrapped up on Friday, Day 7 of the build. Thomas Dambo's Bainbridge Island giant troll was ready to be awakened.
"Rub everybody's shoulders really quick, because we've done really good," the Danish artist told his staff and volunteers. He mimed cracking open an imaginary beer and made a toast. "Cheers, everybody!"
[Find the giant troll in West Seattle's Lincoln Park]
The giant troll project
The Bainbridge troll is the first in a series of five gigantic trolls Dambo is building for the Seattle area. Next up, trolls will be popping up in West Seattle, Issaquah, Vashon Island and Ballard. A final ribbon-cutting event is scheduled for the National Nordic Museum in Ballard on Sept. 18.
The public art installations are free to visit …if you can find them. When are the locations going to be revealed?
"Never," Dambo says. "It's more fun for people to find it."
Dambo's thing is building giant wooden trolls, and hiding them in nature for people to discover. The secrecy is part of the game.
Bainbridge's giant troll and clues to find her
The Bainbridge troll, named Pia the Peacekeeper, is Dambo's 121st troll. Go to Trollmap.com for a world map with the approximate locations of each troll.
Here's what we can tell you: the Bainbridge troll sits in a park about a mile from the ferry terminal. There's a tall pole with colorful birdhouses at the park entrance. Friends of the Bainbridge Troll also posted a few clues on its website.
In mid-September, nwtrolls.org plans to release a customized adventure app for each location. It's an online scavenger hunt to send you on your own troll hunt.
"It's a perfect way to engage all generations," says Fidelma McGinn, president of the sponsoring company, Scan Design Foundation. "From grandparents to toddlers, everybody has a different reaction. But the 'wow' factor is independent of age."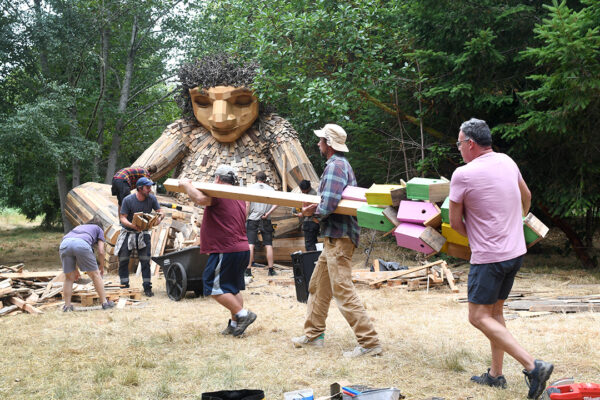 About the giant troll project
The Pacific Northwest troll project, titled "Northwest Trolls: Way of the Bird King," has been in the works for two years. It's commissioned by the Scan Design Foundation, a cultural group that promotes America-Danish relations. Dambo and his wife came to scout out sites in 2021, then he returned in February to confirm the locations and concepts.
Dambo builds the trolls' faces in his Copenhagen studio, then the bodies on-site. The sculptures are made entirely of recycled materials and range from 15 and 20 feet tall. They're meant to encourage us to get outside, inspire us to protect nature, and remind us that even garbage can become a resource.
Why giant trolls?
McGinn describes Dambo as "the Pied Piper of trolls." Why trolls?
"He grew up with those stories and fairy tales as a kid. They're very much steeped in the Nordic tradition of storytelling," McGinn says. "If you're not behaving as a kid, there's a suggestion that the trolls can get you."
Pia the Peacekeeper sits on the ground with her hands held out, playing with small human puppets. Hint: You are the puppet. Go ahead and step into the troll's grasp.
Who's going to see the giant trolls? There's no rush
As the crew cleaned up wood scraps and tools at the building site, a bicyclist paused his ride long enough to snap a photo. Families showed up with kids. A man with a walker and a rainbow outfit wheeled up for a photo op. The troll's location is an open secret.
If you don't make it to opening weekend, don't worry. The trolls will stay at each site for at least three years, up to 15 years (and open for discussion after 15 years).
Dambo's wish for Seattle-ites is that troll-hunting will be a fun and positive experience.
"I hope they smile," Dambo says. "I hope they'll get some of the whimsy, fairytale in their life."
Dambo started his cross-country tour in June, traveling with his wife and their twin 1-year-old boys in an RV nicknamed the Trollercoaster. It's a 10-stop, 10-troll, road trip across the U.S., documented on his YouTube channel.
From New Jersey to Vermont to Michigan to Colorado, Dambo is now on the final leg of his trip. Six of the 10 trolls are in the Pacific Northwest; five in the Seattle area.
Our neighboring giant trolls and the team
A Portland troll — Dambo's first PNW troll — opened earlier this month. Named Ole-Bolle, it's located in the garden behind Nordia House and is made of reclaimed wood and old pallets. Ole-Bolle lifts the roof of a red cabin like a cookie jar to peek inside.
What's next, after Seattle? Dambo describes his plans for a troll in Rhode Island, and another in Minnesota. "It would be impossible for me to go back and work in a McDonald's," he says with a smile.
Dambo travels with a crew of 10 from Denmark, and hordes of volunteers pitch in along the way. He's staying in a borrowed house, driving a borrowed minivan. One volunteer is an artist from Arizona, another is a museum exhibit designer from San Francisco, and another is a long-time Dambo fan thrilled the artist is building a troll in her hometown.
Dawn Janow describes the troll construction as a "stone soup project." The wood pallets were donated, and the troll's hair is made of clippings from an apple orchard in Poulsbo. Her friend from yoga class brought lunch for everyone.
Officially, Janow is a member of the Bainbridge Island Park Board of Commissioners. Unofficially, she couldn't resist helping out on the project.
"Why are we doing this?" Janow recalls someone asking at a meeting. "How about… joy!"
The mood is light. Dambo passes around Klondike ice cream bars. After the lunch break, a few finishing touches. The troll's necklace. Her pupils. The crew dances to music as they race to clean up in time for an opening ceremony.
Trolling for happiness and joy
Dambo built his first troll 9 years ago. It was a temporary installation, made for a music festival in Denmark. Another troll, in Puerto Rico, was swept away by Hurricane Maria. The idea of leaving wood sculptures sitting outside in the soggy PNW doesn't bother him.
"It's like your food," Dambo says, gesturing to the volunteer who brought lunch for the crew. "Doesn't last forever, but it makes people happy."
All photos by JiaYing Grygiel
Know before you go
Pia the Peacekeeper is located at Sakai Park on Bainbridge Island, one mile from the ferry.
There is limited parking. Be sure to get there early to grab a spot.
The sculpture will be at the park for the next 3-years or more.
The next sculpture will be in West Seattle. Stay tuned for the opening date.
Read more
Find a gnome home on this trail
Take this gnome walk in Maple Valley