This summer, the Pacific Northwest hosted the arrival of several giant mythical troll sculptures.  Now, the magic will have time to settle as the sixth and final troll found its residence in Ballard this week.
Joining brethren trolls in Portland, Bainbridge Island, West Seattle, Issaquah and Vashon Island, this is the final Pacific Northwest troll in "The Way of the Bird King" project.
Now that they are complete, all six trolls will remain where they are for at least the next three years.
[Find the Bainbridge troll, the West Seattle troll, the Issaquah troll, and the Vashon Island troll]
The Artist
The Way Of The Bird King trolls were designed by Danish environmental artist Thomas Dambo, who uses found and recycled materials to create sustainable art. The Ballard troll, Frankie Feetsplinters, can be seen smashing a wooden bench underfoot (don't worry, the bench is part of the artwork, and no actual benches were harmed in the creation of this troll). 
Where is Frankie?
Unlike the other trolls in the project, who reside in forests and beaches, Frankie has found his home in an urban setting at the National Nordic Museum in Ballard, Seattle. It makes perfect sense, considering Frankie came from a Nordic heritage. Museum visitors and passersby can marvel at this behemoth outside the museum entrance.
Limited and free, 1-2 hour street parking, is available in the area or you can park in the museum parking lot ($2/hour). There are no public restrooms at the troll's location, but several local businesses are within walking distance and have facilities available for customers. Frankie is easily accessible by sidewalks and bike lanes, making him convenient to visit.
The Nordic Museum
While visiting Frankie at the National Nordic Museum, allow extra time to explore the museum's fascinating exhibits and galleries about Nordic history and contemporary culture.
Pro tip: Admission to the Nordic Museum is free on the first Thursday of every month, and you can reserve free museum passes for the Nordic Museum any day with your Seattle Public Library card (Note: the Museum is closed on Mondays).
There are several interactive and hands-on learning exhibits throughout the museum, as well as family programs to keep little ones engaged. If you get hungry during your museum visit, stop by the in-house restaurant Freya for home-baked pastries, coffee, light bites and authentic Nordic fare.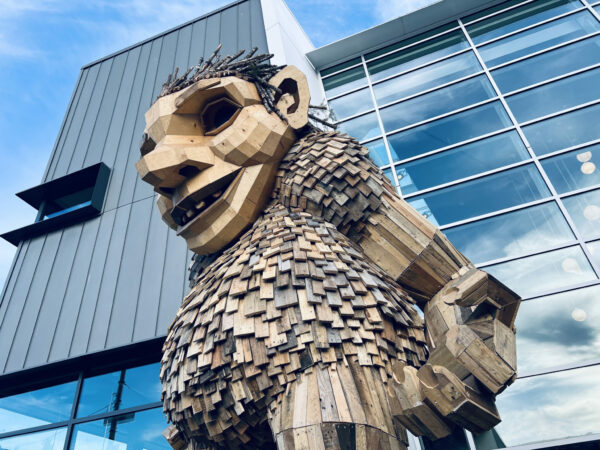 Continue your day in Ballard with a visit to one of the many local restaurants or attractions. If you work up an appetite while troll-gazing, head next door to Portage Bay Cafe for breakfast, brunch, or lunch. You are sure to leave with happy tummies from a restaurant that features local, organic, sustainable ingredients from Pacific Northwest farms (and a delectable serve-yourself berry bar).
The Ballard Locks
A mere 5-minute walk from Frankie will bring you to the Hiram M. Chittenden Ballard Locks. While there, you can watch ships pass through the locks, explore their world-class botanical gardens, take a guided tour at the Ballard Locks Visitor Center, or visit the modern salmon education center and fish ladder to view migrating salmon.
Stop by the adjacent Lockspot Cafe for some hot fish and chips, burgers or chowder–easy grab-and-go food you can carry into the locks for a picnic. Keep an eye on your food because the resident seabirds are expert thieves! 
Burn some energy
If you want to get some wiggles out, Edgeworks Climbing Seattle is just one block from the National Nordic Museum. This indoor rock climbing gym offers several climbing walls available for all ages. Children under age 14 must be accompanied by an actively participating adult. 
Make it a beach outing
For another Ballard adventure, drive or bike 2 miles along the water to Golden Gardens Park, where you can play on the sandy beach, climb and swing on the playground, hike through forested trails and marvel at the panoramic views of the Olympic Mountains on a clear day. There is also an off-leash dog park in the upper northern portion of the park if you want to bring along your furry friend. In the adjacent Shilshoe Bay Marina, you'll find Ballard Kayak And Paddleboard, where you can rent kayaks or paddleboards and schedule guided waterway tours. For a real treat, drive a mile south of Golden Gardens to Un Bien for mouthwatering Caribbean sandwiches and cuisine (I still have dreams about their Caribbean Roast!).
On your way out of town, stop by Larsen's Danish Bakery to pick up an authentic Nordic treat to bring home. In addition to traditional Danish goods like Kringle and fruit Danishes, you'll find elegant cake slices, decorated sugar cookies, and fresh donuts. Larsen's also offers a full espresso bar if you need a caffeine boost before driving.
Tuck away these tips to create your magical adventure by discovering the Ballard troll and beyond!
Read more