The latest news for families in the Seattle area:
'Teach the Truth' rally Saturday in Seattle
June 11: Educators in Seattle will join those in more than 20 cities and towns across the United States on Saturday (June 12) to rally and pledge to "teach the truth" about U.S. history. The action comes as state lawmakers across the country are introducing bills to ban school curricula that include information about the role of racism, sexism, heterosexism and other oppression.
The Seattle event starts and ends at Medgar Evers Pool at Garfield High School, 500 23rd Ave. The schedule is as follows:
2 p.m.: Rally and speakers
2:30 p.m.: Walking tour of six culturally and historically important sites (Douglass-Truth Library, Firehouse/Africatown Community Land Trust, Pratt Park, Odessa Brown Children's Clinic, Second Black Panther Party Office, Horace Mann building/Nova) that advocates say could be potentially removed from the curriculum under restrictive laws.
4 p.m.: Closing rally.
Good news for foster care in Washington state
June 9: Treehouse, the organization that supports youth in the foster care system in Washington, is cheering funding approved by the Washington State Legislature to help the same kids Treehouse helps.
The nonprofit, founded in 1988 by social workers, provides academic and other assistance to the more than 7,800 youth in foster care statewide.
Treehouse will receive $4.89 million to expand its Graduation Success program statewide, bringing it to an additional 600 high school students. A Senate bill also requires each school building to establish a point of contact for every youth in foster care to coordinate services and resources.
Lawmakers also boosted financial support to relatives, who often become the caregivers to kids in foster care, and also modified licensing requirements to improve relatives' access to licenses and the stipends that come with them.
Treehouse also supposed a move to create community transition services for youth exiting juvenile rehabilitation, including a bill that provides therapeutic community transition services to improve reentry outcomes in education, employment and behavioral health; and another to boost education access to youth in and released from juvenile rehabilitation facilities.
Learn more about Treehouse, its services and ways to help.
State parks gift cards now available
Washington State Parks is now selling gift cards that can be used to reserve campsites, cabins and vacation homes, purchase parks merchandise and more. Electronic is the easiest way to buy cards for now, in denominations from $5-500 (the cards are reloadable). The plan is to have actual, plastic cards available later this year at state parks. Gift cards also may be used to Discover Passes through the State Parks reservation system, but not from third-party vendors. Cards also are not valid at Washington state parks' concessions.
Argosy Cruises resumes sailing
May 26:  Argosy Cruises is resuming its sightseeing tours just in time for summer. For now, Harbor Cruises will run Friday through Sunday and the Locks Cruises will run Saturday and Sunday; daily operation will begin later in the summer. Masks are required, boats are not at full capacity and no cash is accepted. Find all of the latest reopening news here.
The latest from Woodland Park Zoo
Woodland Park Zoo updates, May 22: With new guidance from state and national officials, Woodland Park Zoo has changed some policies:
Masks are still required for everyone 5 and older in indoor spaces but now are optional (but recommended) outdoors.
The Conservation Aviary, Temperate Wetlands and Family Farm have reopened.
Some sit-down dining now is available.
Presentations with Ambassador Animals will resume June 1.
Timed-entry tickets are still advised, and entry is only through the zoo's west entrance (near the penguins).
In other zoo news, ZooTunes is back for summer 2021! Details here.
And the scary-good dinosaur exhibit is here through Labor Day.
Sign up for summer parks programs
Registration is open for a variety of summer programs, both in–person and virtual, through Seattle Parks & Recreation.
In-person camps will be held at at High Point, Jefferson, Montlake and Loyal Heights community centers and will include options like sports and fitness, arts and crafts, performing arts, nature, STEM and more.
"Virtual camps," for which free software is provided, will include everything from creative dance to hockey to writing, Dungeons & Dragons and more.
Here's how to find the full summer brochure, which includes details about registration and the availability of scholarships.
Nature spotters outdo themselves
We told you about the City Nature Challenge earlier this month.
More than 500 people signed up to participate in the greater Seattle-Tacoma area, recording more than 7,000 observations of a record 1,200 species of plants and animals. The prize find was a very rare species of paddle worm.
Go here to find full results from our region.
Seattle summer parks program update:
April 22: Seattle Parks & Recreation is optimistically planning for summer although with lots of question marks around safety guidelines and program funding.
Here's what we know so far:
Indoor pools: Medgar Evers and Rainier Beach pools are open.
Outdoor pools: Colman Pool and Mounger Pool will operate this summer.
Spray parks: 11 spray parks will operate, with no staff on hand.
Swimming beaches: The city hopes to have lifeguards on duty at five beaches.
Wading pools: Still unknown, but one thing is for sure: It's unlikely that all wading pools will be open; we'll be lucky to have some of them. Stay tuned.
Check back for updates from Seattle Parks.
Survey shows preschool costs up, funds needed
It's getting more expensive to run a preschool, and operators of state-funded programs are hoping that the Washington Legislature comes through with increased funding to help them serve young kids, and keep them safe, amid continuing concerns over COVID-19.
The Washington State Association of Head Start and ECEAP released survey data April 14 showing that ECEAP, Washington's state funded preschool program, has seen an average increase in costs of 38%, primarily in cleaning materials and protective equipment for staff, technology to support home learning, and individualized early learning supplies. Almost 30% of ECEAP programs have made improvements such as ventilation to improve air quality in their facilities.
Advocates have their eyes on the With ECEAP programs eager to reopen onsite services, and serve more children, WSA is grateful that Governor Inslee, and early childhood champions in the state legislature, have taken bold and ambitious steps this session to expand early learning through the Fair Start for Kids Act, a plan before the Legislature to support the children and families that ECEAP serves.
North Redmond tops website's "best places" ranking
March 31: The ranking and review website Niche has declared North Redmond the Washington state winner of its Best Places to Raise a Family ranking. Niche says the ranking is based on both data and resident reviews. However, with a median home value of $941,228 and median rent of $3,333, north Redmond will be out of reach for many families. Here's the full top 5:
North Redmond
Sammamish Plateau
Sammamish Valley
Education Hill
Overlake
Online event to focus on teen and tween mental health
March 29: Tweens and teens and their grown-ups are invited to "Ending the Silence," a presentation on early warning signs of poor mental health (plus the opportunity for kids to ask questions, learn coping strategies and get basic information on mental health treatments). The online event on March 29 from 6:30 p.m. to 8 p.m. is geared toward tweens and teens in grades six through 12.
You can sign up for the online event here.
The presentation is being hosted by PNW Parent Education and the National Alliance on Mental Illness Seattle. The goal is to open up larger discussions about the importance of mental health and mental health awareness, especially during COVID.  
SPS deal on in-person learning for elementary school
March 17: Seattle Public Schools and its teachers reached a tentative agreement March 16 on details for a return to in-person learning.
The matter was made more urgent by Gov. Jay Inslee's recent executive order directing schools to offer some in-person learning by April 19.
The new agreement, which still needs a vote of the full Seattle Education Association, sets a schedule for bringing all elementary-grade special-education students back into classrooms on March 29, followed by other elementary students on April 5. (Families will have the option to continue remote learning.) Details are still being worked out, but generally, the plan is for a hybrid model where students would attend either morning or afternoon in-person class four days a week, with remote teaching on Wednesdays.
In-person instruction at the middle- and high-school level will be the subject of a separate negotiation.

MOHAI reopening
Seattle's Museum of History and Industry (MOHAI) joins the list of places reopening for in-person visits.
MOHAI will reopen to the public on Friday, April 2, after three member-only days Saturday through Monday, March 27-29.
Hours will be 10 a.m. to 5 p.m. Thursday through Monday. Timed tickets and masks are among the requirements. Full details here.
And here's our roundup on reopenings across the area.
Schools update
Amid the push to return to in-person learning, it can be difficult to keep up with developments in various districts. Here's the latest from some of the biggest ones around Seattle:
Seattle Public Schools: Seattle is hoping to have preK through first grade in class on Monday, March 8, pending an agreement with the teachers union. That was pushed back from the original target date of March 1.
Lake Washington School District kindergartners and first-graders are in classrooms; second and third are due back March 18-19; and fourth and fifth March 29-30. This is on a staggered, hybrid schedule.
Highline School District has targeted April 19 for a return, after teachers rejected a plan to come back sooner.
Kent School District is tentatively scheduled to begin its hybrid return to in-person learning on March 22.
Federal Way Public Schools are planning to phase in a hybrid model with preK-first grade beginning March 15; second and third grades March 29; and fourth and fifth grades April 19.
Spring Fecal Fest at Woodland Park
It's time to sign up for your chance to buy Zoo Doo, the coveted compost produced at Woodland Park Zoo.
Demand is typically greater than supply, so there's a lottery system. Sign up until March 15. Socially distant pickup will be April 10-18. Prices start at $12 for 10 gallons. Smaller quantities are available in the Zoo Store.
'Lunch and Learn: Re-Opening Schools Amidst a Pandemic'

There will be a virtual Lunch and Learn event on Wednesday, Feb. 17, from 12 p.m. to 1:30 p.m.
This month's topic will be "Re-Opening Schools Amidst a Pandemic." The panic will be discussing the implication and procedures of reopening schools amidst a pandemic — and what effect that will have on students and families
The Zoom event is hosted by the Equity in Education Coalition and The Racial Equity Team and each month's events focus on subjects that disproportionately impact children and families of color.
The event is open to everyone.
Panelists:
1. Angel Asuncion-Reed,
Parent, Bellevue School District, Seattle University, assistant director, Clubs and Leadership Center for Student Involvement
2. Jennifer Matter, president, Seattle Education Association
3. Aaron Garcia, Highline School Board member
4. James Bible, Attorney, James Bible Law Group
5. Maddy Thompson, executive policy director for education and Higher Education Office of Gov. Inslee
Sign up here for Zoom information: https://eec-wa.org/event/re-opening-schools-amidst-a-pandemic-lunch-and-learn/
Baby gorilla born at Woodland Park
Western lowland gorilla Nadiri gave birth to a baby girl at 10:25 p.m. Friday, January 29. The baby girl is Nadiri's second offspring, her first with father Kwame.
Zoo staff have been helping to care for the baby and hoping that Nadiri will show maternal instincts. The baby is doing well. They are not on public view for now, but the zoo will provide updates on its Growing up Gorilla blog.

Save the date: NW Folklife
The 50th Annual Northwest Folklife Festival is again set for Memorial Day weekend, May 28-31, 2021 … in the comfort of your home! For the second year, it will be a virtual event at (the newly redesigned) nwfolklife.org. The full list of participating artists will be announced May 1.
Organizers recently unveiled the poster celebrating the event's half-century mark and emphasizing the role of folklife in all of our lives.
The poster was created by Robert L. Horton, a Seattle native and longtime professional artist. His work has been seen around the region, including in several community projects.
Juicy Juice art contest for kids
Here's an activity for your artistic child: Design juice boxes!
The makers of Juicy Juice are holding the Happy Artist Contest, offering the chance for budding artists to have their work featured on juice packs. Prizes will be gift cards to be spent on art supplies.
Deadline is Feb. 28. Find templates and full details here.
Snapdoodle Toys to add kids' salon
Local favorite Snapdoodle Toys is adding hair-cutting services to its Seattle store in early February.
The move comes as Karla Easton, owner of Kid's Club at University Village, decided to retire and close her business. Snapdoodle promises "a relaxing and fun hair-cutting experience for babies through teens" including professional stylists, kid-sized salon chairs and wash stations and a fun environment.
Snapdoodle will announce grand-opening details later.
Free kids' meal Thursday at Due Cucina Kirkland
Due Cucina has opened a second location in The Village at Totem Lake in Kirkland, and to celebrate it is offering a free kids' pasta meal (with purchase of two regular dishes) at the Kirkland location on Thursday (Jan. 14).
Due Cucina is a quick casual restaurant serving house made pasta, salads and desserts. Its first location, on Seattle's Capitol Hill at 412 Broadway East, opened in 2016. The new location is at 12670 120th Ave. N.E., Suite 170, Kirkland. WA 98034.
Hours are 11:30 a.m.-9 p.m.; online ordering is available.
SPS extends survey deadline
Seattle Public Schools has extended the deadline to complete a survey about the return to in-person learning.
The survey was sent last week to families with students in preschool, kindergarten, first grade and intensive special education, the first groups targeted to return to school buildings. The survey must be completed by noon Wednesday (Jan. 13).
Families who don't respond will be contacted directly. Here's where to find the latest on plans to resume in-person school.
Time to think about the 2021-22 school year
If you need to enroll a child in Seattle Public Schools for next year, here are key dates in the process.
Students living in Seattle are guaranteed a school assignment based on their home address, or
they will be placed at the school best able to serve their needs.
• Online registration for new students for the 2021-22 school year begins Jan. 4, 2021. Any child who is 5 years old by Aug. 31 can start kindergarten.
• Open Enrollment for School Choice is Feb. 1-19, 2021.
• School Choice window closes May 31, 2021.
• Non-Seattle resident enrollment is June 1-Aug. 31, 2021.
Full details can be found online here.
Expert advice on kids' diet
The new edition of Dietary Guidelines for Americans came out this week (Dec. 29) and some of the things that caught our eye included a strong recommendation that babies receive only breast milk for the first six months of life (followed by the gradual introduction of nutrient-dense solids), and also this easier-said-than-done tip: no added sugar for the first two years.
The U.S. Departments of Agriculture and Health and Human Services update and release the Dietary Guidelines for Americans every five years based on the current body of nutrition science.
Coloring app helps Seattle Aquarium
This looks like fun! Sea Color is an interactive, digital coloring book for tablets and phones inspired by the Seattle Aquarium. Digital coloring enthusiasts of all ages can use a finger or stylus to select colors and brush sizes, fill and shade areas, add stickers, and save or share their work. After downloading the app, users get a free otter-themed coloring page and the opportunity to download additional coloring page bundles starting at $2.99. Proceeds from coloring bundles will benefit the Seattle Aquarium which, like many nonprofits and local institutions, has struggled financially this year as visitors have either been forbidden or limited. Here's how to get the app.
Free LEGO kits from the roving LEGO truck
The LEGO Group's LEGO truck will be giving out free minibuilds starting on Sunday, Dec. 2o. The local giveaway concludes on Wednesday, Dec. 23.
It's part of the Build to Give Campaign. Kids are given one kit plus one for a friend. If each child posts the finished project on social media, the campaign, through its charity partners, will then give a LEGO gift to a child in need of play.
Here's where the truck will visit:
Sunday, December 20
Haller Lake Community Club (12579 Densmore Ave. N, Seattle, WA 98133)
11:00 AM – 1:00 PM
Math 'n' Stuff Center (8926 Roosevelt Way NE, Seattle, WA 98115)
2:00 PM – 4:00 PM

Monday, December 21
Beaumont Apartments (14001 NE 183rd St, Woodinville, WA 98072)
11:00 AM – 1:00 PM
Vue 22 Apartments (2170 Bel-Red Rd, Bellevue, WA 98007)
2:00 PM – 4:00 PM
 Tuesday, December 22
Reunion at Redmond Ridge Apartments (11315 Trilogy Parkway NE, Redmond, WA 98053)
9:30 AM – 10:15 AM
Rainier Valley Neighborhood (8318 Renton Ave S, Seattle, WA 98118)
11:30 AM – 1:00 PM
Tivalli Apartments (1563 Ash Way, Lynnwood, WA 98087)
2:00 PM – 4:00 PM
Bowling Green Apartments (3310 East Spring St, Seattle, WA 98122)
5:00 PM – 7:00 PM
Wednesday, December 23
The Blvd at South Station (4708 Southcenter Blvd, Tukwila, WA 98188)
11:00 AM – 1:00 PM
Discovery Landing Apartment Homes (15405 Des Moines Memorial Drive, Burien, WA 98148)
2:00 PM – 4:00 PM
Toy drive update
Snapdoodle Toys is helping Q13 FOX and Les Schwab Tires collect toys for kids this holiday. They report that, to date, customers have purchased more than 650 toys worth more than $13,000.
Tuesday, Dec. 15, is the last day to go online and donate, which they have made super easy.
And here's more info on that and other holiday toys drives this year.
2 new ways to get food delivered
We hear about a lot of new businesses in our area. Here are two new, food-related offerings that might be of interest to families, especially during this era of spending so much time at home:
MilkRun, a farm-to-you delivery service offering weekly subscription boxes including of pasture-raised meats, seasonal produce and locally baked bread. It's a company that started in Portland and is expanding.
The Homegrown Group, known for its sustainable sandwich shops, now is offering chef-created meal options — both easy-to-prepare and ready to eat — for home delivery.
Salt & Straw opens in Kirkland
Salt & Straw, the popular Portland-based ice cream company, opens in Kirkland on Friday (Nov. 20) in the Village at Totom Lake, 12620 120th Ave. N.E. It will feature Salt & Straw's 10 classic flavors (including Sea Salt with Caramel Ribbons, Chocolate Gooey Brownie and Honey Lavender), plus special local flavors that feature regional collaborations with purveyors including Westland Whiskey and Beecher's Cheese. There also are Thanksgiving flavors including Salted Caramel Thanksgiving Turkey and Sweet Potato Casserole. If you try those, let us know how you like them, OK? In the meantime, here's what we've written about Salt & Straw in the past. (They're already in Ballard and Capitol Hill.)
Casting call!
The casting company Genuine is looking for parents with babies up to 12 months to participate in a video project and trial for a baby wash and lotion made by what it describes as "a major beauty brand." The first step is to fill out an online questionnaire to see if you're what they're looking for. Some people will be selected to complete a one-week video diary. Organizers say they're looking for "a lot" of people, so don't assume you wouldn't be picked.
Free parking on Seattle waterfront
The Seattle waterfront is open — for shopping, eating or a scenic stroll.
To encourage people to visit, merchants are offering up to three hours of free parking. Here's how it works: Visitors should use one of these three garage entrances: 1530 Alaskan Way; 1531 Western Ave.; or 1901 Western Ave. Pull a ticket from the machine, and keep it safe. (The press release says, "Don't dip it in chowder," which also seems to be a suggestion for a waterfront activity. We see what you did there, Ivar's.) Visit a participating waterfront store, attraction, or restaurant and ask for a parking voucher, which is to be inserted into the machine slot right after the entry ticket.
Full details, including maps, here.
School named to honor racial-justice champion
The Seattle School Board has honored lifelong education advocate Alan T. Sugiyama by renaming South Lake High School to Alan T. Sugiyama High School at South Lake.
Sugiyama spent his life advocating for racial justice and educational for all people, starting with his time at Seattle Central College and the University of Washington. In 1989, he became the first Asian American person to serve on the Seattle School Board, where he advocated for equity in Seattle Public Schools during his two terms. He died in 2017.
Grant will help Woodland Park boost inclusion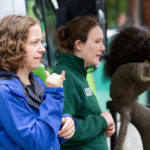 Woodland Park Zoo is creating a Guest Inclusion Program thanks to a grant from the Institute of Museum and Library Services that will help it build on its existing commitment to inclusion through specialized training for staff, assessment of programs and creation of new ones. A previous grant helped launch the Volunteer Inclusion Program.
The next step is to develop lessons and assessments aimed at giving all people, regardless of ability, equal opportunities to engage.
The zoo has already made several advancements in this area, including establishing an internal Diversity & Inclusion Council; overhauling the zoo's accessibility webpage; developing a sensory map for zoo visitors; and offering access to sensory tools.
Locust Cider opens new Seattle taproom
Local, family-friendly Locust Cider & Brewing Co. is opening another Seattle taproom. The First Hill Seattle location joins existing facilities in Ballard, Alki and downtown, plus locations in Woodinville, Tacoma, Vancouver, Spokane and Walla Walla.
Each one offers 16 beers and ciders on tap plus a food menu including flatbread pizzas and savory snacks. They have a kid's corner with activities, plus retro video games for all ages.
They are following state mandates for COVID safety including distancing, masking and sanitizing; takeout also is available.
The new First Hill Taproom is at 500 Terry Ave., near Harborview Medical Center.
More about the company in this article and on their website.
Library gains impressive Seattle history collection
Seattle Public Library has received an impressive gift that will help anyone who wants to learn more about Seattle.
Local historian and photographer Paul Dorpat has donated his entire collection, which includes thousands of photos, negatives, art, prints, postcards, film, video, audio, books and other materials.
Library officials expect that it will take several months to process and organize the gift and figure out how to make it available to the public.
Stay tuned.