The latest news for families in the Seattle area:
Hey, teens: Help shape your city!
The city of Seattle is now accepting applications for the Seattle Youth Commission (SYC), a 15-member commission of youths ages 13-19 that advises the city on issues. Terms are for two years, and meetings are twice a month on Monday afternoons. The deadline to apply is 5 p.m. Wednesday, Nov. 4. Interviews will be held Nov. 9 and 10. Details and application info here.
6 Seattle playfields to get new turf
Seattle Parks and Recreation will install new, state-of-the-art synthetic turf systems at six playfields, which will be closed for the work this fall as follows:
Lower Woodland Playfield No. 2 and No. 7: Closed mid-October through December.
Magnuson Park Mickey Merriam Playfields 6 and 7: Closed September through December.
Loyal Heights Playfield: Closed September through November.
Queen Anne Bowl Playfield: Closed October through November.
2121 calendar features Washington State Parks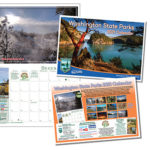 Start your holiday shopping early with the new Washington State Parks 2021 wall calendar. It has color photos representing highlights of the park system, including an unusual wintry scene from Ocean City State Park, the grandeur of Palouse Falls State Park and mist rising from the Spokane River at Bowl and Pitcher. The calendar sells for $21.50 (plus tax), with discounts for purchase of multiple calendars. Here's the link to purchase online. (Why not pair it with a state parks guidebook?)
Panel on disabilities and inclusion
Little Bit Therapeutic Riding Center in Redmond is holding a virtual panel on removing barriers to inclusion, and everyone is invited. It will be held at noon Wednesday (Oct. 14.) Organizers say: "Business leaders, workplace colleagues, adults with disabilities, and parents of children with disabilities will leave this energizing event with new insights, perspectives, and actionable steps." Here's how to sign up.
And here is more on Little Bit center and its amazing programs.
A baby gorilla on the way!
Woodland Park Zoo gorilla Nadiri is expecting her second baby in late February/early March 2021. The gestation period for gorillas is eight to nine months, similar to humans. The new baby sister or brother for Yola, who turns 5 in November, will be the first offspring between 24-year-old Nadiri and 20-year-old Kwame.
Parks news
Seattle Parks & Recreation announced that playgrounds will reopen Tuesday, Oct. 6. Here are the health guidelines.
Also, Washington State Parks have free admission on Saturday, Oct. 10.
Nominate a Teacher of the Week
Teachers are working extra hard, and in different ways, to teach kids remotely this fall. Nominate a teacher you know for Teacher of the Week honors from KIRO and WSECU. Contest details say they're looking for teachers who are "benefiting lives and changing the community." That could be practically every teacher out there, couldn't it? Check out the rules and nominate a teacher for a well-deserved honor.
Happy birthday, Snapdoodle Issaquah!
Snapdoodle Toys is celebrating the one-year anniversary of its Issaquah location with drawings, prizes, games, cotton candy and — of course — specials! Hours are 10 a.m.-7 p.m. Saturday, 10 a.m.-5 p.m. Sunday. Snapdoodle also has locations in Seattle, Redmond and Kenmore, plus online shopping.
You can take school/work on the road
Give them credit for creativity: Semiahmoo Resort in Blaine is offering what it calls a "School by the Sea" package in which it invites families to use the resort as a change-of-scenery homebase for remote school (and, presumably, working from "home"). The packages include a kids' activity kit, voucher for a box lunch and a beachside location with bonfires for s'mores. Reservations are required. We plugged in a couple of weekday dates just for fun (we love doing that), and the rate for two adults and two kids was $169-$189 per night plus a $25-per-night resort fee.
Nordstrom helps Seattle kids through Shoes That Fit program
Even with most kids learning at home, Nordstrom is continuing its effort to provide shoes for kids who need them. Nordstrom has since 2010 been part of the Shoes That Fit program, which has given more than 200,000 pairs of shoes to children nationwide. It looked a little different this year: Nordstrom said 200 kids and their families showed up for a festive event at Seattle's Bailey-Gatzert Elementary on Oct. 1, and more shoes will be delivered to kids next week.
You can help: Through October 4, customers can purchase $10 giving cards in all Nordstrom stores or donate online.
Learning hubs (and lunch) for teens and tweens
Does your child need help with remote schooling?
Community centers in Seattle are opening hubs to help Seattle Public Schools students in middle school and high school with online learning. The sites are spread throughout the city at seven sites (at Magnuson Community Center, Meadowbrook Teen Life Center, Garfield Teen Life Center, Miller Community Center, Southwest Teen Life Center, Bitter Lake Community Center and South Lake High School) and will offer free lunch as well. Wi-Fi will be available, as well as in-person tech help, academic support, and recreation and mentoring programs. There will be daily health evaluations and temperature checks as well as enforced social distancing. Each student should bring a laptop or tablet and wear a mask. For more information on how to enroll a child, go to the Seattle Parks and Recreation information page.
Free parking on Seattle waterfront
The Seattle waterfront is open — for shopping, eating or a scenic stroll.
To encourage people to visit, merchants are offering up to three hours of free parking. Here's how it works: Visitors should use one of these three garage entrances: 1530 Alaskan Way; 1531 Western Ave.; or 1901 Western Ave. Pull a ticket from the machine, and keep it safe. (The press release says, "Don't dip it in chowder," which also seems to be a suggestion for a waterfront activity. We see what you did there, Ivar's.) Visit a participating waterfront store, attraction, or restaurant and ask for a parking voucher, which is to be inserted into the machine slot right after the entry ticket.
Full details, including maps, here.
School named to honor racial-justice champion
The Seattle School Board has honored lifelong education advocate Alan T. Sugiyama by renaming South Lake High School to Alan T. Sugiyama High School at South Lake.
Sugiyama spent his life advocating for racial justice and educational for all people, starting with his time at Seattle Central College and the University of Washington. In 1989, he became the first Asian American person to serve on the Seattle School Board, where he advocated for equity in Seattle Public Schools during his two terms. He died in 2017.
Temporary art in Tacoma parks
A program called Public Art Reaching Community (PARC), has resulted in unique art exhibits that can be seen in several Tacoma public spaces. They are:
"I Love All of You," by Gerardo Peña aka Periko the Artist. Roof of First United Methodist Church, 621 Tacoma Ave. S.; Sept. 10-30. A giant papier-mâché megaphone announces to the community "I LOVE ALL OF YOU," in LED lights.
"You'll Heal Tacoma," by Jessica Spring, Stanley Playfield, 1712 S. 17th St.; Sept. 12-20. "You'll Heal Tacoma" is made up of nearly 300 posters with that message rolled up to collectively spell the healing message in 4-foot letters. (History note: It's an homage to the "You'll Like Tacoma" signage featured at the 1909 Alaska Yukon Exposition.) People are encouraged to remove one letterpress printed poster to take home, then replace it with their own message of healing (tools provided).
"I Am Here for You," by Sophia Munic. A short video compilation of people interacting with soft sculptures, crafted to represent "hugs." The video debuts Oct. 1 on the artist's website.
Grant will help Woodland Park boost inclusion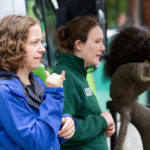 Woodland Park Zoo is creating a Guest Inclusion Program thanks to a grant from the Institute of Museum and Library Services that will help it build on its existing commitment to inclusion through specialized training for staff, assessment of programs and creation of new ones. A previous grant helped launch the Volunteer Inclusion Program.
The next step is to develop lessons and assessments aimed at giving all people, regardless of ability, equal opportunities to engage.
The zoo has already made several advancements in this area, including establishing an internal Diversity & Inclusion Council; overhauling the zoo's accessibility webpage; developing a sensory map for zoo visitors; and offering access to sensory tools.
Locust Cider opens new Seattle taproom
Local, family-friendly Locust Cider & Brewing Co. is opening another Seattle taproom. The First Hill Seattle location joins existing facilities in Ballard, Alki and downtown, plus locations in Woodinville, Tacoma, Vancouver, Spokane and Walla Walla.
Each one offers 16 beers and ciders on tap plus a food menu including flatbread pizzas and savory snacks. They have a kid's corner with activities, plus retro video games for all ages.
They are following state mandates for COVID safety including distancing, masking and sanitizing; takeout also is available.
The new First Hill Taproom is at 500 Terry Ave., near Harborview Medical Center.
More about the company in this article and on their website.
Library gains impressive Seattle history collection
Seattle Public Library has received an impressive gift that will help anyone who wants to learn more about Seattle.
Local historian and photographer Paul Dorpat has donated his entire collection, which includes thousands of photos, negatives, art, prints, postcards, film, video, audio, books and other materials.
Library officials expect that it will take several months to process and organize the gift and figure out how to make it available to the public.
Stay tuned.
Seattle parks, zoo closed because of smoky air
Update, Tuesday: Seattle parks will be closed through at least Wednesday amid continuing unhealthy air. The closure includes beaches, boat ramps, parks, specialty gardens, golf courses and playfields. Park restrooms will be open.
Woodland Park Zoo has announced that it also will be closed to visitors again Wednesday and Thursday, but emphasizes that animal-care teams will be on the job. People who reserved tickets will be contacted for refunds or rescheduling.
Related: Ideas for having fun, staying active while stuck inside.
FREE saxophone lessons starting Sept. 14
Professional saxophonist Michael Brockman, who is the co-artistic director of  Seattle Repertory Jazz Orchestra (SRJO) as well as a University of Washington School of Music professor, and a Seattle Jazz Hall of Famer, decided he wanted to do something special to help kids during the pandemic.
Starting Monday, September 14, at 4 pm, Dr. Brockman will begin teaching free 30-minute beginner saxophone classes on Zoom. Any child, anywhere in the world, can tune in to enjoy music lessons, given by a world-class musician. Participating kids will be taught as a group, all together during the lesson.
Deadline Friday to apply for food aid
Cash assistance for buying food is available for local families, but the deadline is 5 p.m. Friday, Sept. 11.
The Pandemic Electronic Benefits Transfer (P-EBT) Emergency School Meals Program. is part of a Washington state program funded by the USDA. Eligible families can receive a one-time payment of as much as $399 per child, depending on their qualification for the free- and reduced-price meal program. Those who apply will not be asked about immigration status or citizenship.
Families can check eligibility and apply online or by calling 877-501-2233 (translations available).
Point Defiance resumes shark dives
Add "shark dives" to the list of activities resuming in the Puget Sound area.
These shark dives are at Point Defiance Zoo & Aquarium, which reopened to visitors this summer.
Eye-to-Eye Shark Dives, which resume Sept. 10, are a 60-minute adventure in which up to four people from the same household will descend, inside a cage, into the South Pacific Aquarium's Outer Reef habitat for a close encounter with more than a dozen sharks.
Find details on safety protocols and how to get tickets ($210 for a group with a zoo membership, $255 for nonmembers; zoo admission included). Kids must be at least 8.
Take a hike on a reading adventure with PopUp StoryWalk
PopUp StoryWalk brings books outdoors at various parks around King County. Hike along a trail to read a deconstructed picture book, installed into the ground. Begin your walk at the start of the story, reading along the way and end the book at the end of the trail. Movement, literacy and the thrill of finding the next page will engage and occupy your family for fun outdoors, rain or shine! Current installations are at Richmond Beach Community Park and Peter Kirk Park. Read more about PopUp StoryWalk. Get Outdoors! Get Reading!
King County passes major education funding plan
On Tuesday, Sept 1, the King County Council unanimously passed the implementation plan for the Puget Sound Taxpayer Accountability Account (PSTAA), which will invest approximately $318 million over 15 years to improve educational outcomes for King County students.
The implementation plan guides how the funds will be invested across three strategies:
Early learning facilities will receive 52% of the funding and will fund construction and renovations of early learning and early intervention facilities, as well as homebased childcare services. The King County Promise will receive 38% of the funding and will provide services that support young people starting in high school through postsecondary acceptance and completion. K-12 community-based organizations will receive 10% of the funding and will initially fund a pilot called "Love and Liberation", where Black, Indigenous, and People of Color-led organization will provide programs to youth in their communities that focus on positive racial and ethnic identity development.
PSTAA was created by the Washington State Legislature as an amendment to the 2015 State Transportation Revenue Package. It directs that a portion of Sound Transit-related funds be used for educational services to improve educational outcomes in early learning, K-12, and post-secondary education. The funds are allocated to counties located within the Sound Transit district who then decide how to allocate them for educational purposes.
Robot vs. Sloth gets creative
It's tough to run a business these days, but Robot vs Sloth, a charming shop in Pike Place Market, is getting creative and trying to help keep everyone's spirits up.
Artist/owner La Ru (Lauren Rudeck) set out to "turn boring into cute" with custom social-distancing signs in the shop, scratch-off games ("each card is a winner") for people waiting to enter, and fun custom masks for both kids and adults.
The store also offers online shopping as well as personalized virtual shopping by appointment.
If you haven't already, check out their website and learn the "history" of "Seattle's terrible sloth problem."
Seattle Parks and Rec wants your input
Seattle Parks and Recreation encourages the community to take this short survey to provide feedback on the upcoming renovations at Genessee Playfield (4301 S. Genesee St., Seattle) including a modernized, all-gender comfort station/restroom and new play equipment that will provide opportunities for all abilities and meet the accessibility standards of the Americans with Disabilities Act (ADA). The design team especially wants to know what types of play elements you would like to see in the new play area.
The survey is open until Friday, Sept. 11. Please visit the park and share this survey with your neighbors!  For more information about the project go here or contact Libby Hudson at libby.hudson@seattle.gov or 206-256-5988.
School in Seattle starts Sept. 4
Seattle schools have finalized some details about the upcoming, remote (to start with) school year:
Students in grades 1-12 will start Friday, Sept. 4. (Preschool and kindergarten will start Tuesday, Sept. 8.)
The first week has been designated "strong start" and will involve short days to help everyone get acclimated.
Also, "bell times" have changed. Here's the schedule:
Elementary and K-8: 8:30 a.m.-3 p.m. (Mon-Tue, Thur-Fri); 8:30 a.m.-1:45 p.m. (Wed).
Middle and high school: 9 a.m.-3:50 p.m. (Mon-Tue, Thur-Fri); 9 a.m.-2:35 p.m. (Wed).
Full details can be found on the district's website.
It's Zoo Doo time!
Even though Woodland Park Zoo was closed to visitors for months (it's open now), the animals didn't stop — ahem — pooping.
Which means it must be time for the zoo's yearly Fall Fecal Fest, in which you can enter online for the chance to the exotic, highly coveted Zoo Doo, a nutritious compost that the zoo describes as "sweet and aromatic," perfect for fall planting. If you want to really get into the details, some of the contributors to Zoo Doo include the new baby tapir, pudu fawn and mountain goat kid, rhinos, hippos, giraffes, zebras and more.
Applications will be accepted throgh Sept. 6, and you can get all of the details here.
Toy store to yourself? Yes, please!
Puget Sound-area retailer Snapdoodle Toys has introduced a new service for people wanting to make purchases without encountering crowds.
Snapdoodle, which already had quickly added online shopping and curbside pickup to its offerings, now is offering nine weekly, 40-minute private-shopping sessions at its locations in Seattle, Kenmore, Redmond and Issaquah. The shopping sessions are before and after store hours: 9:15 a.m., 6:15 p.m. and 7 p.m.
Check online or call one of the stores to reserve.
Washington expands newborn screening
Washington state has added spinal muscular atrophy (SMA) to the list of conditions for which it screens newborn babies. More than half of U.S. states already were testing for SMA, which occurs in approximately 1 in 11,000 births and is the leading genetic cause of infant death. Early diagnoses can stop progression of the disease, which robs infants of valuable motor neurons that allow them to walk, sit and even breathe. The change in Washington screening took effect Aug. 1.
Elizabeth, in photo, was diagnosed with SMA last spring at 9 months when her mom noticed she was shaking and losing strength. She is making progress in treatment and now can pull herself up, sit unsupported for 20 minutes, kick her legs, and flip from her stomach to her back.