The latest news for families in the Seattle area:
North Redmond tops website's "best places" ranking
March 31: The ranking and review website Niche has declared North Redmond the Washington state winner of its Best Places to Raise a Family ranking. Niche says the ranking is based on both data and resident reviews. However, with a median home value of $941,228 and median rent of $3,333, north Redmond will be out of reach for many families. Here's the full top 5:
North Redmond
Sammamish Plateau
Sammamish Valley
Education Hill
Overlake
Online event to focus on teen and tween mental health
March 29: Tweens and teens and their grown-ups are invited to "Ending the Silence," a presentation on early warning signs of poor mental health (plus the opportunity for kids to ask questions, learn coping strategies and get basic information on mental health treatments). The online event on March 29 from 6:30 p.m. to 8 p.m. is geared toward tweens and teens in grades six through 12.
You can sign up for the online event here.
The presentation is being hosted by PNW Parent Education and the National Alliance on Mental Illness Seattle. The goal is to open up larger discussions about the importance of mental health and mental health awareness, especially during COVID.  
SPS deal on in-person learning for elementary school
March 17: Seattle Public Schools and its teachers reached a tentative agreement March 16 on details for a return to in-person learning.
The matter was made more urgent by Gov. Jay Inslee's recent executive order directing schools to offer some in-person learning by April 19.
The new agreement, which still needs a vote of the full Seattle Education Association, sets a schedule for bringing all elementary-grade special-education students back into classrooms on March 29, followed by other elementary students on April 5. (Families will have the option to continue remote learning.) Details are still being worked out, but generally, the plan is for a hybrid model where students would attend either morning or afternoon in-person class four days a week, with remote teaching on Wednesdays.
In-person instruction at the middle- and high-school level will be the subject of a separate negotiation.

MOHAI reopening
Seattle's Museum of History and Industry (MOHAI) joins the list of places reopening for in-person visits.
MOHAI will reopen to the public on Friday, April 2, after three member-only days Saturday through Monday, March 27-29.
Hours will be 10 a.m. to 5 p.m. Thursday through Monday. Timed tickets and masks are among the requirements. Full details here.
And here's our roundup on reopenings across the area.
Schools update
Amid the push to return to in-person learning, it can be difficult to keep up with developments in various districts. Here's the latest from some of the biggest ones around Seattle:
Seattle Public Schools: Seattle is hoping to have preK through first grade in class on Monday, March 8, pending an agreement with the teachers union. That was pushed back from the original target date of March 1.
Lake Washington School District kindergartners and first-graders are in classrooms; second and third are due back March 18-19; and fourth and fifth March 29-30. This is on a staggered, hybrid schedule.
Highline School District has targeted April 19 for a return, after teachers rejected a plan to come back sooner.
Kent School District is tentatively scheduled to begin its hybrid return to in-person learning on March 22.
Federal Way Public Schools are planning to phase in a hybrid model with preK-first grade beginning March 15; second and third grades March 29; and fourth and fifth grades April 19.
Spring Fecal Fest at Woodland Park
It's time to sign up for your chance to buy Zoo Doo, the coveted compost produced at Woodland Park Zoo.
Demand is typically greater than supply, so there's a lottery system. Sign up until March 15. Socially distant pickup will be April 10-18. Prices start at $12 for 10 gallons. Smaller quantities are available in the Zoo Store.
'Lunch and Learn: Re-Opening Schools Amidst a Pandemic'

There will be a virtual Lunch and Learn event on Wednesday, Feb. 17, from 12 p.m. to 1:30 p.m.
This month's topic will be "Re-Opening Schools Amidst a Pandemic." The panic will be discussing the implication and procedures of reopening schools amidst a pandemic — and what effect that will have on students and families
The Zoom event is hosted by the Equity in Education Coalition and The Racial Equity Team and each month's events focus on subjects that disproportionately impact children and families of color.
The event is open to everyone.
Panelists:
1. Angel Asuncion-Reed,
Parent, Bellevue School District, Seattle University, assistant director, Clubs and Leadership Center for Student Involvement
2. Jennifer Matter, president, Seattle Education Association
3. Aaron Garcia, Highline School Board member
4. James Bible, Attorney, James Bible Law Group
5. Maddy Thompson, executive policy director for education and Higher Education Office of Gov. Inslee
Sign up here for Zoom information: https://eec-wa.org/event/re-opening-schools-amidst-a-pandemic-lunch-and-learn/
Baby gorilla born at Woodland Park
Western lowland gorilla Nadiri gave birth to a baby girl at 10:25 p.m. Friday, January 29. The baby girl is Nadiri's second offspring, her first with father Kwame.
Zoo staff have been helping to care for the baby and hoping that Nadiri will show maternal instincts. The baby is doing well. They are not on public view for now, but the zoo will provide updates on its Growing up Gorilla blog.

Save the date: NW Folklife
The 50th Annual Northwest Folklife Festival is again set for Memorial Day weekend, May 28-31, 2021 … in the comfort of your home! For the second year, it will be a virtual event at (the newly redesigned) nwfolklife.org. The full list of participating artists will be announced May 1.
Organizers recently unveiled the poster celebrating the event's half-century mark and emphasizing the role of folklife in all of our lives.
The poster was created by Robert L. Horton, a Seattle native and longtime professional artist. His work has been seen around the region, including in several community projects.
Juicy Juice art contest for kids
Here's an activity for your artistic child: Design juice boxes!
The makers of Juicy Juice are holding the Happy Artist Contest, offering the chance for budding artists to have their work featured on juice packs. Prizes will be gift cards to be spent on art supplies.
Deadline is Feb. 28. Find templates and full details here.
Snapdoodle Toys to add kids' salon
Local favorite Snapdoodle Toys is adding hair-cutting services to its Seattle store in early February.
The move comes as Karla Easton, owner of Kid's Club at University Village, decided to retire and close her business. Snapdoodle promises "a relaxing and fun hair-cutting experience for babies through teens" including professional stylists, kid-sized salon chairs and wash stations and a fun environment.
Snapdoodle will announce grand-opening details later.
Free kids' meal Thursday at Due Cucina Kirkland
Due Cucina has opened a second location in The Village at Totem Lake in Kirkland, and to celebrate it is offering a free kids' pasta meal (with purchase of two regular dishes) at the Kirkland location on Thursday (Jan. 14).
Due Cucina is a quick casual restaurant serving house made pasta, salads and desserts. Its first location, on Seattle's Capitol Hill at 412 Broadway East, opened in 2016. The new location is at 12670 120th Ave. N.E., Suite 170, Kirkland. WA 98034.
Hours are 11:30 a.m.-9 p.m.; online ordering is available.
SPS extends survey deadline
Seattle Public Schools has extended the deadline to complete a survey about the return to in-person learning.
The survey was sent last week to families with students in preschool, kindergarten, first grade and intensive special education, the first groups targeted to return to school buildings. The survey must be completed by noon Wednesday (Jan. 13).
Families who don't respond will be contacted directly. Here's where to find the latest on plans to resume in-person school.
Time to think about the 2021-22 school year
If you need to enroll a child in Seattle Public Schools for next year, here are key dates in the process.
Students living in Seattle are guaranteed a school assignment based on their home address, or
they will be placed at the school best able to serve their needs.
• Online registration for new students for the 2021-22 school year begins Jan. 4, 2021. Any child who is 5 years old by Aug. 31 can start kindergarten.
• Open Enrollment for School Choice is Feb. 1-19, 2021.
• School Choice window closes May 31, 2021.
• Non-Seattle resident enrollment is June 1-Aug. 31, 2021.
Full details can be found online here.
Expert advice on kids' diet
The new edition of Dietary Guidelines for Americans came out this week (Dec. 29) and some of the things that caught our eye included a strong recommendation that babies receive only breast milk for the first six months of life (followed by the gradual introduction of nutrient-dense solids), and also this easier-said-than-done tip: no added sugar for the first two years.
The U.S. Departments of Agriculture and Health and Human Services update and release the Dietary Guidelines for Americans every five years based on the current body of nutrition science.
Coloring app helps Seattle Aquarium
This looks like fun! Sea Color is an interactive, digital coloring book for tablets and phones inspired by the Seattle Aquarium. Digital coloring enthusiasts of all ages can use a finger or stylus to select colors and brush sizes, fill and shade areas, add stickers, and save or share their work. After downloading the app, users get a free otter-themed coloring page and the opportunity to download additional coloring page bundles starting at $2.99. Proceeds from coloring bundles will benefit the Seattle Aquarium which, like many nonprofits and local institutions, has struggled financially this year as visitors have either been forbidden or limited. Here's how to get the app.
Free LEGO kits from the roving LEGO truck
The LEGO Group's LEGO truck will be giving out free minibuilds starting on Sunday, Dec. 2o. The local giveaway concludes on Wednesday, Dec. 23.
It's part of the Build to Give Campaign. Kids are given one kit plus one for a friend. If each child posts the finished project on social media, the campaign, through its charity partners, will then give a LEGO gift to a child in need of play.
Here's where the truck will visit:
Sunday, December 20
Haller Lake Community Club (12579 Densmore Ave. N, Seattle, WA 98133)
11:00 AM – 1:00 PM
Math 'n' Stuff Center (8926 Roosevelt Way NE, Seattle, WA 98115)
2:00 PM – 4:00 PM

Monday, December 21
Beaumont Apartments (14001 NE 183rd St, Woodinville, WA 98072)
11:00 AM – 1:00 PM
Vue 22 Apartments (2170 Bel-Red Rd, Bellevue, WA 98007)
2:00 PM – 4:00 PM
 Tuesday, December 22
Reunion at Redmond Ridge Apartments (11315 Trilogy Parkway NE, Redmond, WA 98053)
9:30 AM – 10:15 AM
Rainier Valley Neighborhood (8318 Renton Ave S, Seattle, WA 98118)
11:30 AM – 1:00 PM
Tivalli Apartments (1563 Ash Way, Lynnwood, WA 98087)
2:00 PM – 4:00 PM
Bowling Green Apartments (3310 East Spring St, Seattle, WA 98122)
5:00 PM – 7:00 PM
Wednesday, December 23
The Blvd at South Station (4708 Southcenter Blvd, Tukwila, WA 98188)
11:00 AM – 1:00 PM
Discovery Landing Apartment Homes (15405 Des Moines Memorial Drive, Burien, WA 98148)
2:00 PM – 4:00 PM
Toy drive update
Snapdoodle Toys is helping Q13 FOX and Les Schwab Tires collect toys for kids this holiday. They report that, to date, customers have purchased more than 650 toys worth more than $13,000.
Tuesday, Dec. 15, is the last day to go online and donate, which they have made super easy.
And here's more info on that and other holiday toys drives this year.
2 new ways to get food delivered
We hear about a lot of new businesses in our area. Here are two new, food-related offerings that might be of interest to families, especially during this era of spending so much time at home:
MilkRun, a farm-to-you delivery service offering weekly subscription boxes including of pasture-raised meats, seasonal produce and locally baked bread. It's a company that started in Portland and is expanding.
The Homegrown Group, known for its sustainable sandwich shops, now is offering chef-created meal options — both easy-to-prepare and ready to eat — for home delivery.
Gift idea: Buy a membership
It's been a tough year for many people and institutions. Here's a win-win idea for holiday gift-buying: a membership to a cool local place. They could use the revenue, you can shop online and you won't be adding more "stuff" to people's lives and homes. Just a few places you might support:
Museum of History and Industry (MOHAI)
Point Defiance Zoo and Aquarium
Seattle Art Museum, Bellevue Arts Museum, Tacoma Art Museum
Washington State History Museum (Tacoma)
Northwest Folklife turns 50 and celebrates
To celebrate its 50th year, Northwest Folklife in 2021 will celebrate the stories, songs and traditions of the Northwest with a yearlong celebration called 50 Years of Northwest Folklife: A Look Back, A Look Ahead. "As we begin our 50th year of Northwest Folklife, we celebrate the generations of stories and traditions our community has so graciously shared with all of us," said Northwest Folklife Executive Artistic Director Kelli Faryar. The commemorative logo was inspired by photographs taken at programs such as the Northwest Folklife Festival and Our Big Neighborhood events.
Reminder about charitable giving
There are many ways, and many reasons, to be generous during the holidays and all year long.
One thing to know: You can take a tax deduction for up to $300 in donations of money (as opposed to goods or time). Charitable contributions have not been as readily deductible in recent years, but under the CARES Act, emergency coronavirus relief passed earlier this year, that has changed.
The IRS was kind enough to send out this reminder and explanation of how it all works.
Other ways to give: Adopt-a-family programs around Seattle || Simple ways to help people experiencing homelessness || How your family can volunteer now and all year long.
Salt & Straw opens in Kirkland
Salt & Straw, the popular Portland-based ice cream company, opens in Kirkland on Friday (Nov. 20) in the Village at Totom Lake, 12620 120th Ave. N.E. It will feature Salt & Straw's 10 classic flavors (including Sea Salt with Caramel Ribbons, Chocolate Gooey Brownie and Honey Lavender), plus special local flavors that feature regional collaborations with purveyors including Westland Whiskey and Beecher's Cheese. There also are Thanksgiving flavors including Salted Caramel Thanksgiving Turkey and Sweet Potato Casserole. If you try those, let us know how you like them, OK? In the meantime, here's what we've written about Salt & Straw in the past. (They're already in Ballard and Capitol Hill.)
Casting call!
The casting company Genuine is looking for parents with babies up to 12 months to participate in a video project and trial for a baby wash and lotion made by what it describes as "a major beauty brand." The first step is to fill out an online questionnaire to see if you're what they're looking for. Some people will be selected to complete a one-week video diary. Organizers say they're looking for "a lot" of people, so don't assume you wouldn't be picked.
New restrictions imposed as COVID cases soar:
Gov. Jay Inslee has implemented new rules for life in Washington in an attempt to better contain the coronavirus. We have done this before: no indoor dining, limited capacity in stores, etc. But why oh why must we hoard the paper products? A few things to know:
Holiday light shows will go on at Woodland Park Zoo and Point Defiance Zoo.
If you're planning an excursion somewhere, make sure your destination is still open. We are checking with local places to learn their status.
We asked families how they're making the holidays extra special this year, and their answers are great.
Veterans Day is Wednesday, Nov. 11
Kids out of school for Veterans Day? Here are some ideas for a change of pace:
Remember to wear masks, take water and plan ahead: It's not always easy to find a snack or bathoom break.
Election antidotes
Politics got you down? You're not alone! Treat yourself to a change of subject matter:
'Fall back' this weekend
It's that time of year, when we're treated to one blissful extra hour of sleep on Sunday morning (if we're lucky) but then it's solidly dark by dinnertime that evening.
It's the end of daylight-saving time, so turn your clocks back when you go to bed Saturday night or when you get up on Sunday. There's been a lot of chatter and debate about ending this practice, but as no nationwide consensus was reached, we will do it.
Get in the holiday spirit!
Local treasure Snapdoodle Toys has come out with its holiday catalog, which will be available in both print and digital form (browse here!) They're also offering a chance to create and shop online wish lists. Their website proclaims, "Yes, the holidays are going to be weird this year.
But you can make your gift-giving normal by planning ahead." Their tips: Shop early, shop online, shop local. Snapdoodle has "in person" shops in Seattle, Kenmore, Redmond and Issaquah.
Help shape Seattle Public Schools anti-racism policy
Seattle Public Schools is developing a new anti-racism policy and is seeking public input at the followingonline public meetings:
Monday, Oct. 26, 6:30-8 p.m. – BIPOC and Anti-Racist Youth town hall
Tuesday,  Oct. 27, 5-6:30 p.m. – Latinx Community Conversation: Anti-Racism work and Policy
Wednesday, Oct. 28, 6:30-8 p.m. – The Intersectionality of Race and Disability: A Conversation with Families of Color Receiving Special Education Services. (Interpretation will be provided for non-English speaking families.)
Thursday, Oct. 29, 6:30-8 p.m. – Asian/Pacific Islander Community Conversation on anti-racism work.
Monday, Nov. 2, 6:30-8 p.m. – Educators of Color Town Hall.
All meetings will beheld remotely over Zoom. Email President@SCPTSA.org to obtain Zoom link for a particular event.
Hey, teens: Help shape your city!
The city of Seattle is accepting applications for the Seattle Youth Commission (SYC), a 15-member commission of youths ages 13-19 that advises the city on issues. Terms are for two years, and meetings are twice a month on Monday afternoons. The deadline to apply is 5 p.m. Wednesday, Nov. 4. Interviews will be held Nov. 9 and 10. Details and application info here.
6 Seattle playfields to get new turf
Seattle Parks and Recreation will install new, state-of-the-art synthetic turf systems at six playfields, which will be closed for the work this fall as follows:
Lower Woodland Playfield No. 2 and No. 7: Closed mid-October through December.
Magnuson Park Mickey Merriam Playfields 6 and 7: Closed September through December.
Loyal Heights Playfield: Closed September through November.
Queen Anne Bowl Playfield: Closed October through November.
2121 calendar features Washington State Parks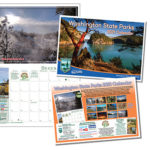 Start your holiday shopping early with the new Washington State Parks 2021 wall calendar. It has color photos representing highlights of the park system, including an unusual wintry scene from Ocean City State Park, the grandeur of Palouse Falls State Park and mist rising from the Spokane River at Bowl and Pitcher. The calendar sells for $21.50 (plus tax), with discounts for purchase of multiple calendars. Here's the link to purchase online. (Why not pair it with a state parks guidebook?)
Panel on disabilities and inclusion
Little Bit Therapeutic Riding Center in Redmond is holding a virtual panel on removing barriers to inclusion, and everyone is invited. It will be held at noon Wednesday (Oct. 14.) Organizers say: "Business leaders, workplace colleagues, adults with disabilities, and parents of children with disabilities will leave this energizing event with new insights, perspectives, and actionable steps." Here's how to sign up.
And here is more on Little Bit center and its amazing programs.
A baby gorilla on the way!
Woodland Park Zoo gorilla Nadiri is expecting her second baby in late February/early March 2021. The gestation period for gorillas is eight to nine months, similar to humans. The new baby sister or brother for Yola, who turns 5 in November, will be the first offspring between 24-year-old Nadiri and 20-year-old Kwame.
Parks news
Seattle Parks & Recreation announced that playgrounds will reopen Tuesday, Oct. 6. Here are the health guidelines.
Also, Washington State Parks have free admission on Saturday, Oct. 10.
Nominate a Teacher of the Week
Teachers are working extra hard, and in different ways, to teach kids remotely this fall. Nominate a teacher you know for Teacher of the Week honors from KIRO and WSECU. Contest details say they're looking for teachers who are "benefiting lives and changing the community." That could be practically every teacher out there, couldn't it? Check out the rules and nominate a teacher for a well-deserved honor.
Happy birthday, Snapdoodle Issaquah!
Snapdoodle Toys is celebrating the one-year anniversary of its Issaquah location with drawings, prizes, games, cotton candy and — of course — specials! Hours are 10 a.m.-7 p.m. Saturday, 10 a.m.-5 p.m. Sunday. Snapdoodle also has locations in Seattle, Redmond and Kenmore, plus online shopping.
You can take school/work on the road
Give them credit for creativity: Semiahmoo Resort in Blaine is offering what it calls a "School by the Sea" package in which it invites families to use the resort as a change-of-scenery homebase for remote school (and, presumably, working from "home"). The packages include a kids' activity kit, voucher for a box lunch and a beachside location with bonfires for s'mores. Reservations are required. We plugged in a couple of weekday dates just for fun (we love doing that), and the rate for two adults and two kids was $169-$189 per night plus a $25-per-night resort fee.
Nordstrom helps Seattle kids through Shoes That Fit program
Even with most kids learning at home, Nordstrom is continuing its effort to provide shoes for kids who need them. Nordstrom has since 2010 been part of the Shoes That Fit program, which has given more than 200,000 pairs of shoes to children nationwide. It looked a little different this year: Nordstrom said 200 kids and their families showed up for a festive event at Seattle's Bailey-Gatzert Elementary on Oct. 1, and more shoes will be delivered to kids next week.
You can help: Through October 4, customers can purchase $10 giving cards in all Nordstrom stores or donate online.
Learning hubs (and lunch) for teens and tweens
Does your child need help with remote schooling?
Community centers in Seattle are opening hubs to help Seattle Public Schools students in middle school and high school with online learning. The sites are spread throughout the city at seven sites (at Magnuson Community Center, Meadowbrook Teen Life Center, Garfield Teen Life Center, Miller Community Center, Southwest Teen Life Center, Bitter Lake Community Center and South Lake High School) and will offer free lunch as well. Wi-Fi will be available, as well as in-person tech help, academic support, and recreation and mentoring programs. There will be daily health evaluations and temperature checks as well as enforced social distancing. Each student should bring a laptop or tablet and wear a mask. For more information on how to enroll a child, go to the Seattle Parks and Recreation information page.
Free parking on Seattle waterfront
The Seattle waterfront is open — for shopping, eating or a scenic stroll.
To encourage people to visit, merchants are offering up to three hours of free parking. Here's how it works: Visitors should use one of these three garage entrances: 1530 Alaskan Way; 1531 Western Ave.; or 1901 Western Ave. Pull a ticket from the machine, and keep it safe. (The press release says, "Don't dip it in chowder," which also seems to be a suggestion for a waterfront activity. We see what you did there, Ivar's.) Visit a participating waterfront store, attraction, or restaurant and ask for a parking voucher, which is to be inserted into the machine slot right after the entry ticket.
Full details, including maps, here.
School named to honor racial-justice champion
The Seattle School Board has honored lifelong education advocate Alan T. Sugiyama by renaming South Lake High School to Alan T. Sugiyama High School at South Lake.
Sugiyama spent his life advocating for racial justice and educational for all people, starting with his time at Seattle Central College and the University of Washington. In 1989, he became the first Asian American person to serve on the Seattle School Board, where he advocated for equity in Seattle Public Schools during his two terms. He died in 2017.
Temporary art in Tacoma parks
A program called Public Art Reaching Community (PARC), has resulted in unique art exhibits that can be seen in several Tacoma public spaces. They are:
"I Love All of You," by Gerardo Peña aka Periko the Artist. Roof of First United Methodist Church, 621 Tacoma Ave. S.; Sept. 10-30. A giant papier-mâché megaphone announces to the community "I LOVE ALL OF YOU," in LED lights.
"You'll Heal Tacoma," by Jessica Spring, Stanley Playfield, 1712 S. 17th St.; Sept. 12-20. "You'll Heal Tacoma" is made up of nearly 300 posters with that message rolled up to collectively spell the healing message in 4-foot letters. (History note: It's an homage to the "You'll Like Tacoma" signage featured at the 1909 Alaska Yukon Exposition.) People are encouraged to remove one letterpress printed poster to take home, then replace it with their own message of healing (tools provided).
"I Am Here for You," by Sophia Munic. A short video compilation of people interacting with soft sculptures, crafted to represent "hugs." The video debuts Oct. 1 on the artist's website.
Grant will help Woodland Park boost inclusion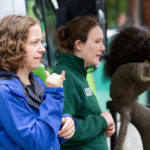 Woodland Park Zoo is creating a Guest Inclusion Program thanks to a grant from the Institute of Museum and Library Services that will help it build on its existing commitment to inclusion through specialized training for staff, assessment of programs and creation of new ones. A previous grant helped launch the Volunteer Inclusion Program.
The next step is to develop lessons and assessments aimed at giving all people, regardless of ability, equal opportunities to engage.
The zoo has already made several advancements in this area, including establishing an internal Diversity & Inclusion Council; overhauling the zoo's accessibility webpage; developing a sensory map for zoo visitors; and offering access to sensory tools.
Locust Cider opens new Seattle taproom
Local, family-friendly Locust Cider & Brewing Co. is opening another Seattle taproom. The First Hill Seattle location joins existing facilities in Ballard, Alki and downtown, plus locations in Woodinville, Tacoma, Vancouver, Spokane and Walla Walla.
Each one offers 16 beers and ciders on tap plus a food menu including flatbread pizzas and savory snacks. They have a kid's corner with activities, plus retro video games for all ages.
They are following state mandates for COVID safety including distancing, masking and sanitizing; takeout also is available.
The new First Hill Taproom is at 500 Terry Ave., near Harborview Medical Center.
More about the company in this article and on their website.
Library gains impressive Seattle history collection
Seattle Public Library has received an impressive gift that will help anyone who wants to learn more about Seattle.
Local historian and photographer Paul Dorpat has donated his entire collection, which includes thousands of photos, negatives, art, prints, postcards, film, video, audio, books and other materials.
Library officials expect that it will take several months to process and organize the gift and figure out how to make it available to the public.
Stay tuned.
Seattle parks, zoo closed because of smoky air
Update, Tuesday: Seattle parks will be closed through at least Wednesday amid continuing unhealthy air. The closure includes beaches, boat ramps, parks, specialty gardens, golf courses and playfields. Park restrooms will be open.
Woodland Park Zoo has announced that it also will be closed to visitors again Wednesday and Thursday, but emphasizes that animal-care teams will be on the job. People who reserved tickets will be contacted for refunds or rescheduling.
Related: Ideas for having fun, staying active while stuck inside.
FREE saxophone lessons starting Sept. 14
Professional saxophonist Michael Brockman, who is the co-artistic director of  Seattle Repertory Jazz Orchestra (SRJO) as well as a University of Washington School of Music professor, and a Seattle Jazz Hall of Famer, decided he wanted to do something special to help kids during the pandemic.
Starting Monday, September 14, at 4 pm, Dr. Brockman will begin teaching free 30-minute beginner saxophone classes on Zoom. Any child, anywhere in the world, can tune in to enjoy music lessons, given by a world-class musician. Participating kids will be taught as a group, all together during the lesson.
Deadline Friday to apply for food aid
Cash assistance for buying food is available for local families, but the deadline is 5 p.m. Friday, Sept. 11.
The Pandemic Electronic Benefits Transfer (P-EBT) Emergency School Meals Program. is part of a Washington state program funded by the USDA. Eligible families can receive a one-time payment of as much as $399 per child, depending on their qualification for the free- and reduced-price meal program. Those who apply will not be asked about immigration status or citizenship.
Families can check eligibility and apply online or by calling 877-501-2233 (translations available).
Point Defiance resumes shark dives
Add "shark dives" to the list of activities resuming in the Puget Sound area.
These shark dives are at Point Defiance Zoo & Aquarium, which reopened to visitors this summer.
Eye-to-Eye Shark Dives, which resume Sept. 10, are a 60-minute adventure in which up to four people from the same household will descend, inside a cage, into the South Pacific Aquarium's Outer Reef habitat for a close encounter with more than a dozen sharks.
Find details on safety protocols and how to get tickets ($210 for a group with a zoo membership, $255 for nonmembers; zoo admission included). Kids must be at least 8.
Take a hike on a reading adventure with PopUp StoryWalk
PopUp StoryWalk brings books outdoors at various parks around King County. Hike along a trail to read a deconstructed picture book, installed into the ground. Begin your walk at the start of the story, reading along the way and end the book at the end of the trail. Movement, literacy and the thrill of finding the next page will engage and occupy your family for fun outdoors, rain or shine! Current installations are at Richmond Beach Community Park and Peter Kirk Park. Read more about PopUp StoryWalk. Get Outdoors! Get Reading!
King County passes major education funding plan
On Tuesday, Sept 1, the King County Council unanimously passed the implementation plan for the Puget Sound Taxpayer Accountability Account (PSTAA), which will invest approximately $318 million over 15 years to improve educational outcomes for King County students.
The implementation plan guides how the funds will be invested across three strategies:
Early learning facilities will receive 52% of the funding and will fund construction and renovations of early learning and early intervention facilities, as well as homebased childcare services. The King County Promise will receive 38% of the funding and will provide services that support young people starting in high school through postsecondary acceptance and completion. K-12 community-based organizations will receive 10% of the funding and will initially fund a pilot called "Love and Liberation", where Black, Indigenous, and People of Color-led organization will provide programs to youth in their communities that focus on positive racial and ethnic identity development.
PSTAA was created by the Washington State Legislature as an amendment to the 2015 State Transportation Revenue Package. It directs that a portion of Sound Transit-related funds be used for educational services to improve educational outcomes in early learning, K-12, and post-secondary education. The funds are allocated to counties located within the Sound Transit district who then decide how to allocate them for educational purposes.
Robot vs. Sloth gets creative
It's tough to run a business these days, but Robot vs Sloth, a charming shop in Pike Place Market, is getting creative and trying to help keep everyone's spirits up.
Artist/owner La Ru (Lauren Rudeck) set out to "turn boring into cute" with custom social-distancing signs in the shop, scratch-off games ("each card is a winner") for people waiting to enter, and fun custom masks for both kids and adults.
The store also offers online shopping as well as personalized virtual shopping by appointment.
If you haven't already, check out their website and learn the "history" of "Seattle's terrible sloth problem."
Washington expands newborn screening
Washington state has added spinal muscular atrophy (SMA) to the list of conditions for which it screens newborn babies. More than half of U.S. states already were testing for SMA, which occurs in approximately 1 in 11,000 births and is the leading genetic cause of infant death. Early diagnoses can stop progression of the disease, which robs infants of valuable motor neurons that allow them to walk, sit and even breathe. The change in Washington screening took effect Aug. 1.
Elizabeth, in photo, was diagnosed with SMA last spring at 9 months when her mom noticed she was shaking and losing strength. She is making progress in treatment and now can pull herself up, sit unsupported for 20 minutes, kick her legs, and flip from her stomach to her back.
Note: This news roundup was launched Aug. 12, 2020 and is continually updated.