Ever think that Whistler could be your next destination for kid-friendly hiking trails?
Well, when a family member offered us a week at their Whistler timeshare, my initial thought was "No, thanks." I'd been to Whistler years ago, and I only thought of it as a place to shop, eat out, or do pricey activities. Our family enjoys camping and hiking, so I didn't think that Whistler would be a good fit for our family.
But then I realized how much hiking is in and around Whistler, and I was sold on the trip.
So, with hiking in mind, our family, including my 4-year-old twins, headed up to Whistler for five days in late June.
Check out our top 4 kid-friendly hiking trails in Whistler (which are just a few of many good ones!) below. Consider Whistler a destination for outdoor exploration for your family this summer.
Whistler Train Wreck Trail (via Sea to Sky and Train Wreck Trails)
Perhaps the most unique hiking destination I've ever seen, this relatively flat trail leads to a handful of crashed trains that are now covered in graffiti. Just before arriving at the trains, we crossed a suspension bridge over the Cheakamus River. When we reached the trains, we spent over an hour resting, snacking, and exploring – you can wander through the woods and climb in and onto the trains (watch out for rusty nails). This is a great kid-friendly hiking trail in Whistler, especially for families who want an interesting and unique destination and a great story to share with folks at home.
Miles: 1.4 miles round trip
Tip: Don't rely on your GPS: When we tried to get to the Train Wreck Trail, our GPS took us to an unmarked gravel parking lot. Thankfully, we had a few maps that we'd picked up at the tourist information center and our property management office that helped get us to the trailhead that we wanted to use for the hike.
Harmony Lake Trail
Before we headed up to Whistler, I wasn't sure whether or not we were going to go up the gondola. But our friend we were traveling with pointed out that it's an excellent way to enjoy alpine views without a grueling hike up a mountain. The gondola tickets were a bit of a sticker shock for us – $90/adult, $80/teen (13-18), $45/child (7-12), free/under 7 – but we decided to splurge (all our other hikes during the week were free – no passes or paid parking needed), and headed up the mountain. We took the gondola up Blackcomb Peak and then took the incredible Peak 2 Peak gondola over to Whistler Mountain. Throughout the gondola rides, the views didn't disappoint, and we even spotted a few black bears from our perch in the gondola! From the gondola at the top of each mountain are a handful of hikes with ranging in length and difficulty levels. We decided on Harmony Lake, which we later realized was a bit more difficult than we expected, but everyone made it one way or another! The hike is to a small lake, with a steep incline at the beginning and end of the trail.
Miles: 1.7 miles round trip
Tips:
Watch for lightning: The gondola occasionally closes when there's lightning in the mountains, so my friend suggested that we try to do a gondola trip earlier in the week because we weren't sure which days it might be closed due to lightning further in the week. When we were on the mountain and finished our hike to Harmony Lake, we quickly headed down the mountain because lightning was forecasted. We didn't want to get stuck up on the mountain!
Check hiking difficulty: We overlooked the fact that Harmony Lake was rated a moderate hike – and didn't realize it until we were trekking down a steep decline (which we knew we'd have to climb back up). Pay close attention to hiking difficulty when planning your hikes, and consider the skill level and interest of all of your hikers when deciding which path to take.
Lost Lake Nature Trail
Just moments from Whistler Village, Lost Lake Park has a series of hiking and biking trails in the summer and cross-country skiing trails in the winter. Hoping for more of a nature walk than a gravel bike and walking path, we took the Nature Trail through the park to the lake. The nature trail is a perfect hike for families who want an adventure without a longer drive from the village. The trail crosses a biking trail a few times but is pretty well marked, and for most of the hike, you feel like you're out in the forest. When we got to the lake, my husband went for a swim while the kids waded. The following day, we walked and biked to the lake (on a trail from our condo near Blackcomb) for a picnic and more wading and swimming.
Miles: 1.7 miles round trip (though we took the bike/walking path back – our little hikers were ready to be done and this was an easier, more direct way back to our cars).
Tip: Snacks, snacks, snacks. Perhaps this goes without saying, but always have lots of snacks. This may be the most important part of hiking with kids!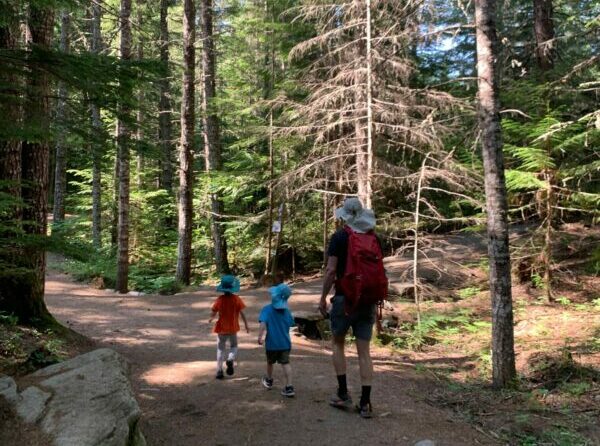 Brandywine Falls
Less a hike and more a short walk from the parking lot to the falls, this 0.8-mile round trip walk can't get any better as a kid-friendly hiking trail in Whistler. It offers many things that a kid could love, especially views of the impressive Brandywine Falls. There are a few benches for snack breaks, but this isn't a place where you'll spend a lot of time hanging out and exploring – it's more of an out-and-back experience, with a few short stops for views and snacks.
Miles: 0.8 miles roundtrip
Extra tip:
Check reviews: I wanted to go to the Ancient Cedars Trail, but after reading about the mosquitoes, we decided to skip it and find fewer buggy hikes. I was thankful for the reviewers who spared us from a potentially miserable experience!
There is so much to enjoy at Whistler. Whether you decide to spend most of your time in the village, all of your time on nearby trails, or do a combination of both, Whistler is a great destination for families in the summer.
Read more:
Heading to Disney? Here's what you need to know
Monterey is calling- see all the exciting things to do in this California destination