Book picks for kids (and adults):
Looking for some reading inspiration? Here's a peek at what KCLS staff and the young readers in their lives are digging into this month!
All KCLS libraries are open, now with expanded hours. Plan your next visit at kcls.org/visit.
Adults: Fiona and Jane by Jean Chen Ho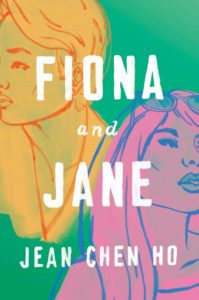 Jean Chen Ho's understated but emotionally intense debut novel focuses on a deeply devoted friendship that spans across time and space. From elementary school, to their teenage years, and into adulthood, Fiona and Jane navigate turbulent romantic relationships and complex family dynamics in this set of stories told in their alternating voices. Through quiet betrayals and fierce loyalty, they weather the changes in their lives together, against the backdrop of California, New York and Taiwan.
Kids: Where is Bina Bear? by Mike Curato
A rabbit named Tiny is throwing a party, but can't find their friend Bina, a big purple bear, anywhere. The table looks kind of like Bina, but so does the lamp, and many other objects throughout the house, oddly. "Bina, is that you?" Tiny keeps asking. "No!" comes the reply each time. Is Bina hiding? Tiny discovers that even though Bina likes Tiny very much, they don't like parties at all. This funny yet heartfelt depiction of empathy is a great read for the shy ones we know, or might be ourselves.
More book picks for kids (and other book news):
Favorite kids' books of local authors and educators
Combine kids' books and real-life adventures around Seattle
How to start your own little free library
Dad Next Door: Harry Potter will set you free (from reading tedious bedtime stories to your kids)
Published April 10, 2022
Find the latest book news, recommendations and more by signing up for our monthly Book Corner newsletter