Washington state turns 133 in November! 
In addition to salmon, apples and evergreen trees, Washington state provides fertile ground for authors. Tons of picture books, young adult novels, and middle-grade titles are set on the islands, coastal communities and bridges of Washington.
This list of new and nationally recognized titles includes a historical tale about a pig who nearly started a war and a historical fiction about a girl who came to Washington Territory due to the schemes of Mr. Mercer. Some of the books are grounded in the real-life challenges of recovering from injuries or finding home as a foster child, while others have spooky elements of ghosts and a meddling Death.
Nearly all these books reference specific places in the state. Reading about adventures on the Bainbridge ferry, a canoe on Lake Union, a party on Capitol Hill, and the tidepools of the Sound will fill you with lots of birthday love for our little corner of the Pacific Northwest. 
Books set in Washington: picture books
"The Pig War: How a Porcine Tragedy Taught England and America How to Share," by Emma Bland Smith, illustrated by Alison Jay.  Inspired by a trip to the San Juan Islands, author Emma Bland Smith offers a funny take on how a fight over a pig nearly launched a war on San Juan Island. In 1859 the island's nationality was yet to be determined. Both Americans and British were living on the island, and nearly came to blows when Yankee Lyman Cutlar shot Charles Griffin's British pig. Things escalated, warships filled the harbors, and it looked like the two nations might go to war … until a mediator came in and resolved the skirmish. The back matter shows historical photos and discusses the author's trip to the site.
[ Related: Family travel guide to San Juan Island ]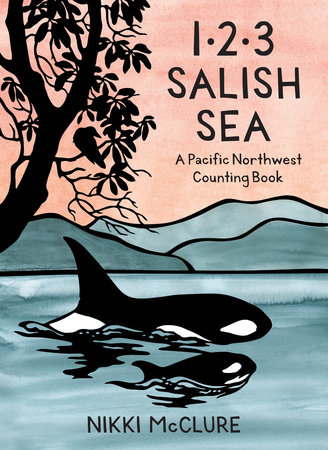 "1,2,3 Salish Sea: a Pacific Northwest Counting Book," by Nikki McClure. The papercut artwork is the real gem of this sweet counting book. Author/artist Nikki McClure's intricate depictions of lumpsuckers and squids will delight parents and children, and inspire countless trips to the tidepools. The counting book offers a little twist, refusing to end on the number 10. 
"Galloping Gertie," by Amanda Abler, illustrated by Levi Hastings. This nonfiction picture book doesn't just tell the story of how the Tacoma Narrow Bridge was built and then collapsed, it shows how. Pictures illustrating the science behind the collapse are sure to fascinate budding engineers. 
Books set in Washington: middle-grade novels
"The Sea in Winter," by Christine Day. Written by an Upper Skagit author, this book is about a middle-school ballerina recovering from a torn ACL while on vacation in Neah Bay, near her mother's Makah community. The book centers on Maisie's slow recovery, her family and friendship challenges, but there are plenty of historical tidbits to enjoy. Maisie learns about the first white settlers in Seattle, the whaling traditions of the Makah, and the Elwha Dam. If any family vacations are planned for Olympic National Park, this book would make a perfect family read before the trip. The author's "I Can Make This Promise" is also set in Seattle and features a Native protagonist.
[ Related: Guide to a family trip to Olympic National Park ]
"The Many Reflections of Miss Jane Deming" by J. Anderson Coats. This historical fiction follows Jane as she leaves the Civil War-torn eastern side of the United States and comes to Washington Territory. Jane arrives via Mr. Mercer's ship of widows (including her stepmother) who are expected to marry the men residing in the muddy frontier town of Seattle. Too young to marry and unsure of her place in her family, Jane eventually finds belonging in Seattle and the isolated cabins of Bellevue. 
"Last Meeting of the Gorilla Club" by Sara Nickerson. This moving middle-grade novel features 11-year old Josh as he struggles to make friends in his new city of Seattle. Although Josh's parents tell him he's too old for imaginary friends, they show up anyway, and help him make "real" friends too. 
"Chasing at the Surface" by Sharon Mentyka. Twelve-year old Marisa is struggling with family drama at the same time a pod of whales is trapped near her home. As she tries to help the whales find their way home, Marisa begins to heal from her own family trauma. The book includes the orcas' family tree and a map of Dyes Inlet and Port Washington Narrows. Get ready for lots of up-close whale encounters throughout the book. 
Books set in Washington: YA novels
"Jay's Gay Agenda" by Jason June. In his tiny Eastern Washington town, Jay is the only openly out person in his school and community. While most people are supportive, he is more than a little jealous of the love lives his heterosexual friends are having. When his family moves to Capitol Hill, Jay is excited to finally find his community and his first boyfriend(s). But, he'll have to choose between enjoying his new fabulous life in Seattle and helping out a friend back home.
Content note: Although the novel does not contain explicit scenes, there are plenty of (very excited) references to sex. The book is often billed as a sex-positive teen rom-com.  
"What I Carry" by Jennifer Longo. Just when Muiriel is about to age out of the foster care system, she is forced to move from Seattle to a Puget Sound island where she (finally!) finds home. This award winning novel features enviable friendships, a sweet romance, and tons of Pacific Northwest island vibes.  
"The Game of Love and Death" by Martha Brockenbrough. This intense historical novel has a mythical twist: The cosmic forces of Love and Death choose their "players," roll the dice and then in 1930s Seattle, Flora and Henry were born. Flora is an African American wannabe-pilot and Henry is a white golden boy. This gorgeously written book takes readers through their (very) unlikely love story. 
"This Light Between Us" by Andrew Fukuda. This historical novel, inspired by the fact that Anne Frank had a pen pal, is about pen pals in the 1930s and 40s: Alex is a Japanese boy on Bainbridge Island, and Charlie is a Jewish girl in Paris. Alex is shipped off to an internment camp and Charlie goes into hiding before eventually landing in Auschwitz. Most of the story is told through Alex's point of view as he goes from Manzanar to the battlefields of Europe. Adults would enjoy this book as well. 
More book coverage in Seattle's Child:
Washington State Book Award winners for 2022
Author profile: The day I followed Nina Laden
Sign up for our monthly Book Corner newsletter